5 Of Our Most Versatile Skincare Products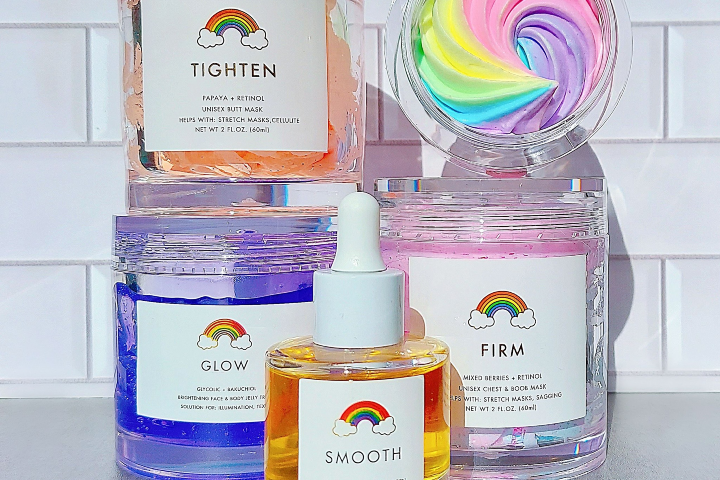 Who doesn't love a multitasking skincare product? Besides being super convenient, beauty products that serve multiple uses make a skincare routine so much simpler — and a lot more wallet-friendly.
It turns out, Rainbow Beauty boasts an array of versatile skincare formulas that can be doubled up as shaving creams, lip balms, moisturizers, face masks, conditioners, and more! Here's a list of our most versatile skincare products. Five products, a dozen different ways!
#1: Hydrate Body Butter
What it is: A deeply rejuvenating whipped body moisturizer formulated with a base of shea and cocoa butter blended with coconut, jojoba, almond, and vitamin E. This rainbow swirl of wonders not only intensely hydrates skin, but soothes redness and irritation. It can even be helpful for those dealing with severe dryness or eczema. What's more, it'll leave skin feeling baby soft.
Why it's special: Besides its pretty exterior, Hydrate Body Butter relies on the most nourishing blend of plant-based oils and butters to drench skin in long-lasting moisture. It also contains vitamin E, a powerful antioxidant that strengthens the skin barrier and protects against external aggressors for your healthiest skin.
What else it can be used for: While it's technically a body lotion (only way richer!), you can use this body butter as a shaving cream, conditioner, or lip balm.
#2: Booty Polish
What it is: A fluffy, exfoliating polish full of brightening mixed berries and firming retinol. Developed for your derriere, Booty Polish assists in smoothing texture, tightening sagging, and minimizing the appearance of stretch marks on your butt. By sloughing away dead skin cells and sebum, it can even banish butt breakouts!
Why it's special: Retinol has been clinically proven to boost collagen and elastin output. This translates to a firmer, more lifted booty. High in antioxidants, mixed berries aid in fighting off hyperpigmentation, eczema, blemishes, and fine line formation. 
What else it can be used for: Even though it's created for your peach, you can also use this polish on the rest of your body for smoothing benefits. It can also be used as a shaving cream to prevent the formation of ingrowns and razor burn. And you can even mix a little of the formula in with your daily cleanser for gentle exfoliation.
#3: Smooth Serum
What it is: A satiny face + body serum that teams vitamin C with vegan collagen to plump, brighten, and smooth. You can rely on this anti-aging serum to restore your most youthful complexion. Suitable for all skin types, from dry skin to sensitive skin and even acne-prone skin.
Why it's special: Vitamin C is a potent antioxidant known for improving skin tone, discoloration, and protecting against free radical damage. Vegan collagen works in the same way as regular animal-based collagen, supporting natural collagen production to plump out lines and improve suppleness.
What else it can be used for: Thanks to its brightening effects, Smooth Serum can also be used as a lightweight eye cream to tackle under-eye dark circles. Plus, it works fabulously as a discoloration corrector, fading the appearance of dark spots, acne scars, and discoloration. In addition to all of that, this vitamin C serum pairs perfectly with your daily sunscreen to enhance its free radical fighting effects.
#4: Clear Blemish Patch
What it is: A pack of 36, cloud-shaped pimple patches flecked with oil-sapping salicylic acid and bacteria-killing benzoyl peroxide to alleviate active breakouts and prevent hyperpigmentation. Sticker-to-skin enables active ingredients to deeply penetrate while keeping out unwanted oil, impurities, and picking fingers. Perfect for oily skin and acne-prone skin. Small but mighty, they're one of the best skincare products out there for controlling and preventing acne.
Why it's special: Salicylic acid is a beta hydroxy acid (BHA) that penetrates deep into the pores, lifting away dirt, sebum, and dead skin cells — and ultimately un-clogging pores. Benzoyl peroxide attacks acne at the core, battling acne-causing bacteria. These patches also contain hydrocolloid, an ingredient that absorbs oil and pus for freshly popped zits while speeding up the healing process. These blemishes patches should be used after your daily cleanser and toner.
What else it can be used for: In addition to zapping away zits, these blemish patches can be used to take the itch out of insect bites, spur the healing of small cuts, and fix ingrown hairs.
#5: Hydrate Serum
What it is: A lightweight, flash-absorbing serum of hyaluronic acid, aloe, jojoba seed oil, and glycerin. Together, these ingredients deeply moisturize the skin without leaving behind a greasy residue. Fragrance-free, this formula is perfect for dry skin and sensitive skin. Unlike your regular day or night cream, it feels incredibly light and non-greasy. Even those with skin conditions such as eczema or rosacea can benefit from using this serum in their daily skincare routine.
Why it's special: Hyaluronic acid is a powerful humectant that dewifies the skin all day long. It's been a trending skincare ingredient for a while now, and for good reason! This stuff leaves skin irresistibly smooth. Not only that, it also supports collagen production to plump out fine lines and wrinkles.
What else it can be used for: Aside from being an excellent daily moisturizer, Hydrate Serum can also be used as a highlighter and makeup remover. You can even add a couple of drops of it into your daily face wash for enhanced hydration.
So there you have it, our most versatile skincare products. These multitasking skincare products make your life so much easier — and cheaper. That said, you'll find a range of other products on our site that can be used for many other purposes. Our formulas contain high-performing ingredients. In addition to those mentioned above, we also use glycolic acid, lactic acid, niacinamide, and retinol. All of which are loved by dermatologists! Remember to apply a generous layer of SPF after using.
While you'll find plenty of skincare formulas at your local drugstore, Sephora, or even on Amazon, not all of them multitask like these beauties.