5 Men's Skincare Gift Sets He'll Adore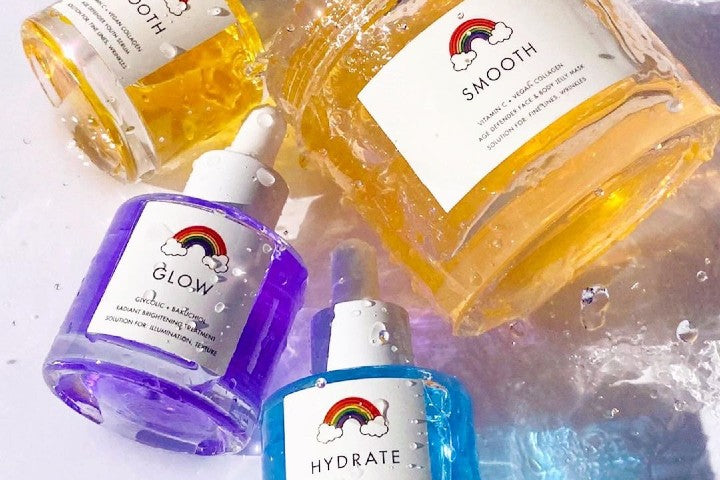 Finding the perfect gift for that special man in your life can be challenging. Socks, eau de parfum, and whiskey are great and all, but they're not exactly original. Get him something he's never been given before like, for instance, a skincare gift set.
The truth is, many guys don't realize how much they dig skincare until they try a complete skincare routine for themselves. Lucky for you, we've got plenty of great gift boxes for you to choose from to let your fave dude indulge in dreamy hydration and exfoliation to help him achieve his best skin.
Ahead, five men's skincare gift sets he'll actually appreciate for his birthday, Christmas, or whatever occasion it may be.
#1: Hydrate Bundle
Our bestselling bundle for quenching thirsty skin! Hydrate Bundle features a silky serum and jelly face mask formulated with hyaluronic acid and vitamin B5, which work in tandem to attract and seal in moisture for long-lasting hydration. This duo leaves skin feeling soft to the touch, while plumping out fine lines and wrinkles, and improving skin tone.
If the loved one in your life has dry skin, treat him to this moisture-drenching 2-piece set to leave skin smooth and glowing. It's also gentle enough for sensitive skin types thanks to its nourishing blend of natural ingredients such as jojoba oil, acai, aloe, and witch hazel.
Whether you're looking for a last-minute birthday gift or simply planning ahead for an anniversary, this is one gift set that's guaranteed to please.
#2: Glow Bundle
Skincare products don't commonly appear on gift guides for men. But if your guy likes the occasional pedicure or spa trip, why not treat him to a streamlined skincare regimen that'll leave him looking — and feeling — luminous! Instead of cleansers, lotions, and hand creams, choose beauty products that'll deliver results fast so he doesn't get bored waiting for the effects to kick in. Serums and masks are two of the best products out there for delivering fast results thanks to their high concentration of active ingredients.
Glow Bundle features a serum and mask designed for both the face and body. Made with glycolic acid and bakuchiol (a gentle retinol alternative), this skin brightening duo buffs away dead skin cells and boosts collagen production to reveal your smoothest, springiest, and glowiest skin. It also unclogs pores, preventing breakouts from forming on your face and body. Pack them both up into a sleek toiletry bag, and you're all set!
#3: Tighten Bundle
Has bae been talking about shopping for anti-aging products lately? Get there before him, and shop this skin-firming Tighten Bundle featuring a serum and mask designed to turn back the clock and lift a sagging complexion. It's one of the best gifts for guys who love self-care or are keen on combatting the first signs of aging.
Crafted with the elastin-restoring powers of antioxidant-rich red microalgae and the exfoliating powers of glycolic acid, this two-step treatment uplifts the face while softening fine lines and wrinkles for a youthful, radiant complexion. Remind him to wear SPF daily too to prevent sun-induced creases and discoloration.
You can also throw in a line-softening face wash, eye cream, toner, and body lotion if he's serious about getting ahead of aging.
#4: Smooth Bundle
Running out of gift ideas for that special man in your life? Consider getting him a Smooth Bundle gift set. It makes a great birthday, Christmas, or Father's Day gift set for men who already love skincare, or haven't quite pinned down their favorite products just yet.
Smooth Bundle includes a mask and serum formulated with antioxidant-rich vitamin C and elasticity-restoring vegan collagen to plump out fine lines and wrinkles, refine skin texture, and leave skin looking luminous.
This powerhouse duo works to boost collagen output, thicken the dermis, and fight free radicals – manifesting smooth, youthful skin.
#5: Restored Bundle
Three full-size favorites boxed up into one bundle to deliver powerful anti-aging benefits. Restored Bundle is a three-step youth-restoring routine featuring Tighten Mask, Glow Serum, and Hydrate Serum. These three formulas work together to reduce the appearance of fine lines and discoloration while diminishing dryness on both your face and body. Hydrating hyaluronic acid, firming red microalgae, and resurfacing glycolic acid are the key players in these formulas that help to restore your smoothest, firmest, and brightest skin.
It might not be on hubby's wishlist, but that doesn't mean he wouldn't appreciate receiving it as a gift. Once he tries these three formulas, he won't be able to go back.
TURN HIS SPECIAL DAY INTO A SPA DAY
And by spa day, we mean an at-home spa day. If you're buying one of these gifts for your boyfriend or husband, create a spa-like atmosphere at home with scented candles and calming music. Then when he opens his skincare gift set, you can surprise him with the next surprise: an at home spa day. You can slather on all the products for him, and treat him to a relaxing massage using the masks and serums. He'll love every moment of it!
You can even try buying him two of the bundles, and mixing and matching the products to create a more customized routine. For instance, maybe he has dry skin but he's looking for a way to iron out his wrinkles. In that case, Hydrate Bundle + Smooth Bundle would be the perfect combo. Or perhaps he's looking for a glow boost and a way to sharpen his jawline? The best combo to fulfil his wishes would be Glow Bundle + Tighten Bundle.
Give that guy who means the world to you a special, memorable day with a few good skincare products and a spa-like experience at home.
Buying for men is hard, there's no doubt about that. While skincare gift sets probably aren't your first thought or choice, we definitely recommend treating that special man in your life to a few high-performing products so he can truly appreciate great skincare. Try one or more of the bundles above, and expect to get a lot of hugs and smiles on the day!