5 Facial Oil Alternatives with Zero Grease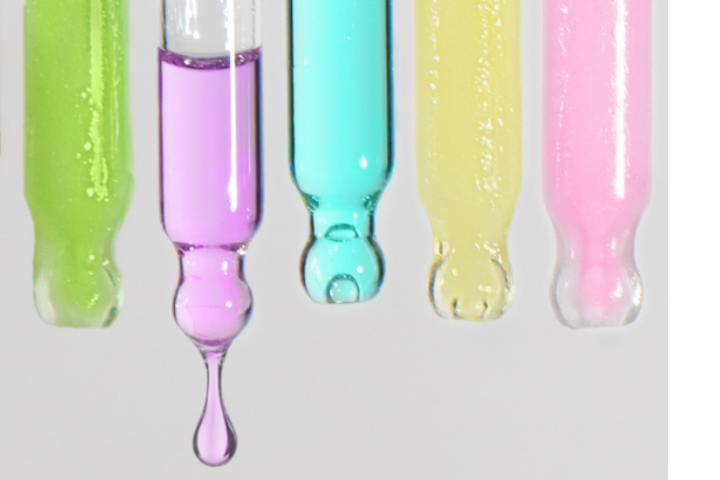 Facial oils can be fantastic for the skin. However, they do come with one small yet significant caveat: greasiness. Not all oils, but maybe can leave skin feeling (and looking) a little on the greasy, kind of icky side. It's one of the reasons people dismiss using face oils altogether. They're looking for something lighter, equally as hydrating, and shine-free.
The best facial oil alternative? We'd have to say serum! A good serum can work just as well as a face oil provided that you look out for hydrating ingredients such as hyaluronic acid, vitamin E, squalane, and aloe. Plus, serums have a lighter texture so they shouldn't leave behind a greasy residue.
Ahead, our five fave facial alternatives that won't leave you sticky and shiny.
Why Facial Oils aren't Essential
Nowadays, FOMO leaves us bulking skincare in bulk — even if we really don't need it. While facial oils can be helpful at hydrating the skin and improving texture, their main purpose is simply to hydrate. If you don't like the way face and body oils feels on your skin, there are plenty of other ways you can get your daily dose of hydration. Serums, creams, and lotions can all intensely moisturize the skin and leave it visibly smoother.
If you're looking for the lightest of them all, we'd have to say serums. On top of that, serums contain active ingredients like retinol (vitamin A), hyaluronic acid, and AHAs that aid in treating certain skin conditions such as acne, fine lines, discoloration, and dullness.
Do You Need to Omit Oils Altogether?
Nope! You can still reap the benefits of skin care oils by choosing a serum infused with nourishing nut and plant oils such as olive oil, coconut oil, jojoba oil, argan oil, and avocado oil.
These natural oils are rich in antioxidants and essential fatty acids, making them excellent for promoting optimum skin health and hydration. They also typically boast anti-inflammatory properties, which can make them beneficial for sensitive skin types.
That said, even oily skin can benefit from these plant-based oils when used sparingly, especially those that are non-comedogenic like jojoba oil. Acne-prone skin, on the other hand, would be better off avoiding oil-based serums, which may worsen breakouts.
5 Best Facial Oil Alternatives
Your skincare routine doesn't require a face oil. However, it's important to supply your skin with adequate hydration if you won't be including a facial oil in your daily skincare regimen. Here are five face oil alternatives you can start using today.
#1: Hydrate Serum
The most moisturizing of them all, Hydrate Serum harnesses the hydrating powers of hyaluronic acid and vitamin B5 to inject skin with long-lasting moisture. Perfect for parched complexions, this satiny serum is also enriched with jojoba oil, aloe, acai extract to further boost hydration and plump out fine lines and wrinkles for a smooth, youthful complexion. Whether you've got dry skin, sensitive skin, or combination skin, all skin types can benefit from slathering on this serum every day.
Irresistibly lightweight, this formulation simply melts into the skin, leaving behind zero greasy residue. It also looks great under makeup for a more flawless, dewier finish.
#2: Smooth Serum
An anti-aging serum powered by vitamin C and vegan collagen, Smooth Serum promises smoother, plumper, brighter skin. While vitamin C defends skin against free radicals, diminishes discoloration, and illuminates skin, vegan collagen plumps out fine lines and wrinkles. Together, this power couple leave skin radiant.
Thanks to its vitamin C content, this serum pairs perfectly with your daily sunscreen. Layer it underneath for added protection.
Lightweight and grease-free, this formula feels wonderful on the skin. Besides fixing your skin complaints, it'll nourish skin in hydration, leaving you feeling babysoft.
#3: Tighten Serum
A plant-based anti-aging powerhouse to visibly lift, smooth, and restore skin's elasticity. Red microalgae and a blend of alpha hydroxy acids (AHAs) work in tandem to gently buff away dead skin cells and protect against oxidative stress. This in turn helps to minimize pores and deliver firmer skin.
As far as its moisturizing effects go, Tighten Serum relies on jojoba oil, aloe, and glycerin to replenish lost moisture. These soothing ingredients help to mitigate any potential irritation caused by the AHAs present in this serum.
If you're looking for a skincare product that turns back the clock and deeply hydrates skin, this is it! Silky and lightweight, you won't have to worry about feeling greasy or looking shiny.
#4: Glow Serum
A featherweight exfoliating serum of glycolic acid and bakuchiol. Glow Serum buffs away the buildup of dead skin and sebum for clear, poreless skin. While it's great for brightening, fading discoloration, and improving overall skin texture, this serum also contains jojoba oil and aloe to inject skin with long-lasting hydration. In addition to revealing your freshest skin, Glow Serum helps to support the skin barrier for smooth, healthy skin.
Unlike your regular facial oil, Glow Serum provides non-greasy hydration. In other words, you'll get to enjoy all the perks of a facial oil and more when you slather your skin in this silky serum.
#5: Brighten Serum
A sleek, lightweight facial serum that blends plumping vegan collagen and brightening pineapple for luminous, satiny skin. While pineapple fads dark spots thanks to its ascorbic acid content, vegan collagen supports natural collagen production for firm, bouncy skin. As for its hydrating effects, they can be credited to vitamin E and jojoba oil.
Longing for dewy, radiant skin? Brighten Serum fulfils all your skincare wishes. Plus, it feels great on the skin and doesn't leave behind a greasy residue.
As helpful as facial oils may be in hydrating the skin, you don't need them. You can still reap the benefits of certain oils such as olive, almond, coconut, tea tree, rosehip oil, and grapeseed oil — only in serum form. After using your daily cleanser, pat your skin dry and apply your chosen serum.
Speak to your dermatologist if you're suffering from a skin condition like eczema, as certain oils and ingredients may be recommended or advised against.