5 Best Whipped Skincare Products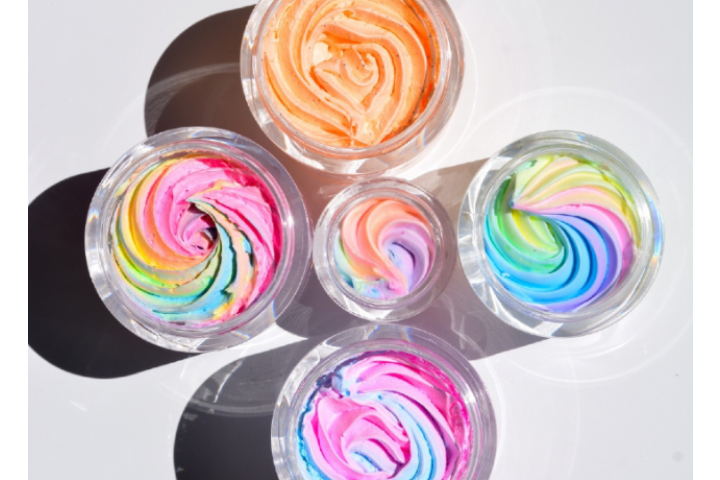 There's just something about whipped skincare products. Fluffy, buttery, and luxurious, they're extremely satisfying to use — and feel incredible on your skin. At Rainbow, we pride ourselves in crafting the most luxe and indulgent whipped beauty products that are vegan, clean, and cruelty-free. They also harness some of the most high-performing active ingredients to target skin concerns ranging from dryness to fine lines and discoloration.
Whether you're shopping for yourself or a friend, here are some of our fave whipped skincare products that you can shop right now.
#1: Tighten Butt Mask
Our one and only butt tightening mask. With its whipped, lightweight consistency, Tighten Butt Mask melts seamlessly into skin without leaving behind a greasy residue.
Formulated with collagen-boosting retinol and brightening papaya, this anti-aging mask boasts aids in softening lines, reversing sagging, reducing the appearance of stretch marks and cellulite, and visibly lifting the derriere.
It also contains jojoba beads, a gentle and eco-friendly alternative to microbeads. Jojoba beads provide gentle exfoliation, buffing away dead skin cells, to brighten, smooth, and prevent butt breakouts.
In spite of its profile of powerful actives, Tighten Butt Mask is suitable for all skin types and can be used on a daily basis.
#2: Firm Boob Mask
Your boobs need some love too. Pamper them with our fruity, juicy Firm Boob Mask. This pink and purple swirl of mixed berries and retinol helps with stretch marks, sagging, and dullness. Packed with antioxidants, it's known for tightening the chest area, minimizing fine lines, and reversing UV damage. Added radish root extract acts as a calming agent and natural moisturizer — deeply nourishing and hydrating to alleviate dry skin
Gentle jojoba beads paired with retinol lightly buff away dead cell buildup to leave skin feeling smoother, fresher, and brighter.
For best results, include in your daily skincare routine. If you have sensitive skin, you may want to limit use to 2-3 times a week. However, for oily skin, acne-prone skin, and aging skin, daily use is optimal for the quickest, most visible results.
#3: Hydrate Body Butter
A restorative, intensely hydrating body butter enriched with shea butter, coconut oil, vitamin E, and vanilla for all-day silkiness. These nourishing ingredients not only hydrate, soothe, and nurture skin, but bolster skin barrier function to keep skin healthy. One of our bestsellers, this buttery whipped body butter feels amazing on your skin. Plus, it's so satisfying to use — and smells just like a candy store! Yum!
Unlike a regular body lotion, Hydrate Body Butter provides ultra rich hydration to dry, dehydrated skin. It's best applied at night before going to bed to let the butter melt into skin overnight. By the next morning, your skin will feel babysoft.
Another fun fact about this body butter: it doubles up as a shaving cream, cuticle softener, and hair mask. Just in case you run out of beauty essentials — this Rainbow special will happily step in.
#4: Smooth Shave Butter
The upgrade your shave days need! Swap out your regular shaving cream for this delightful whipped shave butter. Extra hydrating, extra fluffy, and perfect for insanely smooth shaves. Smooth Shave Butter blends the healing properties of coconut oil and vitamin E to moisturize every hair follicle for an irresistibly smooth, irritation-free shave without ingrown hairs or razor burns. Perfect for sensitive skin, this super nourishing shave butter guarantees a close yet ingrown-free shave every time.
With its fluffy, lightweight consistency, this yummy shave butter replenishes lost moisture without dulling razors like heavier shave creams. It melts into skin while working as a lubricant to prevent irritation.
Coconut and vitamin E lend their anti-inflammatory and antibacterial properties to prepare skin for a non-irritating shave by strengthening skin barrier function and boosting moisture retention.
#5: Plump Lip Butter
Small, sweet, and full of plumping power, this buttery, decadent balm belongs on your vanity. Made with hydrating almond and coconut, Plump Lip Butter soothes dry, chapped lips thanks to all those fatty acids inside that help to replenish lost moisture. Peppermint naturally plumps the lips by boosting blood flow and creating a swelling effect for temporary added volume.
For best results, apply this lip balm throughout the day whenever lips feel dry. Keep a tub in your purse for on the go plumping. You can use it alone or wear under lipstick. You can even use a small amount on rough patches of skin like your elbows and knees if you have nothing else.
What Makes Whipped Skincare Special?
For starters, it's whipped! Like an ice cream or cupcake frosting, whipped body creams, masks, and butters are fun to use and apply. Basically, they make skincare eve more satisfying!
When it comes to daily essentials like your facial cleanser, face cream, eye cream, and sunscreen, these don't really have whipped textures. Luckily, many body care products do!
When shopping for whipped skincare products, don't let yourself overlook what's inside. We know they're pretty, but remember to look for nourishing ingredients that actually do something, like hyaluronic acid, shea butter, retinol, vitamin C, ceramides, niacinamide, argan oil, glycerin, aloe, jojoba seed oil, etc.
What Dermatologists Think About Whipped Skincare Products
Generally speaking, derms approve the use of whipped skincare as long as it contains nourishing ingredients that are helpful in hydrating or treating skin concerns. But that goes for any product, from your daily face moisturizer to your cleaning mousse.
According to the derms, if you have sensitive skin, it's best to look for fragrance-free formulas without essential oils, which can irritate skin. If you have a skin condition like eczema, it's best to consult your derm before using new products.
And most importantly, you'll still need to apply SPF over your whipped product to keep skin protected — if you're applying it in the daytime that is.