5 Best Beauty Gifts for Your Sister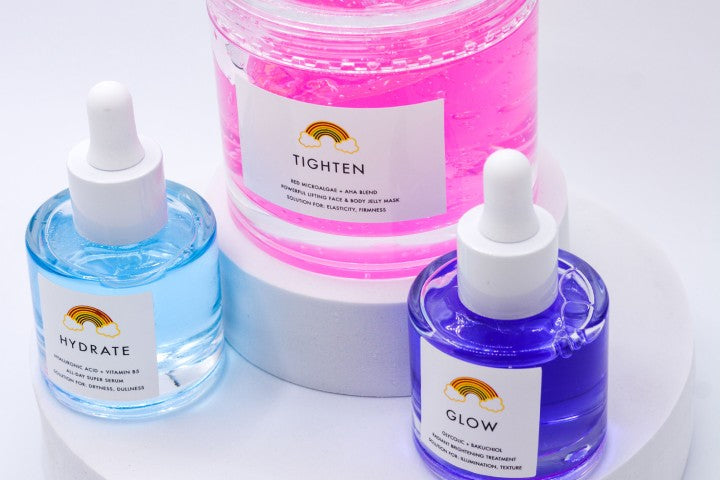 Is your sister's birthday coming up? Or maybe you just want to get her something nice as a token of appreciation for being the best sis. Either way, there are plenty of fun beauty gifts out there we know she'll adore. If you're looking for gift ideas for your sister, but you have no idea where to start, here are some of the best gift sets for the sister who has everything.
Usually on sister gift guides, items like hoops, eye masks, hair dryers, coffee makers, and scrunchies pop up. But what about if your sister has all those things? Great gifts require thought, and we've put a lot into these gift ideas.
Here are five of the best gifts for the sister who loves skincare.
#1: Glow Bundle
Everybody loves a glow up, and we're sure your sister isn't any different. Help her unlock her glow in two simple steps with this skin brightening set. It features a face mask and serum (that can also be used on the body) made with glycolic acid and bakuchiol to buff away dead skin and dullness for a fresh and radiant complexion.
Glycolic acid is a powerful exfoliant that helps balance skin tone, fade discoloration, and brighten the complexion. Bakuchiol is a gentle retinol alternative that boosts collagen production and speeds up cellular turnover for fresher, more youthful-looking skin. They're the dream team for luminous skin!
#2: Hydrate Bundle
Got a sis or sister-in-law with dry skin? She'll love what this ultra-hydrating bundle can do for her complexion. Featuring a mask and serum made for the face + body, this skincare set delivers all-over intense hydration for dewy, dreamy soft skin. It's formulated with hyaluronic acid and vitamin B5 to seal in long-lasting moisture while plumping out fine lines and wrinkles. And it's the perfect gift for anyone who loves a good skincare routine.
Hyaluronic acid is a powerhouse humectant that attracts and seals in moisture for day-long dewiness. It also boosts natural collagen production to smooth out lines. Vitamin B5, another humectant, aids in moisturizing the skin while reducing inflammation. In other words, it's perfect for all skin types!
Whether it's a birthday gift, Christmas gift, or just a spontaneous token of love, your sis is guaranteed to be satisfied with this dew-inducing kit.
#3: Tighten Bundle
Is your sister a skincare fanatic? Does she love trying out new products like cleansers, serums, oils, and creams? Then she'll adore this skin firming set. With a mask and serum, it only has two steps, but those two steps (performed daily) can bring exceptional results. Formulated with alpha hydroxy acids and red microalgae, these two skincare treats will rejuvenate the complexion and leave it visibly bouncier.
The alpha hydroxy acids in these products are lactic and glycolic acid. They work to gently dissolve dead skin cells on the skin's surface to brighten, smooth, and diminish discoloration. Antioxidant-rich red microalgae fends off free radical damage and protects against fine line formation and skin sagging. It's the go-to daily routine for mature skin.
#4: Smooth Bundle
A luxe skincare set featuring a mask and serum that refines skin, softens fine lines, and leaves skin luminous. Powered by vitamin C and vegan collagen, these actives work in tandem to fight free radical damage, boost collagen, restore elasticity, and minimize the appearance of dark spots and acne scars.
Vitamin C is a potent antioxidant that offers an extra layer of protection to your daily SPF, fending off free radicals and protecting skin from UV rays. Vegan collagen enhances levels of natural collagen in the skin to increase firmness in the jaw, neck, and any other areas where sagging occurs.
Besides making her skin glow, Smooth Bundle is a great way to encourage her to indulge in some much-deserved self-care.
#5: Restored Bundle
Your sis is your best friend, right? And BFFs deserve only the best, right? Check. Check. Give your sister the gift of amazing skin with this 3-step anti-aging routine. Inside, she'll find two serums and a mask — Hydrate Serum, Glow Serum + Tighten Mask — that work in harmony to restore your smoothest, firmest, and most radiant skin.
This beauty set offers everything you could ever need to achieve your best skin. If she's a busy babe, this set is perfect! Instead of elaborate 12 step routines (that literally no-one has time for!), try this 3-step routine that delivers maximum results with minimal time.
Its key ingredients include hyaluronic acid, glycolic acid, and red microalgae. All three work together to exfoliate, plump, and hydrate.
TAKE YOUR SISTER'S BEAUTY GIFT ONE STEP FURTHER
Make your gift even more special by enjoying some quality time with your sister and adding a few extras to the set. Some ideas include lip balm, mascara, eau de parfum, shampoo and conditioner, leggings, a throw blanket, diffuser, or a trendy tote. If she's a foodie, you could also try making her one of her favorites dishes, filling a couple of wine glasses with a good pinot, and diffusing some essential oils to enjoy an at home spa day together. Trust us, she'll love it!
If you're looking for more Rainbow treats, you'll find more of our products available at Walmart and CVS.
Buying for your sister can be difficult if she has everything. But if she's a beauty lover, you'll never run out of things you can get her. From face masks to serums and creams, there are plenty of gift sets and individuals you can buy for her to try. That's the fun thing about skincare — you never run out of new things to try! Here at Rainbow, you can choose from a range of face + body formulas, including serums, masks, creams, butters, polishes, and scrubs. Happy shopping Rainbow beauty babe!