5 Benefits of Turmeric for Skin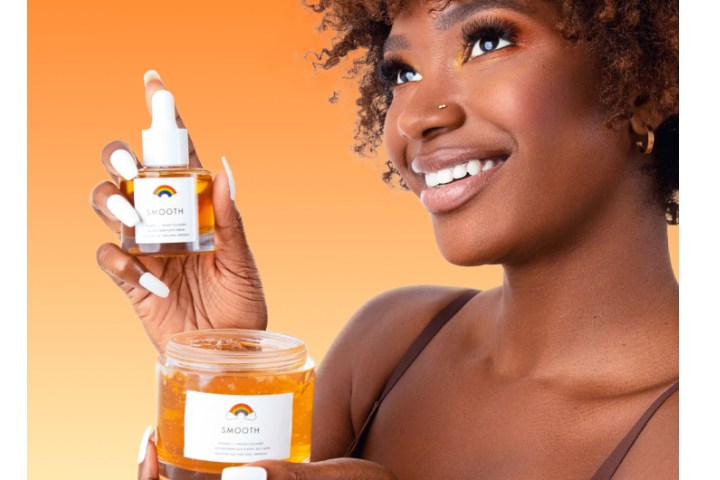 Turmeric might already be a staple in your cupboards for whipping up vegan curries and stir-fries. According to dermatologists, it ought to be a staple in your skincare routine, too. Bursting with anti-inflammatory, antimicrobial, and antioxidant properties, this Indian spice can help treat a slew of skin concerns ranging from acne to uneven skin tone.
Here are all the benefits of turmeric for skin, and which skincare products you'll find it in.
WHAT IS TURMERIC?
Native to South and Southeast Asia, turmeric powder is made from the root of Curcuma zedoaria. Its active ingredient, curcumin, is what gives the spice its prominent yellow hue and it's also what makes it such a powerful skincare ingredient.
For thousands of years, people have been reaping the health benefits of turmeric. It's been used to boost the immune system, improve diabetes, relieve arthritis, and improve gastrointestinal issues.
Thanks to its potent anti-inflammatory properties, turmeric can also ease skin conditions like eczema, psoriasis, and acne. Plus, it's said to promote wound healing.
But turmeric's benefits go even further. Scroll down to hear all the skin benefits of this pantry staple.
BENEFITS OF TURMERIC FOR SKIN
Here are all the ways turmeric helps the skin.
#1: Turmeric Brightens Skin
"Turmeric contains the antioxidant curcumin, which is also anti-inflammatory and can lighten pigmentation," says cosmetic chemist Michelle Wong. In other words, it can help reduce the appearance of dark spots and discoloration while leaving your complexion glowing.
If you're experiencing hyperpigmentation, turmeric can help to fade its appearance. It may even be able to lighten acne scars over time with consistent use.
#2: Turmeric Treats Acne
Thanks to its antiseptic and antibacterial properties, turmeric can be an excellent ingredient for treating acne. Since it also boasts anti-inflammatory properties, this spice can reduce redness in angry breakouts and reduce discoloration for a clear and calm complexion.
#3: Turmeric Soothes Irritation
Owing to its powerful anti-inflammatory benefits, turmeric can help relieve skin irritation and redness. That's why a lot of people with sensitive skin use it. Besides brightening and banishing blemishes, it can also calm down inflamed skin.
#4: Turmeric Tackles Signs of Aging
Turmeric is loaded with antioxidants that blitz free radicals and protect your skin against environmental aggressors like UV rays and pollution. Since UV rays are one of the leading causes of premature aging, turmeric can be invaluable when it comes to fading and preventing fine lines and wrinkles. You'll find it many anti-aging formulas like cleansers, serums, moisturizers, and lotions.
#5: Turmeric Prevents Skin Cancer
According to dermatologist Dr. Mona Gohara, "Anti-inflammatory [properties] can help with acne, eczema, and psoriasis, while antioxidants can help with sun damage, complexion evenness, and aging.
She adds that in a 2005 study, "researchers found that curcumin, the yellow pigment found in turmeric, has anti-cancer properties as it inhibits melanoma cell growth and stimulates tumor cell death."
Turmeric promotes optimum skin health.
DOES TURMERIC WORK FOR ALL SKIN TYPES?
Turmeric is a gentle skincare ingredient that's suited for all skin types. If you have severely sensitive or dry skin, or a skin condition like dermatitis, always do a patch test before adding turmeric to your skincare routine. Start with smaller concentrations and apply it to the neck or arm before using it on your face. Let it sit on the skin for three to four hours, and wash it off if any redness or swelling occurs.
Whether you've got sensitive skin, dry skin, or oily skin, all skin types can benefit from using turmeric for a natural glow.
ARE THERE ANY SIDE EFFECTS OF USING TURMERIC ON YOUR SKIN?
Generally speaking, turmeric is a safe ingredient with minimal side effects. That said, if you use a DIY turmeric face mask instead of a store-bought product, it can end up staining the skin. The yellow pigment can deposit easily into the skin, leaving your face with a yellow-ish hue. However, you can easily remove it with an oil-based cleanser or cleansing balm -- and plenty of warm water.
If you'd prefer to avoid staining, opt for a turmeric-laced topical treatment that's blended with other natural ingredients like coconut oil, shea butter, and hyaluronic acid.
SHOP TURMERIC SKINCARE PRODUCTS
If you want to enjoy the effects of turmeric, here are some of the best turmeric skincare products for brightening, tightening, and hydrating your skin.
SMOOTH Serum
Smooth Serum is a silky serum of vitamin C and vegan collagen booster, designed to soften wrinkles, brighten skin tone, and fade discoloration. It also contains turmeric extract for extra brightening and skin protecting power. Plus, a dash of Baobab Oil and aloe for cooling hydration! Apply this daily serum to restore skin's elasticity, illuminate skin, and lighten discoloration for a super smooth and dewy appearance. You can use it on your face and body for all over glow.
SMOOTH Mask
Smooth Mask is the mask form of the serum. Its key ingredients are the same — vitamin C, vegan collagen booster, and turmeric. The only difference is that it's a glossy gel mask designed to stay on the skin for around 10-15 minutes for brightening, anti-aging, and hydrating benefits.
SMOOTH Bundle
Smooth Serum + Mask, bundled. This 2-step skin refining routine helps skin cells repair and renew themselves, enhances elasticity, and thickens the dermis to plump out fine lines and wrinkles for a smoother, brighter complexion.
Turmeric is an all-round amazing spice. Beneficial for both your health and your skin, there are plenty of reasons to stock up on this golden spice. Whether you're looking to brighten dull skin, fade fine lines and wrinkles, or soothe irritation, turmeric can do it all. And it's super affordable! If you create a DIY turmeric mask, make sure you wash it off properly using an oil-based cleanser.
Have you tried turmeric yet? We'd love to hear your thoughts if you have, and how your skin has improved since using it!