3 Skincare Products to Keep in Your Car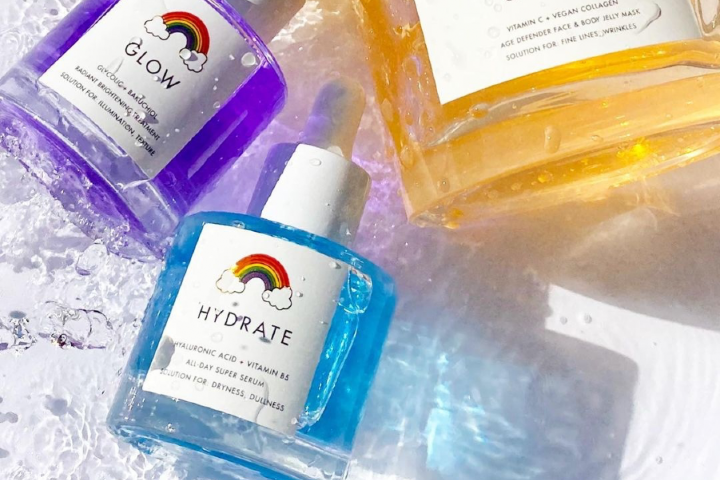 ​Do you ever find yourself on your way to work only to discover you forgot to apply lip balm or moisturizer? You sneak a peak in the mirror, and eek...your complexion and pout look parched! If only you could pull down the glove box and magically reclaim your lotions and potions... Unfortunately, you're aware your fave skincare products are sitting on the nightstand next to your bed. So, what's a girl to do? 
While you can't fix the issue right now, there is a way you can stop this from happening ever again: keep a stash of beauty products in your car -- or three in this case.
Here are three skincare products to keep in your car so you always have something on hand to stay fresh on the move. Plus, they fit perfectly in a glove compartment!
#1: Hydrate Serum
What it is: A flash-absorbing face and body serum formulated with hydrating hyaluronic acid and vitamin B5. It's an all-day super serum designed to keep your skin dewy and plump all day long without the need for retouches. Hydrate Serum is the ultimate solution for dry skin and lack of luminosity. Plus, it's great for all skin types. 
Why you need it: Skin needs moisture in order to thrive. That's why daily moisturizing is essential for maintaining healthy skin. This formula relies on hydration powerhouse hyaluronic acid to boost your skin's moisture and firmness by binding to water in the epidermis to visibly plump and hydrate. Alongside this, HA aids in preventing hyperpigmentation and rough patches. 
It also contains vitamin B5, a skin-stabilizing must-have that works to lock in lasting hydration by absorbing moisture from the air. It also improves tissue regeneration to boost brightness, elasticity, and promote a radiant glow.
Keep this serum in your car so you can reach for it whenever your skin gets dry. 
How to use it: Apply a thin layer to the face, neck, and any other areas of your body to seal in hydration. Best of all, this serum can double up as a flyaway tamer if your hair gets a little unruly on your travels.
#2: Glow Serum
What it is: Stay glowing on the go with this glow-enhancing face and body serum. It's made with glycolic acid and bakuchiol to gently buff, brighten, and soften skin. This serum is a car-staple for anyone who wants an instant fix for dull skin. In a matter of minutes, it'll transform your skin from lackluster to luminous. While it's suitable for all skin types, sensitive skin types should use with care to prevent undesirable side effects such as irritation from the glycolic acid. 
Why you need it: Skin needs regular exfoliation in order to shine its brightest, and for skincare products to absorb better. When skin's covered in dead skin cells and dirt, your cleansers, serums, sunscreens, and creams cannot penetrate skin as effectively. Thus, exfoliation is a must.
Glycolic acid is the formula's star exfoliator. An alpha hydroxy acid, this chemical exfoliant gently buffs away dead skin and excess oil to reveal a youthful, radiant complexion beneath. It can also minimize the appearance of fine lines and wrinkles, while warding off breakouts. 
Bakuchiol is a gentle alternative to retinol and retinoids. It's known to be a potent antioxidant and gold tier active ingredient for gorgeous, glowing skin. A natural alternative to retinol (especially for those with sensitive skin!), bakuchiol brightens while protecting the skin from environmental stressors and pollution. 
How to use it: Apply a thin layer of serum to the face, neck, and any other areas of your body to boost luminosity. Make it part of your daily skincare routine for continuous glow, as well as anti-aging benefits. 
#3: Hydrate Lip Butter 
What it is: A plumping, moisturizing lip butter designed to leave lips soft, smooth, and kissable. It's formulated with hydrating coconut oil and protective vanilla to nourish skin on the lips and minimize dryness and cracking. Whether you're dealing with extreme cold or extreme heat, keep a tub of this in your car to keep your lips healthy and protected. 
Why you need it: Skin on the lips is especially delicate, which is why they're prone to drying out. Keep them hydrated at all times by keeping this Hydrate Lip Butter in your car. It's a daily essential lip care product for warding off chapped lips and securing day-long softness.
Coconut oil is a nourishing nut oil often found in moisturizing products like serums, eye creams, hand creams, and lotions. It's rich in fatty acids which helps repair the skin's moisture barrier. As an occlusive, it helps lock in moisture for day-long hydration.
Vanilla, while typically found in perfumes, isn't just good for its girly scent. It's also extremely protective and repairing to the skin. It'll tackle dryness, chapping, and flaking in no time!
How to use it: Apply a thin layer of lip butter to lips once every two to three hours, or whenever you feel your pout getting dry. You can also multitask this product by smoothing it through the ends of your hair when frizz or flyaways occur. 
Shop now. 
OTHER BEAUTY PRODUCTS TO KEEP IN YOUR CAR
While these are our top three favorites, we also recommend the following -- if you have space of course.
SPF -- Keep your skin protected at all times.
Makeup remover wipes -- For whenever you need to correct mascara or eyeliner fall.
Spray toner or mist -- To refresh your skin on the move. Look for one formulated with vitamin C for brightening effects.
Concealer -- Just in case you need to cover up those dark circles or pesky out of the blue pimples.
A spot treatment -- tackle breakouts on the go with a salicylic acid or benzoyl peroxide spot treatment.
If you find yourself always rushing around and forgetting the skincare basics like moisturizing, keep these 3 products+ in your car at all times so you can reach for them while you're on the move.