3-Minute At-Home Facials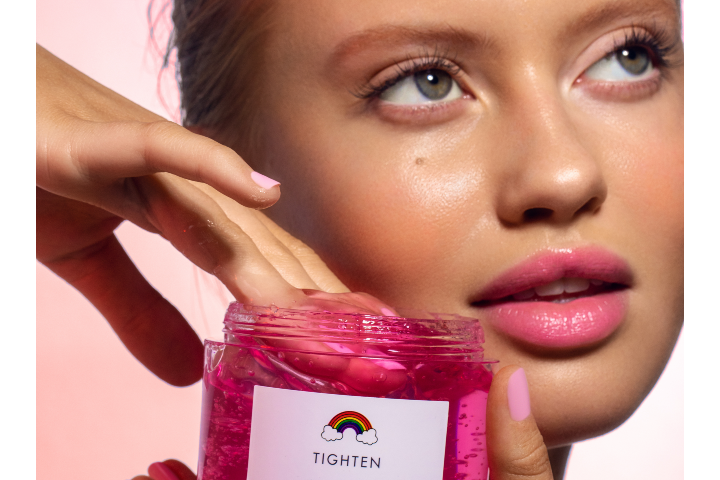 Now that the new year is here, it's time to start prioritizing your skin. One of the best ways to do that, besides following a consistent skincare routine, is to incorporate facials into your weekly routine.
Don't worry, though. You don't need costly spa treatments to achieve better skin. You can perform an at home facial with just a couple of skincare products designed for your skin type and needs.
DIY facials are great in that you can do them anywhere and anytime. You don't need to book an appointment in advance or splurge on expensive procedures. In many cases, they're also much less time consuming when you perform them at home.
Here are a few 3-minute at home facials you can try today for healthy, dewy, glowing skin.
The Hydration Facial
All skin types need hydration for healthy skin. Especially if you have dry skin, you'll need to use formulas enriched with moisturizing ingredients that drench skin in moisture and diminish dryness.
The products: Hydrate Serum + Hydrate Mask. These two formulas are made with hyaluronic acid and vitamin B5. Together, they work in tandem to lock in moisture while plumping out fine lines and wrinkles.
The method: After washing your face with a gentle cleanser, pat skin dry and apply a couple of drops of Hydrate Serum. Afterwards, massage the Hydrate Mask into your face and neck. To promote lymphatic drainage, perform a facial massage when applying these products.
The Anti-Aging Facial
If you're seeing the first signs of aging (think fine lines and hyperpigmentation), you'll benefit from performing an at home anti aging facial. When choosing anti-aging products, look for ingredients that stimulate collagen production such as retinol, bakuchiol, and AHAs.
The products: Tighten Serum + Tighten Face Mask. These two products are formulated with a collagen-boosting, refining blend of AHAs and red microalgae. While AHAs (chemical exfoliants) buff away the buildup of dead skin cells, antioxidant-rich red microalgae supports collagen production for smoother, tauter skin.
The method: After washing your face, pat in a few drops of Tighten Serum all over your face and neck. Afterwards, apply a thin layer of Tighten Mask. For further anti-aging benefits, bring in a gua sha tool to stimulate circulation and firm up sagging areas.
The Brightening Facial
Want your skin to stay glowing throughout 2023, and beyond? Incorporate weekly brightening facials into your skincare routine. When it comes to brightening your skin, the best ingredients for the job include chemical exfoliants (AHAs + BHAs), vitamin C, retinol, and bakuchiol. Besides giving your skin a natural glow, these actives can also reduce the appearance of dark spots and discoloration.
The products: Glow Serum + Glow Mask. Both formulas contain glycolic acid and bakuchiol, which work together to gently remove dead skin and impurities and speed cellular turnover to reveal your freshest, glowiest complexion.
The method: After cleansing your skin, massage a couple of drops of Glow Serum into your face and neck. Follow up with Glow Mask, and let it stay on the skin. If you've got dry or sensitive skin, you can wash off the mask after several minutes. You can also quell puffiness by giving yourself a speedy facial massage.
The Firming Facial
Seeing sagging? The most effective way to tauten your jawline is to look for skincare products enriched with collagen, which improves skin's elasticity, giving it back its bounce. It's also worth incorporating massages to improve circulation and blood flow for firmer, brighter skin.
The products: Smooth Serum + Smooth Mask. Enriched with vitamin C and vegan collagen, these treatments aid in boosting collagen and elastin in the skin for tauter, tighter skin. The vitamin C serum can also improve an uneven skin tone while serving as a shield against UV rays.
The method: After cleansing, apply a couple of drops of Smooth Serum and follow up with a thin layer of Smooth Mask. Make sure you spend a couple of minutes massaging them in for enhanced penetration.
The Acne-Clearing Facial
If you've got oily skin or acne-prone skin, you're probably fed up of dealing with oiliness and breakouts. You can treat and prevent the formation of blackheads, whiteheads, and pimples by treating your skin to a weekly acne-fighting facial. No need for a professional facial — or those painful extractions!
The products: Anti-Blemish Serum + Glow Mask. Anti-Blemish contains blemish-busting salicylic acid and vitamin C, which work in tandem to fight acne-causing bacteria and eliminate acne scars. Glow adds a little buffing push to clear away dead skin and impurities, manifesting an acne-free complexion.
The method: After cleansing, apply Anti-Blemish Serum and follow up with Glow Mask, applying in circular motions to stimulate circulation and drain impurities. Avoid heavy creams and lotions which are known to clog pores and trigger further breakouts.
Additional Steps?
You really only need three minutes for an at-home facial. However, if you're not stuck for time and you have a few minutes spare, you can add in additional products, such as toner, eye cream, and face cream. Simply apply your toner with a cotton pad, then follow the steps above, and proceed with an eye cream applied to the eye area finished with a thin layer of moisturizer.
Of course, you can swap out and bring in certain products if you feel your skin needs it. For example, if you swear by your clay mask or sheet mask, feel free to use that instead. If it works, keep it in!
At-home facials don't have to be complicated. With just a handful of products, you can tackle your skin concerns and enjoy a relaxed spa-like experience from the comfort of your own home. And don't forget to set the mood by lighting a scented candle, streaming your fave playlist, and diffusing a few stress-relieving essential oils.
If you have a skin concern such as eczema or rosacea, we recommend consulting your dermatologist before performing an at home facial. In some cases, it may be best to get your facial done by a professional dermatologist or esthetician who understands your skin's specific needs.