3 Hydrating Serums You Need IYL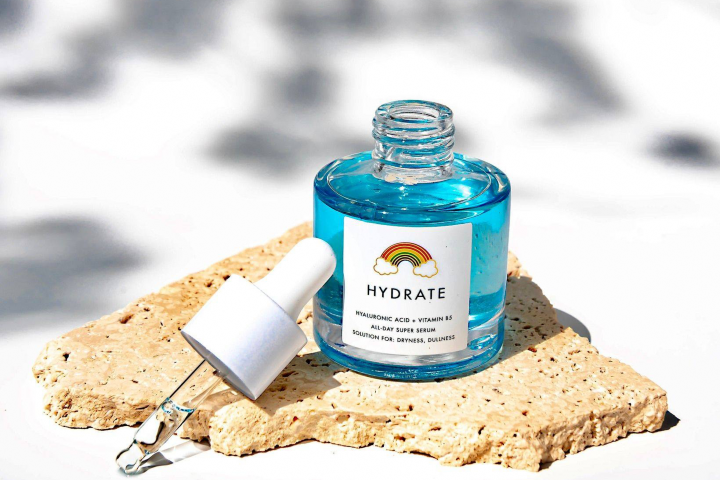 With fall here and winter approaching, skin needs an extra dose of hydration to rescue it from cold weather, dry air, and skin-parching indoor heating. Moisture-boosting skincare products are imperative for keeping skin healthy during the colder months. If you're not a fan of thick, heavy creams and lotions, consider investing in one or two hydrating serums to replenish lost moisture.
Serums are lightweight formulas with high concentrations of active ingredients that tackle skin concerns ranging from dryness to fine lines, breakouts and hyperpigmentation.
Here's why you need a moisturizing serum in your life right now, and the best ones to shop today.
Why You Need a Hydrating Serum?
"Hydrating serums are useful because they bring hydration into the skin," says board certified dermatologist Rachel Nazarian, M.D., of Schweiger Dermatology Group.
Now that the cold weather is here, there's no better time to introduce a supercharged serum into your skincare routine.
As Nazarian explains, "When the atmosphere is more arid, such as in wintertime, the dry air draws moisture out of our skin... so these barrier products prevent loss of moisture."
Of course, you'll probably need more than just a hydrating serum to keep skin happy this fall. That said, it's a great starting place to bolster skin barrier function and maintain hydrated skin throughout the seasons.
Best Ingredients to Look For in a Hydrating Serum
Certain skincare ingredients are exceptional at nourishing dehydrated skin. Look for both humectants and emollients which attract and seal in moisture, such as hyaluronic acid, niacinamide, glycerin, shea butter, ceramides, coconut oil, and vitamin E. Watermelon and aloe are also effective moisture boosting ingredients. You can look for these ingredients in your daily cleanser and moisturizer too!
If you have other skin concerns beyond dryness, look out for additional helpful actives like retinol, vitamin C, and hydroxy acids. These are known for brightening skin, improving the appearance of fine lines, and fading dark spots and discoloration. Vitamin C, a potent antioxidant, can even fight free radicals, thereby preventing these skin complaints.
Not Just For Dry Skin Types
Hydrating serums don't just benefit people with dry skin. Oily, mature, and sensitive skin can all benefit from a daily hydrating serum to keep skin nourished and the skin barrier strong.
It's a common misconception that only dry skin types need to moisturize. All skin types need to! Aside from leaving skin feeling noticeably softer, moisturizing keeps skin strong and prevents irritation.
Regardless of your skin type, everyone needs a cleanser, serum, moisturizer, and sunscreen in their daily skincare regimen. You'll also need a gentle exfoliant (used 2-3 times a week) to shed dead skin cells and enable skincare products to absorb more deeply.
Top 3 Hydrating Serums
Looking for a hydrating face serum? A moisturizing body serum? Or how about both? Here are our top three hydrating serums for keeping skin fresh, bright, and silky smooth this season.
#1: Hydrate Serum
A hydrating hyaluronic acid serum infused with vitamin B5 to drench skin in long-lasting moisture for dreamy, dewy skin. Hyaluronic acid and vitamin B5 work hand in hand in this formulation to seal in moisture, boost collagen production, and plump out fine lines and wrinkles for irresistibly smooth skin. Its hydrating and soothing effects can also be credited to jojoba oil and aloe, which are both present in this topical treatment.
For best results, use this serum morning and night after cleansing. Pro-tip: you can use both on your face and body for all over hydration.
#2: Smooth Serum
Smooth Body Serum teams firming niacinamide with anti-aging strawberries to deliver a smoother, tauter bod. Niacinamide is a powerhouse ingredient that not only deeply hydrates skin but boosts collagen production and restores elasticity to soften wrinkles, reduce sagging, and fade hyperpigmentation through the regulation of melanosome transfer. Thanks to its anti-inflammatory properties, it's also a superstar at soothing redness and irritation, benefiting those with oily, sensitive, and acne-prone skin.
For best results, use this serum after showering. To get the most out of this formula, remember to apply daily.
#3: Illuminate Serum
A satiny, flash-absorbing body serum powered by anti-aging retinol and brightening pineapple for all-over smoothness. Illuminate Serum helps with dryness, dullness, and discoloration delivering a youthful, radiant complexion.
Ascorbic acid present in pineapple aids the skin in lightening dark spots while evening out skin tone. Retinol spurs the production of collagen and elastin, thereby plumping out fine lines and firming up sagging skin.
For best results, use this serum after showering. To get the most out of this formula, remember to apply daily.
Why Choose Rainbow Serums
At Sephora, Ulta, and your local drugstore, you'll find a plethora of hydrating serums from brands like Skinceuticals, The Ordinary, Vichy, La Roche-Posay, and Paula's Choice. So why should you choose Rainbow?
For starters, we're a vegan, cruelty-free brand that specializes in the creation of clean skincare products. We also use some of the world's best ingredients to target specific skin concerns such as acne, fine lines, discoloration, and dry skin. And on top of all that, we try to keep our products affordable so that they're accessible to all.
From vitamin C serums to firming boob masks, you'll find everything you need from Rainbow. We offer a slew of serums all chock full of the best performing ingredients out there. If you're looking for a hydrating serum, head to our site, Walmart, or CVS, and we're sure you'll be satisfied with what you find.
Everyone can benefit from using a hydrating serum. Especially in the cooler months when skin's prone to dryness, it's imperative to incorporate moisture-drenching products into your daily beauty routine. In addition to a hydrating serum, layer a rich facial cream on top to seal in moisture and leave skin extra soft!
Got questions about our products? Get in touch!