10 Last Minute Skincare Gifts Under $15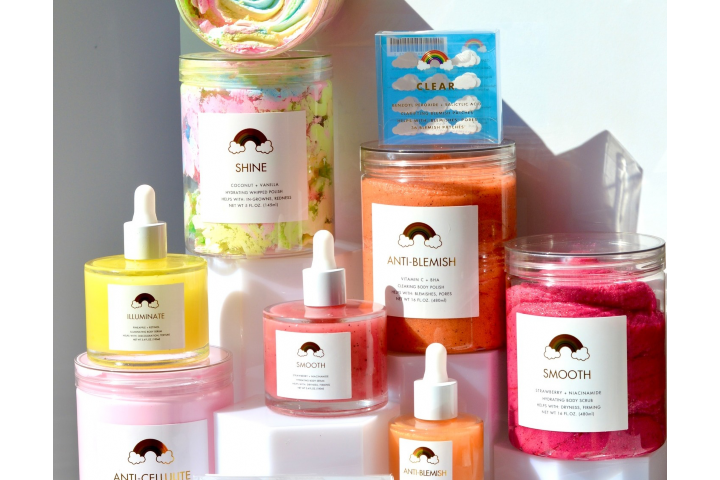 Looking for a last-minute holiday gift for your beauty loving bestie? We've got an array of skincare gifts on offer to treat her to this Christmas. Whether you're looking for stocking stuffers or something more elaborate, you can purchase these skincare products as individual gifts or mix and match them to create something even more memorable.
We've created a gift guide featuring the most impressive beauty gifts under $15 to make holiday shopping that little bit easier. While there aren't any holiday gift sets featured on this guide, these full-size favorites can easily be boxed up to create a special self-care gift set this Xmas.
Ahead, the best gifts under $15 that'll satisfy your loved ones this holiday season — and especially beauty lovers!
#1: Exfoliate Body Scrub
Small but satisfying, Exfoliate Body Scrub is a great gift if you're on a budget. This exfoliating scrub is packed full of juicy, antioxidant-rich strawberries and hydrating niacinamide, which work in tandem to leave you smoother and firmer.
One of our faves, snag this body scrub for the beauty babe in your life and treat her to an upgraded bathing sesh.
#2: Firm Boob Mask
A less common gift idea she's guaranteed to love. While boob products aren't that popular right now, there's nothing wrong with showing your tatas a little TLC. In fact, you should! And our Firm Boob Mask is the best way to do it.
This whipped boob mask is made with a blend of retinol and antioxidants to tighten, soften fine lines, and reduce the appearance of stretch marks. It's the perfect gift for babes who love experimenting with new beauty products.
#3: Plump Lip Balm
Get those kissers ready for the mistletoe — and bae, of course! Plump Lip Balm is a buttery, decadent balm enriched with hydrating coconut and naturally plumping peppermint for a smoother, fuller pout.
#4: Hydrate Body Butter
One of our bestsellers, Hydrate Body Butter is basically a body lotion — only way richer and extra buttery. This rainbow swirl of coconut, vitamin E, and shea butter seals in long-lasting moisture for hours of all over silkiness. It's been trending on TikTok for a while now and it's not hard to see why. The stuff doesn't just look, feel, and smell amazing...it also works!
Best of all, this butter can be doubled up as a hand cream, foot cream, hair conditioner, and lip balm. It's so versatile, she's bound to adore it.
#5: Shine Shave Polish
New year, new shaving habits! We all crave better shave days — as well as smoother, longer lasting, less sore results. Treat your bestie to Shine Shave Polish, a formula that helps prep skin for an irresistibly smooth shave while preventing ingrown hairs, razor burn, and redness.
Rich, yet lightweight, Shine Shave Polish melts into the skin and moisturizes every hair follicle for the best shave of your life. Perfect for dry and sensitive skin.
#6: Smooth Body Serum
Whether you're shopping for a friend, family member, or co-worker, everyone can benefit from including a body serum into their daily skincare routine. It doesn't get much better than Smooth Body Serum, a silky formula of strawberry and niacinamide which team up to fight UV damage, fine line formation, and sagging.
What woman doesn't wanna smell like freshly picked strawberries? Well, that's what this serum smells like. Fresh, juicy, and utterly delicious! Slather it on, smell like strawberries all day long!
#7: Clear Blemish Patches
Sure, it's not the most glamorous of gifts. Even so, we're sure she'd be more than grateful to finally discover a pimple treatment that looks cute and acts like a total baddie. Clear Blemish Patches are a pack of 36, cloud-shaped acne patches flecked with acne-fighting salicylic acid and benzoyl peroxide along with healing hydrocolloid. They help to flatten, drain, and heal active breakouts to leave you clearer.
#8: Anti-Cellulite Body Butter
Cellulite is nothing to feel embarrassed about. For over 90 percent of women, it's simply a part of life. Spoil someone special to this velvety smooth Anti-Cellulite Body Butter to finally tackle those lumps and bumps. Powered by watermelon and vegan collagen, this formula instantly restores moisture and plumps out dimples, giving skin a visibly smoother, firmer appearance.
It's not your typical Christmas beauty gift. Usually, you hear of items like nail polish, sheet masks, mascara, makeup brush sets, eyeshadow palettes, and body washes. Anti-Cellulite Body Butter might not be the conventional gift but it sure does deliver visible results.
#9: Anti-Blemish Body Polish
Rainbow's Anti-Blemish Body Polish is a regenerative, breakout-busting scrub designed to unclog pores, refine texture, and prevent future blemishes. Made with vitamin C and salicylic acid, these active ingredients work together to clear pores and lighten dark spots and discoloration for even, glowing skin. Use alone, or mix a little with your daily body cleanser to keep your back, chest, and butt blemish-free.
#10: Illuminate Body Serum
Give her the gift of glowing skin this Xmas with Illuminate Body Serum. This satiny, lightweight serum combines the powers of anti aging retinol and brightening pineapple to manifest your smoothest, brightest skin. It also helps with hyperpigmentation.
We sincerely hope this holiday gift guide has been helpful in finding the perfect last-minute presents for your loved ones. If you can't find what you need here, you'll find skincare sets available on our official website (rainbowbeauty.com), and more individuals available at Walmart and CVS.
While you'll find many last-minute gifts over at Sephora, Target, and Ulta, the gifts above all come under $15, making them perfect for shoppers with tightened purse strings.