10 Best Holiday Beauty Gifts 2022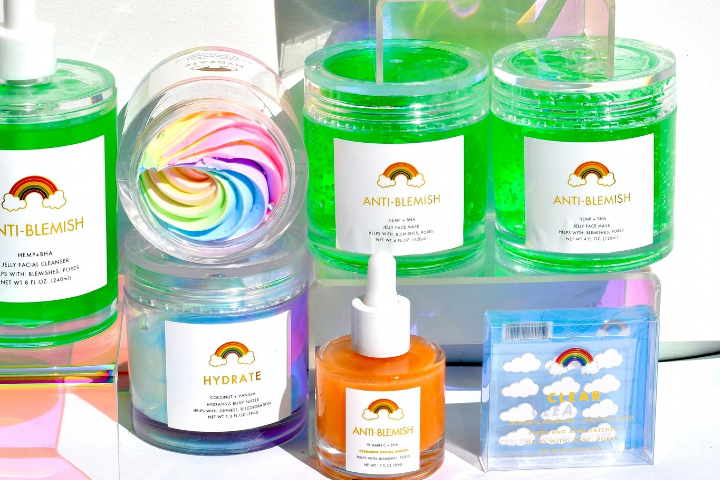 'Tis the season to start treating! Whether yourself, a friend, or a loved one, everyone deserves a treat this holiday season. With the stress and anguish of the last year playing a number on our skin, there's really no better time to show your face and limbs some TLC with a few skincare goodies.
Lucky for you, we have plenty of holiday beauty gifts on offer that you can give to yourself or someone special this Christmas. From gift sets to stocking stuffers, here are some of the best beauty gifts you can give this Xmas.
#1: Hydrate Bundle
The perfect gift set for the season! Now that the cold, dry air is upon us, everyone's prone to dry, dehydrated skin. Treat yourself or your bestie to soft dewy skin this season with our bestselling Hydrate Bundle. Featuring a face mask + serum made with hyaluronic acid and vitamin B5, these formulas work to seal in moisture, plump out fine lines and wrinkles, and leave skin glowing.
This 2-piece set is a thoughtful skincare gift that's guaranteed to transform your or her skin. Even better, both formulas can be used on both the face and body for all over dewy glow.
#2: Boobies Polish
Want to get your bestie something sweet + special this holiday? Drop a tub of Boobies Polish in her stocking! Boob products are in a league of their own. With so few boob-focused formulas around, this exfoliating skincare product is guaranteed to leave her surprised, impressed — and certainly satisfied.
Made with an exfoliating base of salt blended with nourishing coconut, hibiscus, and vanilla, Boob Polish helps to buff away dead skin cells, restore skin's moisture, and up firmness and bounce. It also smells soooo delicious! Perfect for besties who love beauty products!
#3: Glow Bundle
A 2-step glow fix for head to toe radiance. Inside Glow Bundle, you'll find a serum and mask made for both the face and body. Harnessing the brightening powers of glycolic acid and bakuchiol, this duo will leave skin smoother, brighter, and protected. It's the perfect skincare set for babes looking for a glow up. Beauty lovers will adore this results-driven set, and they won't have to wait long to see results.
#4: Hydrate Body Moisturizer
A rainbow swirl of coconut, vanilla, and shea butter, Hydrate Body Moisturizer is a buttery body lotion that diminishes dryness, soothes irritation, and leaves skin smelling sugary sweet. You can double it up as a hand cream, cuticle softener, or conditioner. This stuff works wonders!
#5: Plump Lip Balm
A lip plumping treatment packed with hydrating coconut and stimulating peppermint to add instant volume to lips while tackling dryness and chapping. You've probably seen tons of lip balms and lip glosses in holiday gift guides. What makes this formula stand out? The fact that it really does juice up your lips, leaving them luscious!
#6: Tighten Butt Mask
A fruity, whipped butt firming mask that utilizes the potent powers of brightening papaya and plumping retinol for a smooth, brightened booty. We bet your bestie's never heard of a butt mask before! Surprise her this Xmas by dropping a tub of this butt tightening formula in her stocking. Unlike the regular gift ideas like mascara, eau de parfum, and makeup brushes, Tighten Butt Mask doesn't cover anything up. It actively treats butt breakouts, stretch marks, and cellulite while providing visible lift.
#7: Smooth Shave Butter
Upgrade her shave this Christmas with our dreamy Smooth Shave Butter. It's like a regular shaving cream, only 10x more buttery, luxury, and hydrating. Made with coconut and vitamin E, it helps to soften skin and hair follicles for an irresistibly smooth, irritation-free shave. The kind we all dream about! Maybe you've seen it already on TikTok...either way, this trending product is an excellent holiday gift that'll make shave days a whole lot silkier.
#8: Anti-Cellulite Serum
A smoothing body serum designed to make dimply skin less visible. Watermelon and vegan collagen work in tandem to boost collagen and improve circulation, giving skin a smoother appearance. Regular application of this silky, flash-absorbing serum nourishes even the most sensitive skin types while boosting blood flow and sculpting skin.
Unlike a makeup gift (think eyeshadow palettes and highlighters), brush set, or hair dryer, Anti-Cellulite Serum delivers long-lasting results. With daily use, you can look forward to your smoothest butt and thighs.
#9: Firm Boob Mask
A fruity, juicy whipped body mask made with a blend of retinol and mixed berries to tighten, soften fine lines, and plump the skin on the neck and chest. This boob mask targets stretch marks, sagging, and hyperpigmentation while evening out skin tone and protecting skin against sun damage. Crafted with only the best plant-based ingredients, thus luxe formula always delivers. For best results, use at least twice a week.
#10: Restored Bundle
The biggest beauty gift set we offer...Restored Bundle features three rejuvenating products — a mask + two serums — to hydrate, brighten, and restore skin's bounce. Ready to get glam for all those upcoming festivities? Treat yourself or a friend to this anti-aging routine that'll leave you looking radiant in less than a week of daily use.
It may seem like a splurge, but everything you need for tighter, brighter skin is in this bundle. Alternatively, buy as a bundle and gift each product individually as a stocking stuffer to save.
Holiday beauty gift guides in 2022 will list everything from limited edition hair care products to lip sets, beauty advent calendars, travel-size treats, and stylers. All our products are full-size, deeply indulgent, and perfect for gifting this Xmas. As a clean beauty brand, our products are suitable for all skin types and we only use the best ingredients to target your skin concerns.
Forget manicure appointments, Dyson hair tools, and matte foundations (especially if you're on a budget). Try treating your loved one to the gift of great skin this Christmas.