Your Guide to Buying Makeup Brushes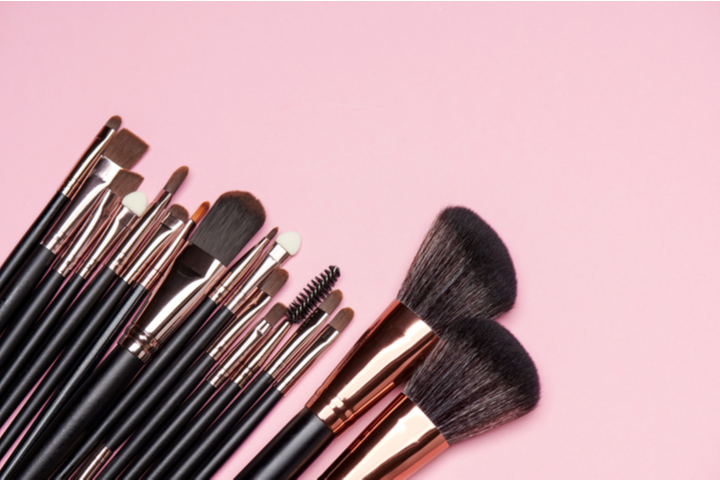 With so many different makeup brushes available to us, how do we decide which one to choose? Of course, different makeup brushes do different things. Some are specifically designed for applying foundation or concealer, while others are intended for eyeshadow or eyeliner application. Some are made with natural hair while others use synthetic. How do you know when to use what? 
Here, a guide to everything you should know about makeup brushes.
THE SIX ESSENTIAL TYPES OF MAKEUP BRUSHES
Unless you're a professional makeup artist or avid beauty lover, you don't need many brushes. According to the pros, you can easily get by with the six essentials.
#1: Foundation Brush
Applying cream and liquid foundation is much easier and results in a far smoother finish when you use the right kind of brush. The best makeup brushes for applying foundation are made from synthetic fibers, as they play well with the formulas and are easy to wash. Best of all, most of the time you can double its functionality by using it as a concealer brush to cover blemishes and dark circles.
#2: Eyeliner and Eyeshadow Brush
When it comes to picking an eyeliner brush, try choosing one with a fine-tipped firm end which makes lining much easier and much more accurate. For blending eyeshadows, opt for a blending brush, crease brush, or shadow brush. There are many different types available. It's down to you which you work best with. You can, of course, use the same brush for applying both your liner and shadow. However, you won't be able to achieve as many effects. That said, if you're looking to keep things simple, stick to a flat brush for both eyeliner and eyeshadow application.
#3: Contouring Brush
If your contour product is powder-based, use a fluffy fan brush that leaves a flawless finish. Cream contour is all about precision. For good results every time, always make sure to buff everything in so that it merges with foundation, concealer, or highlighter. A good blender is invaluable when it comes to making your contouring work look natural.
#4: Powder Brush
Whether you're applying powder foundation or any form of loose pigment, always use a powder brush with very light bristles so that it gives you an even finish. A blush brush is usually a fluffy brush that can be used to apply blush, bronzer, loose powder, or loose foundation.
#5: Eyebrow brush
If you're blessed with beautiful big brows, you can benefit from using a domed eyebrow brush to apply the smallest amount of highlighter or concealer onto the brow bone for a little extra definition. Or try the good ol' fashioned spoolie to brush hairs up and keep them tamed.
#6: Lip Brush
A well-designed lip brush is perfect for completing a makeup look and saves issues like smudging. 
"Some people are great at just swiping on their lipstick straight out of the tube, but the lip brush gives you that added precision," says makeup artist Troy Surratt. "You're able to create a sharper lip line and work the color into the texture of the lips, which results in a longer wearing, indelible look."
NATURAL VS SYNTHETIC
When it comes to buying makeup brushes, it's important to consider which material is right for you. Many natural options include animal hair such as goat, squirrel, fox, and even Kolinsky sable. 
However, brands (like Rainbow!) are using synthetic materials that mimic the functionality of natural hair. For instance, many hair brushes are using synthetic bristles that feel just as soft as real hair but are cruelty-free. In most cases, it can be hard to tell the difference when it's on your skin.
While real hair is best for applying dry products like eyeshadow and blush, it's known for soaking up wet formulas like foundation, which will only waste product in the end. We recommend going with high quality synthetic brushes. 
SIGNS OF A HIGH QUALITY BRUSH
How can you tell if that $100 brush set is worth the splurge? According to makeup artist Harry Rajput, there are a few ways to test a good quality makeup brush. 
"First, rub it against your skin. The bristles should feel soft, not rough or scratchy," says Rajput. "Check the strength of the bristles by rubbing the brush against your hand and see if any fibres fall out." If any of bristles fall out, that's a clear sign it's not a high quality brush and you should steer clear of it.
It's definitely worth investing in good brushes to get the most out of your makeup products and enhance the overall makeup application process. The right brush can make all the difference!
MAKEUP BRUSH CARE
Now that you've got all your makeup brushes, remember to take good care of them by washing them regularly. Whether you're using them to apply eye makeup or face makeup, all brushes need to be cleaned regularly to prevent irritation and infections. You can easily clean them using a couple of basic skincare products such as a cleanser or makeup remover. Aim to wash them once or twice a week. 
After you've washed your brushes, hang your brush heads upside down to prevent water from getting into the handles, which can cause them to break. 
Besides keeping things clean and hygienic, washing your brushes regularly will make them work better. That means your favorite Mac foundation or Real Techniques eyeshadow will glide on like a dream. 
Makeup brushes come in all shapes, sizes, and materials. If you're unsure where to get started, follow our makeup brush guide above to help make things easier. The truth is, you don't need a dozen brushes in your makeup kit for flawless results. You only need several essentials and good quality brushes for a seamless finish.
You will find all of Rainbow's makeup products on our official website, Ulta, and Sephora.