The 'Monroecore' Beauty Trend is Flaming Hot RN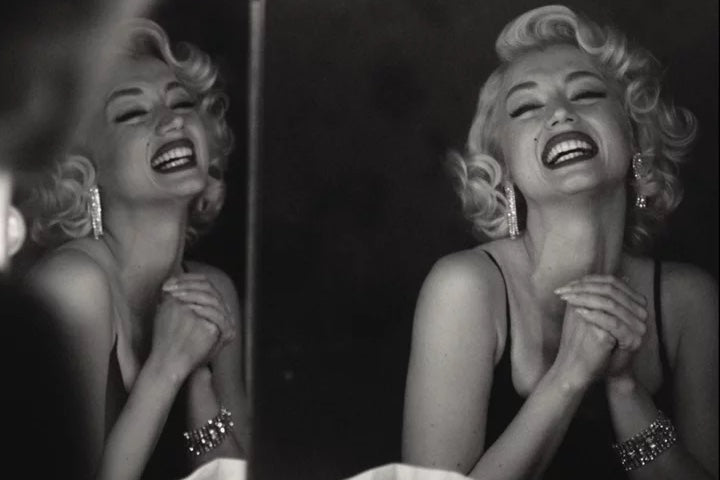 With the release of the new Marilyn Monroe film "Blonde" starring Ana de Armas, "Monroecore" is the hottest new trend to sweep the beauty scene.
Marilyn Monroe has always been a beauty icon. From her platinum blonde hair to her bold red lip and cat-eye liner, the star embodies Old Hollywood glamour.
You could say "Blonde" has re-sparked that admiration we have for Monroe. And that's why we're seeing Marilyn vibes all over social media — as well as on the red carpet.
From her skin to her makeup and hair, here's how to replicate Marilyn Monroe's look.
What is "Monroecore"?
Monroecore is essentially a beauty trend that's been coined since Netflix released the Marilyn Monroe movie "Blonde." It's all about creating a Marilyn Monroe-inspired look, implementing her most famous features such as the curled blonde bob, red lips, and long fluttery lashes.
While the focus of Monroecore is mainly on the makeup and hair, we're adding our own spin on it by incorporating skincare. In case you didn't know, Marilyn was pretty vigilant when it came to taking care of her skin. Hence the reason for her glowing complexion!
Scroll down to hear how you can embrace Monroecore in your daily beauty routine.
Monroecore Skin
To achieve her signature on-camera glow, the actress would apply layer upon layer of Vaseline or Nivea Creme under her makeup.
Her dermatologist Erno Laszlo says Monroe also religiously used his Phormula 3-9 — a reparative botanical balm, specially created to heal one of her scars. Elizabeth Arden Eight Hour Cream, Pond's, and olive oil were also supposedly slathered over her skin.
If you've got oily or acne-prone skin, stick to lighter formulas that won't clog your pores like Rainbow's Hydrate Serum + Jelly Mask. These contain hyaluronic acid and vitamin B5, which work in tandem to lock in moisture and plump out lines for irresistibly smooth skin.
As for getting that Monroe glow, the quickest route is via an exfoliating serum like Rainbow's Glow Serum. Its key ingredient — glycolic acid — is an alpha hydroxy acid that works by lifting dead skin to reveal your freshest, smoothest complexion.
Monroecore Makeup
Marilyn Monroe had a lot of marvellous makeup secrets. From lipstick hacks to eyeshadow tricks, she adored experimenting with makeup to create different effects. In fact, we're still borrowing Marilyn's makeup tricks today!
In spite of all her ingenious hacks, a typical Marilyn Monroe makeup look was relatively simple — yet incredibly effective. Here are some makeup tips to create Monroecore makeup.
Primer. Before applying foundation or eyeshadow, Monroe would apply a primer all over her skin to prep for flawless makeup application. So that's how she got that enviable glow! She was clearly onto something because primer plays an important role in makeup application today, enabling your products to look better and last longer.
Bold Red Lip. Monroe was rarely seen without a bold red lip. Besides working well with her blonde locks, the red lip gave her a fierce, bold appearance. And she pulled it off seamlessly. To get her iconic red lip, Marilyn famously used five lip products — darker colors towards the edges of the lips, lighter colors in the middle, and a coat of gloss to create a gorgeous contoured effect.
Cat Eyeliner. The cat-eye liner complements a bold lip perfectly. To achieve Monroe's sensual peepers, use a fine tip eyeliner to draw a nice thick flick. Allegedly, Marilyn used three different colors of eyeliner to get her eye makeup just right. For the cat liner itself, she used black liner. For the lower lash line, she used brown liner, and in the water line, she used white to make her peepers pop.
False Lashes. To create the perfect eye shape, Marilyn cut her falsies in half and placed them towards the outer corners of the eye to give her peepers some extra glamour. Monroe was known for her flirty lashes. Fortunately, they're easy to create with a decent pair of false lashes. Simply cut them in half like Monroe did, and apply each half to the outer corners of your eyes.
Beauty Mark. People have been recreating Marilyn's beauty mark for decades. Situated on her lower left cheek, it's become an iconic part of her look. You can draw on this beauty mark using a dark eyeliner.
Monroecore Hair
In 2022, beauty lovers are embracing a contemporary spin on Monroe's mane.
Instead of her iconic pin-curl style, you can expect to see more people cutting their hair into a bob haircut and then flipping it over to one side.
"The whole summer long was all about middle partings and the flatness at the root," says celebrity hairstylist Tom Smith. "This autumn, I think we're going to be seeing a lot more of that kind of comfy, cosy glamour."
If you'd like to make it truly Marilyn-like, there are two ways you can do it. You can either reach for your roller set. Simply dampen your hair, section it off, then roll and pin your hair. Let it sit for a couple of hours before releasing it. To give it extra volume, try blasting your hairdryer over your rollers for a minute or two. Leave hair to cool before releasing. When you're done, spritz your hair with a generous amount of hairspray.
Alternatively, reach for your curling iron. Apply a texturizing spray before using, then section off the hair. Curl your hair, going in the direction of your face to give it that old Hollywood look. Brush it out with your fingers, then set with hairspray.
Ready to embrace Monroecore? You can put your own spin on it to create a version of Monroe's look that works for you. It's not about twinning with Marilyn, but rather taking inspiration from her look and applying it to yours. Most importantly, have fun with it!