The Laminated Skin Trend is SO HOT RN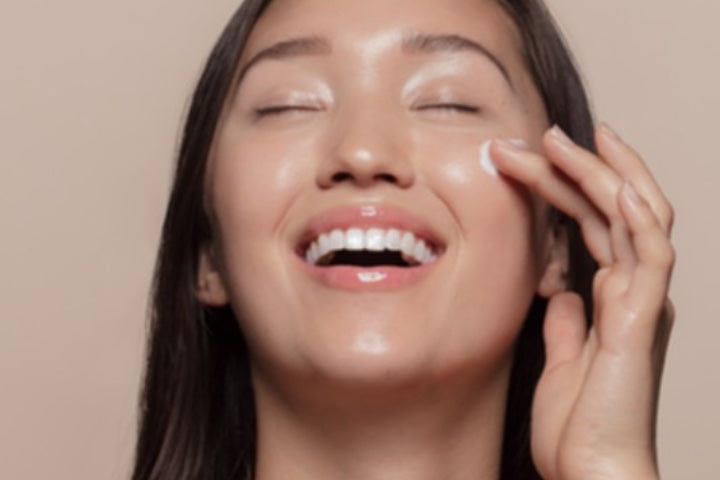 TikTok is the place for discovering the hottest new skincare trends. And recently, the one that's caught our attention (along with everyone else's, of course) is laminated skin.
TikTok's laminated skin trend is all about achieving supple, dewy, and soft to the touch skin that looks just a little sweaty — like a lived in kind of sweatiness. Since it's winter, and we're prone to dryness and flaky patches, laminated skin couldn't have come at a better time.
Ahead, all the deets on TikTok's newest beauty trend and how to achieve the look at home.
What is Laminated Skin?
According to Terry Barber, MAC's director of makeup artistry, laminated skin is the "next level of glow" that looks a little sweaty.
"The skin for the season is sweaty, which is no longer a negative," Barber told Refinery29. "All the designers I'm working with are talking about sweaty skin, like you've just come out of the ocean on holiday, or been on a dance floor — or you've just had sex."
Unlike with other skin and makeup trends, this one isn't just about highlighted cheekbones and sparkly finishes. It's about using creamy products to create a "laminated" base, leaving you with glowy, dewy skin.
What makes this trend so special is that it's a great way to embrace oily skin. If you're not naturally blessed with a matte complexion, the laminated skin trend encourages you to up skin's hydration and embrace your natural shine — instead of hiding it.
Laminated Skin Vs Glazed Donut Skin
Over the years, we've seen a heck of a lot of skincare trends emerge from TikTok. From glass skin to glazed donut skin, and now laminated skin, we're always looking at something new. So, what exactly is the difference between laminated skin and glazed donut skin?
At a glance, they sound pretty much the same. They both focus on achieving naturally gleaming looking skin. Unlike glazed donut skin, however, laminated skin focuses on highlighting skin's natural lived-in sweatiness instead of simply creating a dewy sheen.
How to Get Laminated Skin
Wondering how to laminate your skin? Here's a step-by-step guide to achieving this viral beauty look at home, using just a few skincare products and a handful of makeup products.
Step #1: Smooth Out Texture
To create a nice smooth base, reach for a chemical exfoliant like glycolic acid which will help in evening skin tone and texture, and ultimately decrease the size of large pores. You'll find glycolic acid in cleansers, serums, toners, and masks.
We recommend Rainbow's Glow Mask, a jelly face mask of glycolic acid and bakuchiol, that buffs away dead skin cells and impurities, revealing your freshest, smoothest skin. You can simply pat it on, leave it to sit for 15 minutes, then rinse off for an instant glow fix! It's the perfect prep for laminated skin.
Step #2: Boost Brightness
Throw in an antioxidant like vitamin C to boost your glow even further. The antioxidant fam is fabulous at giving you that lit from within glow. While you can achieve that with a good foundation and highlighter, there's nothing like starting with a glowing base to make your makeup look pop!
We recommend Rainbow's Smooth Serum, an anti-aging formula of vitamin and vegan collagen, to boost skin's luminosity while plumping out lines and wrinkles. Pairs perfectly with your daily sunscreen to enhance its protective effects.
Step #3: Seal in Moisture
Now that your skin's freshly buffed and brightened, it's time to layer on the moisturiser. The sealing step really is the secret to getting that dewy, misty glow.

"It's all about emollients and occlusive products," explains California-based medical aesthetician and influencer Cassandra Bankson. "If you are naturally super dry and looking to get this look, use ingredients such as hyaluronic acid, squalene, and ceramides. Your skin naturally creates these, and when you put them on with a moisturizer or product, it can support the skin."
To get the laminated look, some of the best ingredients include petroleum jelly, shea butter, hyaluronic acid and glycerine.
We recommend Rainbow's Hydrate Serum, a satiny serum of hyaluronic acid and vitamin B5 that drenches skin in long-lasting moisture for all-day dewiness. Suitable for even the most sensitive skin types.
Step #4: Apply a Dewy Foundation
Your base is ready. Now you can pat on the foundation. For this look, you want a foundation that's going to leave you dewy, not matte. Alternatively, opt for a light tinted moisturizer if you're not a fan of heavy foundations.
Step #5: Mist on the Setting Spray
The final step is drenching your skin in a moisturizing setting spray. Look for a lightweight mist that's loaded with nourishing, hydrating ingredients like hyaluronic acid and vitamin E for an ultra-radiant, supple skin finish. Spritz, spritz, and spritz some more!
Once you're done, you can follow up with eyeshadow, mascara and a little gloss if you like. Or you can simply keep the look as it is.
Who isn't the Laminated Skin Trend for?
While laminated skin is a great trend for embracing your naturally oily skin, if you're more about the matte look, this trend isn't for you. Since it focuses on achieving a sweaty, almost wet look, anyone who's into matte probably won't be a fan of this skin trend.
Generally speaking, though, everyone can enjoy this hot new skincare trend. It's the perfect way to embrace your natural oiliness and GLEAM!
TikTok births so many new beauty trends, it can be hard to keep up. Not to mention how can you even figure out whether something's worth the hype or not?
With laminated skin, you don't have to worry about harming your skin like you do with other TikTok trends. This is a trend that will probably fade in time, but it's a trend worth trying if you're seeking naturally dewy skin that can be created in a matter of minutes.