The Biggest Makeup Trends in 2022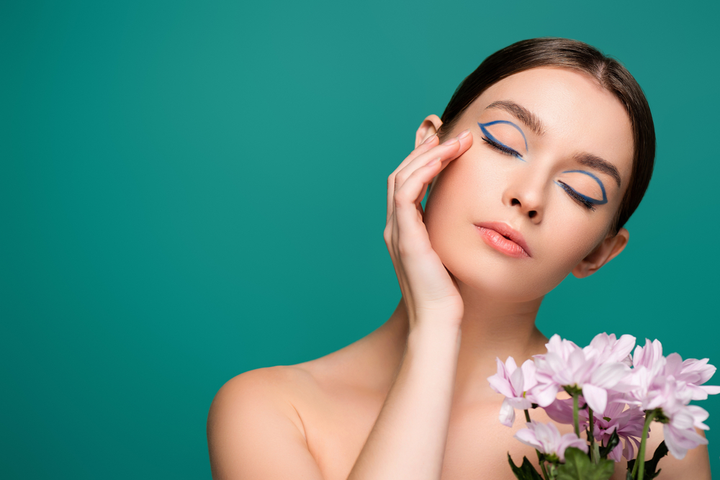 2022 is going to be a magnificent year for makeup. We've already seen an explosion of makeup trends ranging from graphic liner to straight brows. But in the coming months, we can expect to see many more fascinating beauty trends entering the scene.
Since we love keeping up with the hottest new trends, we scrolled endlessly through social media and scoured all the newest beauty products on the market to determine the biggest 2022 makeup trends. 
Scroll down to hear the biggest makeup trends in 2022.
Soft, Luminous Skin
According to top makeup artist Mali Thomas, 2022 makeup looks will focus on dewy, luminous skin -- created both through makeup and skincare products. 
"Foundation trends will be more reflective and luminous making you feel instantly revived," says Thomas. "They will feel and look as though they have a built-in highlighter and illuminator."
However, if you really want to nail dewy foundation application, you'd better prep your base first. We recommend using our Glow Bundle. It features a face mask and serum formulated with exfoliating glycolic acid and brightening bakuchiol to refresh the face and give your skin back its glow. Plus, the serum works great under makeup! 
If you've got dry skin, try moisturizing with our Hydrate Serum, a formula made with a blend of hyaluronic acid and vitamin B5 to plump up and drench dry skin in lasting moisture. 
Straight Brows
Straight brows are having a moment right now, and it seems that moment might extend throughout the new year. According to makeup artists, the trend stems from Korea and consists of fuller brows with a minimal arch to give the appearance of straight brows. 
"To achieve the look, you must first abandon your arch," says Fides Baldesberger, CEO and owner of Rubis Tweezers. "To get rid of the arch, go to the end of your eyebrow near the tail and tweeze off the hairs that go downward. This will allow your eyebrows to appear straighter."
We're already seeing influencers rocking the brow trend. Are you ready to jump on the straight brow train too?
Graphic Eyeliner 
Maybe it's Euphoria or maybe it's the fact that we've spent the last couple of years (we're talking to you, pandemic!) going au natural, but now we're going crazy for statement eye makeup looks. 
One trend we've recently seen hit the catwalks: graphic eyeliner. It's definitely going to be one of 2022's biggest beauty trends as far as makeup is concerned. 
Negative space eyeliner is going to be a popular choice as it's fun, bold, and easily fixable if you make mistakes. 
Purple Blush
Who hasn't seen all those purple blush looks and makeup routines on TikTok? If you haven't, you need to check them out asap. They're awesome! 
You can easily achieve the look with a little powder or cream blush in shades of plump, lavender, and violet. Plus, you can double them up as eyeshadow or cream to make your eyes pop. Who doesn't love a makeup multitasker?
Matte or dewy, both look great for adding color to the cheeks. We're convinced we're going to be seeing more colors on the horizon as the months go by. Last year, people were still pretty minimalist with their makeup, but this year we've had enough of staying simple. This year, we want to pop! And pop, you will.
Lots of Shimmer
2022 will certainly be a year of glam makeup looks -- and that's probably going to involve a lot of shimmer. Shimmery eyeshadows, shimmery highlighters, shimmery lip colors. You name it, it's bound to involve shimmer. 
As much as we love the no makeup makeup trend, there's just something about shimmer that makes us feel sparkly inside. 
Double Wing Eyeliner
Another liner trend that's gaining popularity in 2022 are double wings. Think of it as an XXL cat eye. 
"It adds length to the eyes, pulling them outward and upward, which ultimately lifts and widens," explains makeup artist Erin Parsons. "By adding the lower doubled wing you create a 'shadow' from the lashes. [The blank space] between the wings opens the eye, and the focus is on the outside corners, which widens the space between the two eyes."
She says this makeup look works on absolutely everyone, no matter your eye shape or color. 
Glossy Lips
You can't go wrong with a good lip gloss. So, it's really no surprise the glossy lip is making a comeback in 2022. Did it ever go away? 
To achieve a gorgeous glossy lip, prep your lip with our Plump Lip Butter, which is an infusion of coconut and vanilla to hydrate, soothe, and volumize your pout. Draw on a little lip liner to defines those edges, and then swipe on your favorite lip gloss. 
Lip gloss is one of the beauty industry's favorite products for adding a dewy finish to a look. That's why you'll often see celebs and influencers sporting the look. 
Colorful Mascara
Beauty brands are loving colorful mascara right now, which is why you'll see a larger selection of pigmented mascaras on shop shelves. Just make sure you choose a longwear formula so you don't end up with colorful residue under your peepers. 
If you're looking for something a little more permanent, you may even want to consider colorful lash extensions which are hugely popular at the moment.
Either way, have fun and add a splash of color to your beauty routine in 2022!
We love a good makeup trend -- especially the experimental ones like graphic liner and purple blush. Let yourself experiment this year by trying out at least two or three of the makeup trends above. You're probably not going to like them all, but you never know until you try, right?
Above all, have fun! Experiment with makeup and break all the rules!