The 5 Products You Need for Dewy Mermaid Skin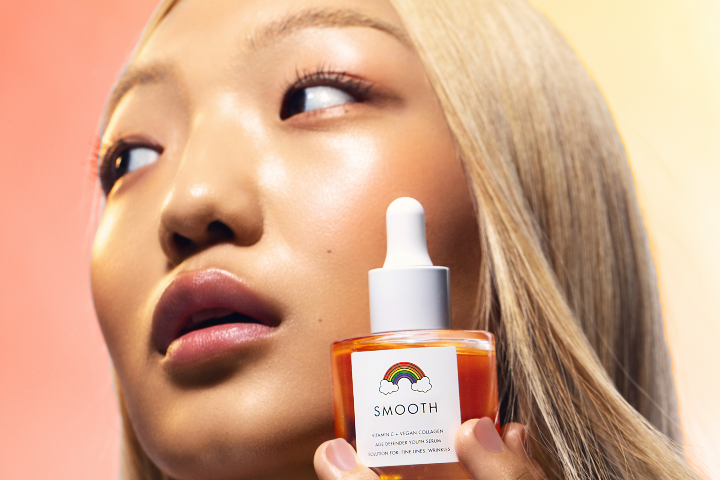 The hottest new beauty trend on the horizon... mermaid skin!
It's already hot, but pretty soon it'll be flaming HOT. Between Disney's forthcoming remake of The Little Mermaid and Spring/Summer 2023 runways full of mermaidcore moments, the aquatic theme is already making its way into the beauty industry. Coined, "mermaid skin," this hot new skincare trend is all about unearthing your skin's natural dewiness.
From hydrating serums to brightening scrubs, here are the five skincare products you need to achieve Ariel-worthy glowing skin.
#1: Illuminate Polish
The first step to dewy skin: exfoliation. Since dry skin doesn't reflect light well, it's impossible to achieve a mermaid level of dewiness without gently buffing your skin first. Exfoliating your skin helps to remove the buildup of dead skin cells and impurities to reveal your freshest, brightest skin. Plus, it allows other beauty products to penetrate deeper for enhanced results.
Rainbow Beauty Illuminate Body Polish contains a brightening blend of pineapple and retinol, which work in tandem to detoxify skin, clear pores, and leave skin glowing. It also smooths rough skin while reducing the appearance of dark spots and discoloration. This skin buffing formula preps skin for that dreamy dewy glow — and also for shaving and self-tanning.
How to use it: In the shower or bath, massage a palmful all over your body, working in gentle circles to buff. Rinse off, then pat dry. Pro-tip: Mix a teaspoon into your daily facial cleanser for less aggressive facial exfoliation.
#2: Hydrate Serum
Hydration is essential for dewifying skin. Whether you've got oily skin, dry skin, or sensitive skin, all skin types can benefit from a hydrating serum. It's also a perfect replacement for heavy moisturizers if they tend to leave you feeling greasy or trigger breakouts. Because serums melt into the skin, they don't leave behind any greasy residue. They'll leave your skin feeling silky soft — without appearing shiny.
Rainbow Beauty Hydrate Serum is a silky formula of hyaluronic acid and vitamin B5. Together, these actives work hand in hand to drench skin in long-lasting moisture while plumping out fine lines and improving skin tone and texture. A little bonus: it'll leave you skin looking instantly glowy. And, it serves as a perfect base for your makeup products. If you're running low on lip gloss, this silky serum can even stand in!
How to use it: After cleansing, apply a few drops of serum to skin and massage in. You can apply to the face, neck, or body. Let it absorb before applying other products.
#3: Glow Mask
Exfoliate and treat all at once! Chemical exfoliants such as glycolic acid and lactic acid (AHAs) are fabulous skin buffers that gently dissolve dead cells on the skin's surface without irritating skin. They're known for their instant brightening effects, as well as their ability to minimize the appearance of hyperpigmentation. On top of all, they make skin feel noticeably softer.
Rainbow Beauty Glow Mask is a glossy gel mask powered by glycolic acid and bakuchiol. While glycolic buffs away surface dirt and dead skin, bakuchiol aids in the resurfacing process and protects skin against environmental aggressors. You can use it on your face and body. Make it part of your regular skincare routine to keep up high levels of glow.
Got acne-prone skin? Glow Mask can help unclog pores thanks to its cell-shedding powers. By doing this, it prevents blemish formation, keeping skin crystal clear.
How to use it: Apply a scoop of the mask to skin and massage in. You can apply to the face, neck, or body. Let it sit on the skin for 15-20 minutes, then rinse thoroughly and pat dry.
#4: Smooth Serum
One of the best active ingredients for illuminating skin is vitamin C. A potent antioxidant, vitamin C can do A LOT for your skin. For starters, it has powerful brightening abilities, giving skin a natural glow. In addition to that, vitamin C can fade the appearance of dark spots, discoloration, and even acne scars. And its best superpower of all? Protecting skin against free radicals and sun damage, thus preventing premature signs of aging.
Rainbow Beauty Smooth Serum is enriched with vitamin C and vegan collagen, which work together to brighten, plump, and protect skin while promoting that dewy look you dream about. This nourishing formula works wonders on the skin — and acts fast! Thanks to vitamin C's UV protecting abilities, you can pair it with your daily broad spectrum SPF 30 for enhanced protection. It'll make your sunscreen work 10x harder!
How to use it: Apply a few drops of serum to skin and massage in. You can apply to the face, neck, or body. Let it absorb before applying other products.
#5: Hydrate Body Butter
Finally, seal all that moisture and all those active ingredients in with this rich and buttery lotion. Chock full of shea butter, vitamin E, and coconut oil, Rainbow Beauty Hydrate Body Butter makes the skin look and feel soft, silky, and dewy. Use it all over — paying special attention to dry areas like your elbows, knees, and ankles. Besides feeling buttery soft, your skin will smell like a candy store once you're done!
How to use it: Apply a scoop or two of body butter to your skin and massage in. Let it absorb before getting dressed.
Of course, you can also cheat mermaid skin with a few makeup products, such as a dewy foundation, highlighter, bronzer, shimmer, eyeshadow, mascara, and a good concealer. You'll find lots of mermaid skin makeup looks online. That said, if you want the real deal, you'll need to invest time and effort into your skincare routine. While it may take a little longer, at least the results will last!
If you have a skin condition, speak to your dermatologist before trying new products. All our products are vegan, cruelty-free, and clean, but it's still worth getting the heads up from your derm to avoid upsetting your skin.