'Shower Sandwiching' Stops Post-Shower Scaly Skin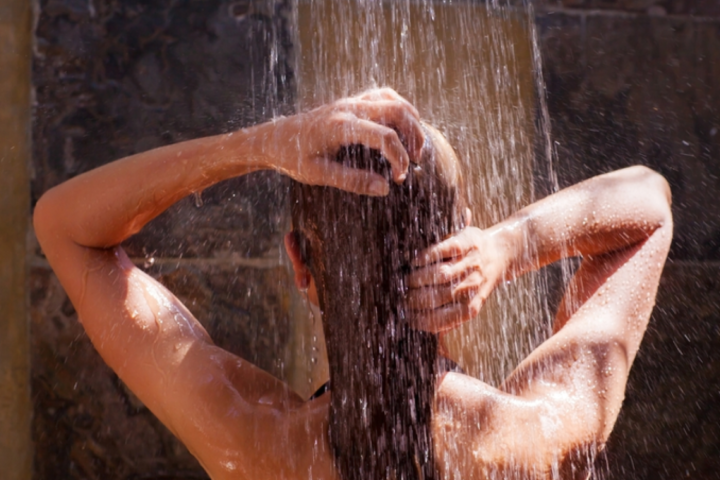 Do you step out the shower feeling dry, flaky, and basically just uncomfortable? Then TikTok's hottest new trend, 'shower sandwiching' will be perfect for you.
Lately, the social media platform has shown showers a lot of attention. First, there were 'everything showers,' a ritual that involves doing all your beauty chores in one shower. Now there's 'shower sandwiching,' a technique that involves slathering your skin in body oil before and after showering to prevent dryness.
Read on to hear more about shower sandwiching, and how to do it yourself.
What is Shower Sandwiching?
Shower sandwiching is the solution to post-shower dry skin. If you end up dry and scaly after taking a shower, this is a trend you should definitely try. Best of all, there's nothing complicated about it.
It literally just involves coating your skin in oil before your shower to support the skin barrier and protect it from drying out during your lathering sessions. And then applying body oil straight after, while your skin's still damp, to lock in moisture and keep skin hydrated for the remainder of the day. In other words, you're sandwiching your skin between those nourishing fatty acids. Easy!
Even dermatologists support this skincare trend. It's especially beneficial if you like taking hot showers, as the hot water strips skin of its natural oils, leaving skin thirsty.
Benefits of Shower Sandwiching
Particularly if you have dry or sensitive skin, showers (and the skincare products you use while showering, i.e. body washes, exfoliating scrubs, etc.) can severely dry out and irritate your skin. Body oil application before and after your showers provides a protective barrier to stop skin from dehydrating and getting irritated.
According to the derms, those with skin conditions like eczema can also benefit from shower sandwiching. Again, this practice serves as a protective barrier to stop skin from getting dry, flaky, and itchy post-shower. And it prevents rashes!
To further avoid irritation, you might want to try showering in lukewarm water, switching to fragrance-free cleansers, and limiting your use of potentially irritating ingredients like alpha hydroxy acids and retinol.
How to Do a Shower Sandwich
There's nothing complicated about shower sandwiching. Before hopping in the shower, coat your entire body in a nourishing body oil. Once you're done, apply a thin layer of body oil to slightly damp skin to seal in moisture and keep skin silky soft all day long.
To enhance the overall experience, make sure you apply extra oil to those extra dry areas, like your elbows, knees, and ankles. We also recommend investing in a luxurious body oil infused with the hydrating oils like jojoba, olive, coconut, and avocado. To get even more out of your shower sandwich, be sure the shower gels and cleansers you're using are fragrance-free and enriched with nourishing ingredients that'll help in soothing dry, itchy skin. Avoid harsh soaps which are known for irritating the skin.
To help your oils and lotions absorb deeper, gentle exfoliation can help. You can either do this with a body scrub, AHA-based body wash, loofah, or washcloth. Exfoliation removes the buildup of dead skin cells and impurities, clearing pores and allowing skincare products to penetrate deeper into skin — and ultimately work harder!
Be sure to finish your routine with a generous application of SPF.
Shop Shower Products
Here are some of our fave shower products for keeping your skin happy post-wash. Try including them in your daily shower skincare routine to stop the dryness and flakes.
Hydrate Serum
Powered by hyaluronic acid and vitamin B5, Hydrate Serum drenches skin in moisture while plumping out lines and giving skin an instant refresh. You can apply this before and after showering to prevent skin from drying out during your bathing sessions. It's incredibly rich yet lightweight, so it won't leave you feeling or looking greasy.
Smooth Body Scrub
Get the best out of your body formulas by buffing your skin with Smooth Body Scrub. With a retexturizing base of sea salt blended with antioxidant-rich strawberries and hydrating niacinamide, this in-shower treatment helps with dryness, dullness, and sagging. What's more, strawberries are rich in alpha hydroxy acids, helping to boost all over exfoliation. Best of all, it's gentle enough for all skin types.
Booty Polish
Show your 'assets' some love with this resurfacing butt polish featuring mixed berries and retinol, which work in tandem to restore skin's youthfulness. It's quite literally your one step solution for a perkier peach. In addition to providing subtle lift and firming effects, this formula also helps with stretch marks and cellulite.
Glow Mask
Give your skin the ultimate glow up with this glycolic acid-based face and body mask boosted with collagen-enhancing bakuchiol. It's the best treatment option for dry patches, roughness, and dullness. Plus, it helps with fine lines and sagging. If you're not a fan of scrubs, this chemical exfoliant will gently lift dead skin and dirt, revealing a fresh and glowing body.
Hydrate Body Butter
Lock in all those active ingredients and all that hydration with this whipped and buttery body moisturizer. It's enriched with vitamin E, cocoa, and shea butter to intensely hydrate skin and prevent transepidermal water loss. In other words, it'll keep your skin baby soft all day long. Plus, a little bonus: this super versatile body butter can also be used as a cuticle softener, lip balm, and split end sealer.
If you're dealing with dry, scaly skin, shower sandwiching is the ritual for you! Especially during the winter months when you take longer, extra hot showers, shower sandwiching protects your skin from drying out while injecting it with deep hydration. They're particularly beneficial for those with sensitive skin, skin conditions, or who end up breaking out in hives after showering.
At the end of the day, you can use all the creams, lotions, and ointments you like. But shower sandwiching creates a moisture barrier that protects skin from oil-stripping water, leaving you silky smooth and scale-free.
Of course, if shower sandwiching doesn't improve your symptoms, it's best to speak to a dermatologist or healthcare provider for other treatment options.