Save Money on Skincare. Try TikTok's 'Save vs Splurge' Trend.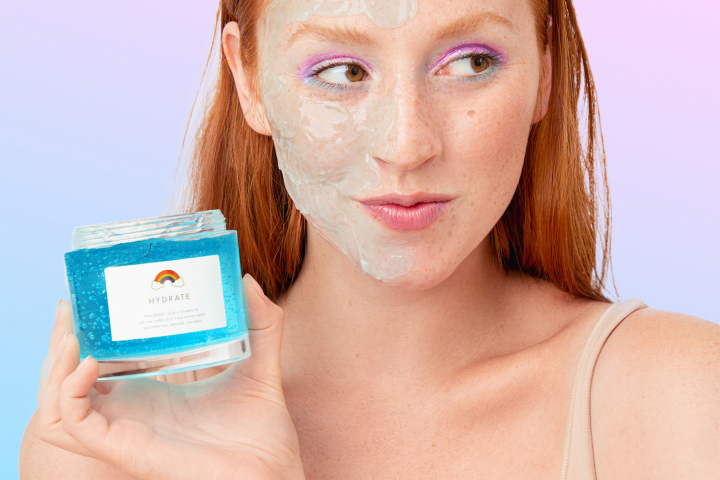 Over the years, TikTok has blessed us with many makeup, hair care, and skincare trends. While some have been questionable, others have been pretty enlightening. Enter the newest TikTok beauty trend on the scene: 'Save vs splurge'.
TikTokers have been sharing their save vs splurge picks in a bid to help shoppers save money on beauty products. Wanna know when to shell out on cleansers, moisturizers, serums, and face masks, and when not to? For the sake of your bank balance, here's everything you should know about the save vs splurge beauty trend and how to apply it to your skincare shopping.
What TikTok's Save vs Splurge Trend?
We first discovered the save vs splurge trend when @skincarewithshelbs posted a viral video of what products are worth the splurge — and what products are not. Since then, everybody's been chiming in with their own beauty picks.
"Save vs. splurge" is just as it sounds. It's essentially about figuring out which products you can afford to save on and which you should invest in. In many cases, you don't always need the most expensive products to see visible improvements in your skin. Many drugstore formulas can be just as good as the higher-end beauty. That said, it's important to identify which products are worth investing in and which you can pass on.
We've got to admit, this is got to be one of TikTok's most helpful trends yet. Not only are we getting product recommendations. We're getting rare financial advice in regards to skincare shopping.
How to Know When to Save or Splurge on Skincare
The trick to nailing the save vs splurge trend is to figure out which skincare products deserve your extra spending — and then distinguishing the ones that don't. Here are some tips for identifying what makes a serum, moisturizer, or exfoliator worth the splurge — and when to pass.
Save: On a Product that's Promises don't Align with its Ingredients List
We've all been there. You pick up that cream, serum, or lotion in the store. From what you read on the front, it sounds incredible — magical, almost. Two weeks in to using it daily, all you feel is disappointment because the results promised haven't been fulfilled.
Many skincare products exist that give us false hope. Whether it's brightening, alleviating dry skin, banishing breakouts, or fading fine lines and hyperpigmentation, we're all drawn in by the promises.
Next time you shop skincare, be sure to check a product's ingredients list before you buy. If it's offering anti-aging benefits, look for retinol, vegan collagen, or vitamin C. If it's offering acne-clearing benefits, look for AHAs and BHAs. As for promises of hydrated, dewy skin, you should be searching for the likes of hyaluronic acid, ceramides, jojoba oil, and shea butter.
If the ingredients don't align with the promises, pass!
Splurge: On a Product with Powerful Active Ingredients
The products worth investing in are those that target specific skin concerns, whether that be acne, signs of aging, or discoloration. Serums and creams, for instance, typically contain powerhouse active ingredients that tackle specific skin concerns, depending on the exact formula.
Hyaluronic acid is a hydrating hero while retinol is the go-to ingredient for restoring skin's youth. Exfoliating acids like salicylic and glycolic help to clear pores and keep acne-prone skin clear while offering brightening benefits. A vitamin C serum can help treat hyperpigmentation, dark circles, and dullness.
At the end of the day, adding a high performing serum or cream (or both!) into your skincare routine is the best way to start seeing the end of your skin concerns.
Save: On Products Packed with Fragrance + Other Additives
Especially if you've got sensitive skin, slathering on products brimming with fragrances and other additives can cause redness, dryness, and irritation. It's better to pass on these products altogether.
Splurge: On Clean, Vegan Formulas
Clean formulas packed with nourishing plant-based ingredients can work wonders for your skin. The best beauty products are those that are as natural as possible while containing powerful actives that treat specific skin concerns. These kind of formulas will also be gentler on your skin, making them ideal for all skin types.
Splurge on these Skincare Products
Here are some skincare products to invest in for better, healthier skin.
Glow Serum
Glam up with our Glow Serum! Powered by glycolic acid and bakuchiol, this silky serum smooths, brightens, and clears pores for an extra dewy complexion a la Hailey Bieber. For best results, use daily and follow up with sunscreen.
Hydrate Mask
A gel mask enriched with hyaluronic acid and vitamin B5, a power couple for drenching skin in long lasting moisture and plumping out wrinkles. Dermatologists love HA, and it's definitely worth investing your bucks into a hyaluronic acid mask like this one. Include it in your weekly self-care routine.
Anti-Cellulite Body Butter
You'll find a lot of cellulite hacks and dupes on social media. Slather on this velvety smooth body butter instead, and you'll soon see your dimply skin fade away. Developed with key ingredients like watermelon + vegan collagen, this formula instantly restores moisture and plumpness to dry, dimpled skin.
Illuminate Body Serum
A flash-absorbing body serum that blends together brightening pineapple and collagen boosting retinol for an all over smooth body. It also helps with discoloration and dryness. For best results, use once a day and follow up with SPF when used in the day.
Is TikTok's save vs splurge beauty trend worth all the hype? Absolutely! If you want to get the biggest bang for your buck, start being a savvy shopper and invest your money in products with a high return on investment for your skin.
Influencers, makeup artists, and even dermatologists all believe in the importance of investing in quality skincare. Rainbow Beauty is a skincare brand dedicated to providing high-performing vegan formulas that deliver visible results. While you can shop Amazon or Sephora for your skincare essentials, you can shop Rainbow products directly on our site as well as at Walmart + CVS.