DIY Wedding Makeup Tips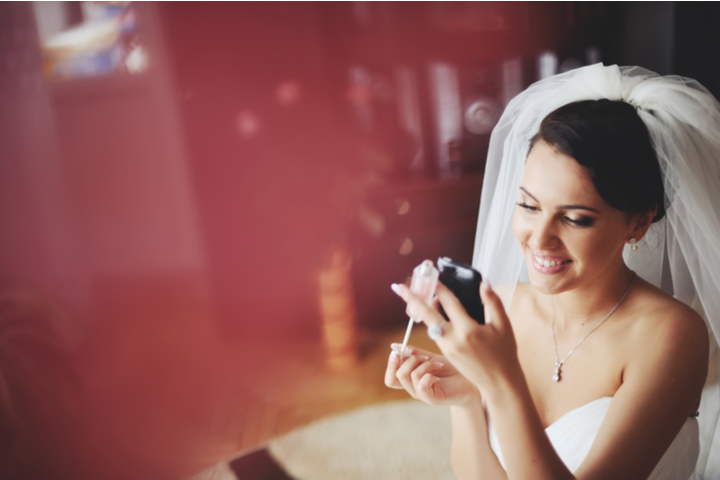 Doing your own wedding day makeup is an exciting, liberating, and yet slightly nerve-wracking prospect. 
You get to embrace a more chilled out behind-the-scenes vibe while enjoying the position of having full control over your makeup look. On the other hand, there's always that chance something could go wrong. Since those wedding photos last forever (or at least, a very long time), it's only natural to want to look your best on your big day.
Here are some tips for nailing your own wedding makeup to achieve that bridal goddess look you've been wishing for.
#1: Start Taking Better Care Of Your Skin
Great skin is the best canvas for your makeup. Start taking skincare even more seriously several weeks prior to your wedding day.
Invest in a good cleanser, serum, and moisturizer with weekly exfoliating sessions to keep your complexion smooth, clear, and illuminated. If you're dealing with issues like blemishes, start using products that treat acne so you can be clear for your big day.
Try our Restored Bundle for plump, dewy skin. It features two hydrating serums and a face mask to prep your skin for flawless makeup application. Feel free to treat yourself to a few luxury facials in the weeks before your wedding to get your skin looking its finest. And never stop wearing SPF!
#2: Choose Your Makeup Look
Some brides make the mistake of straying too far from their usual makeup routine. While it's your day, your rules, using the makeup you apply on a regular basis can make you feel more natural, confident, and comfortable. 
After all, your wedding photography shouldn't look like someone else. You should look like you in the photographs. Frankly, natural-looking bridal makeup always looks best. That means a thin layer of foundation that perfectly matches your skin tone, a dusting of blush, a swipe of mascara, a glimmer of shimmer, and a touch of lip gloss. 
Of course, that doesn't mean you can't treat yourself to a fancy new eyeshadow palette, concealer, or makeup brush set. Treat yourself, by all means. However, it's always a good idea to embrace a look you know and feel confident in. To make it bride-worthy, simply elevate it with a highlighter, bolder lip color, and set of false lashes like our Magnetic Vegan Mink Lashes.
#3: Practice!
Whether you've opted for glam or natural, make sure you practice doing your makeup look as much as possible to avoid stress on the day.
Whatever you do, don't want to wait to apply your wedding-day look on your wedding day. Even professional makeup artists wouldn't do that. 
"Practice, practice, practice until you have the look that you want," says Liz Fuller, Boston-based professional makeup artist. "Then document what you used so that on the wedding day you can refer to your notes to remind you what products you used and how you used them."
Experiment with different wedding day makeup looks and beauty products a couple of months ahead so you know exactly what you want and what you're doing on the day. Not good with lip liner? Practice. Wish you were better at beautifying the eye area? Practice. Want to work on defining your lash line? It all takes time, patience, and practice.
#4: Give Yourself Plenty of Time 
Depending on how elaborate your look is, be sure to set aside plenty of time on the day to do your makeup. On average, we recommend 1-2 hours. This will save you from getting flustered and significantly reduce your chances of making mistakes. 
When you're stressed, you're more likely to go too far with the eyeliner or too strong with the blusher. Prevent this from happening by giving yourself enough time (and extra!) and remember to take a breather every now and then. 
#5: Pile on the Primers
According to the pros, primer is the secret to making your makeup last all day long. After applying your skincare, give it a minute to absorb, before applying primer. Then make sure the primer you use is the right one for your skin type.
"If your skin does tend towards oily, then an oil-controlling primer can help," says bridal make-up expert, Hannah Martin. "But don't use this if your skin tends to be dry or dehydrated because it'll feel tight. Either way, you want to avoid a silicone-based primer as it'll create a barrier between your skin and your make-up and you want your make-up to blend into your skin, not sit on top of it."
When doing DIY wedding makeup, you can't afford to skip any of the key steps in makeup application. Take your time to complete all of them.
#6: Blend, Blend, Blend!
You can have the best beauty products on the planet, but if you don't blend your foundations, bronzers, and eye makeup seamlessly, all you'll be left with are harsh lines.
It may sound simple, but blending your makeup takes practice. Some great tools and techniques for blending include applying makeup with a beauty blender, buffing your foundation with a brush, and using a variety of shades such as a darker one for contour and a lighter shade for highlighting. 
Whether you're aiming for a matte finish or a smokey eye, blending makes all the difference when it comes to the final result. Make you sure you blend again if you do touch-ups.
#7: Go with Waterproof Mascara
It is your wedding day. There's bound to be tears.
To avoid shedding black tears and ultimately ruining your wedding makeup look, apply a waterproof mascara that won't leave your cheeks stained black.
Waterproof mascara is also useful for summer brides, as it can withstand the heat and prevent it from melting. A drugstore brand will suffice.
#8: Set with Powder
You've put so much hard work into your bridal look, it would be a shame to compromise that by skipping the setting powder step. Powder is excellent for promoting long-wearing makeup and preventing smudging. Makeup artists swear by this top tip for making makeup look flawless all day long.
While setting sprays are another common product for keeping makeup in place, many of them are hydrators, which means those seeking a matte effect will end up with dewy, refreshed skin, and ultimately, makeup that slips off.
The wonderful thing about these makeup tips is that they can also be used by your bridesmaids. 
If you're still unsure about your makeup abilities, start watching some step-by-step makeup tutorials so you can learn how to achieve flawless DIY wedding makeup.
It's your special day. You get to decide how things roll. Good luck, have fun, and above all, have a wonderful wedding day!