Can You Use Body Wash On Your Face?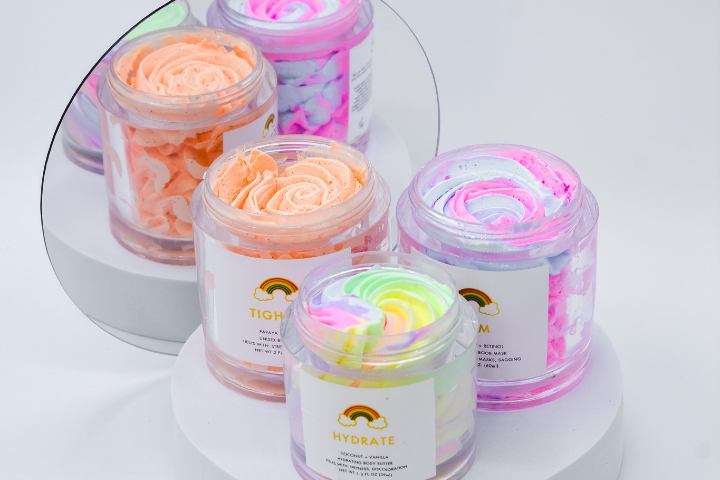 It's definitely convenient. You're in the shower, lathering up with your fave body wash but you forgot to drop your facial cleanser into the shower caddy before you hopped in. So you reach for the body wash and suds up, because what could be the harm?
It's a common question, can you use body wash to wash your face? After doing some digging, here's what we discovered about washing your face with body wash or shower gel and whether it's a yay or a nay.
The Benefits of Using Body Wash on Your Face
There are two main benefits to using body wash to wash your face. First, convenience. Sometimes, it's just easier to reach for a body wash than hunt around for your face wash when you're in the shower. Or especially when you've ran out of cleanser and you're looking for a quick alternative.
The second benefit is the cost effectiveness. Most facial cleansers can be pretty pricey, whereas body washes tend to be much more affordable. Plus, you're not having to buy two separate products. You can use one for all.
Is it Okay to Wash Your Face with Body Wash?
According to dermatologists, no. While some body washes are designed to be used on both the face and body, they're usually too harsh for the sensitive skin on your face. That's the whole reason face cleansers were created in the first place — to cater to the skin on your face.
That being said, you can make an exception if you don't have a face wash on hand. It's better than not washing your face at all.
The main concern, as per the derms, is that most body washes contain harsh surfactants and antibacterial agents that can be extremely drying on the skin. They're designed to remove stubborn dirt, oil, and debris, which is why they can sometimes be too harsh for the face and lead to dryness, redness, and flaking.
Potential Side Effects
"What will happen to my face if I cleanse with body wash?" many people ask. Most likely, you may experience dryness, redness, and possibly even breakouts as skin overproduces oil to compensate for the lack of natural oil.
"Using body wash to cleanse the face can cause irritation, raise the skin's pH levels, and disrupt its natural sebum (oil) production, leading to unwanted side effects including dryness, redness, sensitivity, and acne breakouts," says board certified dermatologist Dendy Engelman.
It's the same thing with bar soap. It's typically too harsh for the facial skin, and can leave skin dry and inflamed. Especially if you already have a dry skin type, using body soap to cleanse your face will only exacerbate dryness.
Why You Should Always Use a Facial Cleanser
Facial cleansers are made for the face, and usually also for specific skin types. Whether you've got dry skin, oily skin, or acne-prone skin, you'll be able to find a cleanser to suit your skin type and any concerns you may have.
Facial cleansers are normally more hydrating and moisturizing than body washes. They can help to remove the buildup of dirt, oil, and dead skin cells on the skin's surface without leaving your complexion parched.
It's actually better to use a facial cleanser on the rest of your body than the other way around as it's less destructive to your protective skin barrier. As a result, it'll be less likely to cause skin problems like dryness, blemishes, or itching.
A skincare routine should always include cleanser. It's a vital skincare product that promotes healthy skin while combatting issues like clogged pores and acne.
When choosing a facial cleanser, look for a gentle foaming cleanser without parabens or dyes, and always wash your face with warm water, not hot water, which will parch your skin. Always follow up with a treatment serum, moisturizer, and sunscreen. If you have a skin condition like eczema or rosacea, speak to your derm for recommendations.
Best Body Care Products
So now you know you shouldn't be using body wash or a bar of soap to cleanse your face. You should be using a designated facial cleanser. However, if you're looking to pamper your body with some indulgent skincare products, we've got just what you're looking for.
Exfoliate Body Scrub
An intensely exfoliating salt-based body scrub enriched with a blend of mango + AHAs to slough away dead skin cells, improve skin texture, and brighten. Rainbow Beauty Exfoliate Body Scrub is your go-to for smooth, glowing skin all over.
Hydrate Body Butter
A buttery, deeply rejuvenating body lotion that helps with dryness and discoloration. Rainbow Hydrate Body Butter blends the healing properties of cocoa butter, shea, and coconut for all-day silkiness. It can also be doubled up as a hand and foot cream, lip balm, and split end sealer.
Illuminate Body Serum
A satiny, lightweight body serum that combines the powers of anti-aging retinol and glow-enhancing pineapple for all-over smoothness and radiance. Illuminate Body Serum helps with discoloration and texture too.
Anti-Cellulite Body Butter
A velvety-smooth body moisturizer developed with plumping watermelon + firming vegan collagen. Rainbow Anti-Cellulite Body Butter instantly restores moisture and youthfulness to dry, sagging skin. This formula also helps with stretch marks and cellulite!
When it comes to whether you can use body wash on your face, the derms generally advise against it. While it's definitely convenient and can be done as a last option, it's always better to use a product developed especially for the face. Since some body washes contain surfactants to get rid of stubborn dirt and debris, they can often be too harsh for the skin on your face. For that reason, always stick to a facial cleanser unless you're stuck.
In the meantime, enjoy pampering your bod with one or more of our featured products.