Beauty Hacks for Sleep-Deprived Sweethearts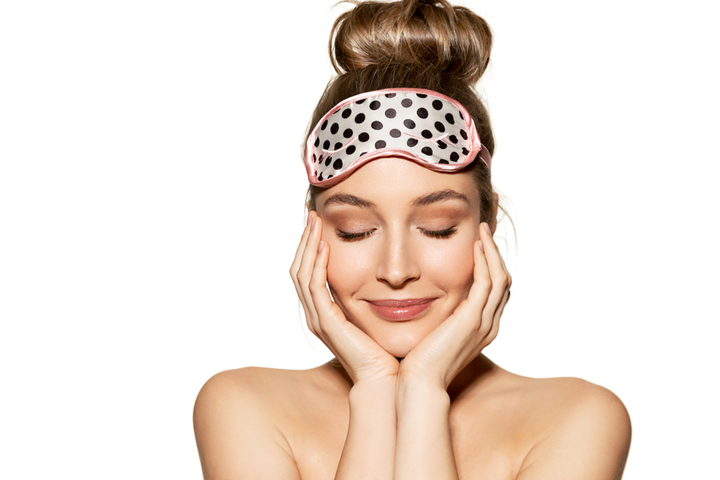 Sleep is essential for maintaining healthy skin. When you're sleep-deprived, issues like dark circles, puffiness, dryness, and dullness will quickly surface on the skin. In other words, lack of sleep reflects in your skin!
That said, there are things you can do to fake a good night's sleep -- like exfoliating away dullness and diminishing dark circles with antioxidant-loaded skincare products.
Here are the best beauty hacks for babes who aren't getting enough sleep. 
Soothe and De-Puff with Aloe Vera
You can reverse some of the effects of a sleepless night with a generous slathering of aloe vera gel. Aloe vera is the ultimate skin soother. It works perfectly on stressed-out, dehydrated skin since it works both as an anti-inflammatory and as a hydrating treatment. 
As soon as you wake up in the morning, apply a generous layer of refrigerated aloe vera gel all over your face. The cooling effect with bring down any irritation and can also help to depuff in the under-eye area. 
Leave it on for a few minutes while drinking your coffee or smoothie, wash off, and then proceed with the rest of your routine. It's a great way to wake up tired skin, and leaving you looking fresh and alert.
Brighten and Tighten with AHAs
Exfoliating is key to revitalizing your radiant complexion, so begin your skincare routine with exfoliating acids, aka, AHAs to get back your glow.
Alpha Hydroxy Acids like glycolic acid and lactic acid shed dead skin cells and replace them with fresh, glowy new ones for a youthful, luminous complexion. They can also address issues like hyperpigmentation, blemishes, and fine lines and wrinkles. 
Try our AHA-powered Tighten Serum to gently buff away dead cells and protect against oxidative stress to deliver firmer, brighter, bouncier skin. Follow up with Tighten Mask for more intense effects.
Hydrate with Hyaluronic Acid
"Overnight, trans-epidermal water loss increases by up to 25%, which can mean dull, dry skin when you wake," says top London facialist, Sarah Chapman. "An impaired moisture barrier can also increase the skin's susceptibility to bacteria and infections."
She recommends using a serum or moisturizer formulated with hyaluronic to lock in moisture and keep skin from drying out. 
"Hyaluronic acid can lock up to 1,000 times its own weight in water into the skin, keeping your complexion plump, quenched and supple," says Chapman.
Try our HA-infused Hydrate Bundle to drench your skin in lasting-moisture and leave your complexion dewier, glassier, and plumper than ever.
Diminish Dark Circles with Antioxidants
Right now, the best thing you can do if you're dealing with dark circles is to load up on antioxidant-packed skincare formulas. From vitamin A to vitamin C and E, these antioxidants will help repair skin damage by fighting free radicals generated by UV exposure while fading discoloration and dark pigments.
You'll look like you had the most restful night of beauty sleep in your life once you up your skin's intake of antioxidants. 
You'll also find antioxidants in green tea. Steep two tea bags in hot water, leave them to cool, and refrigerate before draping them over closed eyes. They should minimize under-eye circles and puffiness.
Or try our vitamin-C enriched Smooth Bundle for brighter, bouncier skin.
Fight Facial Fatigue with a Massage
Does your face look like it could do with an extra 6 or 7 hours? The power of touch may be able to change that for you. According to the experts, facial massages can help no end with transforming a fatigued face.
"I start by hydrating with a mist and giving a good massage before moisturizer," says Grace Lee, lead makeup artist for Maybelline New York Canada. "These can help the face look plumper and even toned."
That's probably because massages stimulate blood flow and circulation, leaving skin looking vibrant and glowing.
Using your favorite serum or moisturizer, massage your face and neck for 3-5 minutes. In addition to leaving you glowing, it should also feel really nice. 
Cover Up a Bad Night's Sleep with Makeup
As great as skincare is for turning around a bad night's sleep, makeup is one of the quickest and easiest ways to erase signs of tiredness. 
Start by using a creamy concealer to blur out any dark circles under your eyes. Then apply some blush or bronzer to the apples of your cheeks to give your skin an extra kick. Once again, make sure you're using creamy formulas. Since lack of sleep leaves skin dehydrated, the last thing you want on your skin when you're sleep-deprived is powder.
Next, open your eyes up with a few squeezes of your eyelash curler and two or three swipes of mascara. You can also use eyeliner if you'd like a more full-on makeup look, but if you want to keep things natural, stick to mascara only.
Finally, to add a little color to your complexion, swipe on your favorite bright lipstick as a little pick me up -- both for your mood and your skin! It's an instant skin tone brightening fix for sleepy sweethearts out there. 
Aim to Get a Better Night's Sleep
Unfortunately, while these beauty hacks offer temporary benefits for breathing life into tired skin, sleep is the ultimate solution for swerving these skin issues.
"If you don't get enough sleep, it acts as stress on the body, causing the production of cortisol, which can have numerous effects on the skin," says Dr. Mike Bell, skincare scientific adviser for No7. 
As a result, you'll wake up to inflammation, reduced immunity and constricted blood vessels, which can appear as a dull, dry complexion and enhanced dark circles. For the sake of your mental and physical wellbeing, aim to get at least 8 hours of sleep per night. Any less, and your mornings will continue to be fuzzy and skin-unfriendly. 
Sweethearts...it's time to start getting more sleep! And for those very rare days you do miss out on sleep, make sure you put these hacks to the test!