A 4-Step Foot Facial For Your Twinkliest Tootsies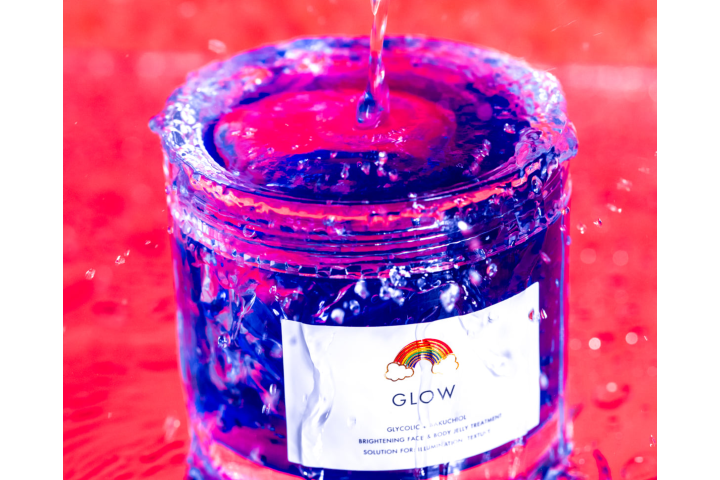 Are your feet looking a little dry, crusty, and filled with calluses? Now that summer's almost here, there's no better time to show your tootsies some TLC. After all, you want to slip into your sandals with the prettiest paws, right?
Introducing...the foot facial. It's basically a skincare routine designed for your feet, or an upgraded pedicure. Either way, you need one in your life if you want to unveil your prettiest paws this summer!
Here's an easy 4-step routine for performing a foot facial at home — with only a handful of skincare products.
Step #1: Exfoliate
Are your feet rough, dry, and covered in callouses? Exfoliating is an essential step for buffing away dead skin cells for smoother, softer feet. According to Dr. Suzanne Levine, a podiatrist in New York City (and member of www.institutebeaute.com), you can use the same scrub you use in the shower on your feet. Simply massage it into the callused areas on your feet, and rinse off. It probably won't fix things straight away but by including it in your daily routine, you will see a difference in the appearance of your feet.
Alternatively, apply an exfoliating mask like Rainbow's Glow Mask. It contains chemical exfoliant glycolic acid to sweep away dead cells and resurface skin on your feet. In turn, it can help smooth away dryness and calluses. For mild cases, leave it on your feet for 10-15 minutes before rinsing off. More severe cases, let it stay on for at least 30 minutes. For best results, use 2-3 times a week.
Another quick alternative is exfoliating with glycolic pads. However, they may not provide as deep of an exfoliation as the mask.
Step #2: Lather Up + Shave
Fuzzy toes are no fun! Shave away the stubble and random sprouts of hair popping up on your toes and feet to get your tootsies extra smooth. Start by lathering it up Rainbow's Smooth Shave Butter. Remember, a little goes a long way! Let the butter sit on your skin for a minute before gliding your razor across the hairy spots.
Of course, you don't need to feel pressured to shave off your fuzz. Hair removal is a personal choice and you should never feel forced to remove your body hair. Feel free to skip this step if shaving isn't for you.
Now that your toenails and cuticles have softened in the hot water, you can also use this step to trim your nails and push back your cuticles for instantly neater looking toes.
Step #3: Give them a Glow Up
Time to make your tootsies twinkle!
Want your feet glowing ready for summer? Reach for a bottle of Rainbow's Hydrate Serum. Enriched with hyaluronic acid, jojoba oil, and vitamin B5, this formula boosts collagen production, retains moisture, and promotes long-lasting hydration.
If you're dealing with dry patches on your paws, Hydrate Serum can help alleviate the dryness. Since hydration infuses skin with moisture, it helps to plump skin and leave it looking visibly more radiant. Rely on this nourishing serum to glow up your feet! For best results, use daily.
Step #4: Moisturize
Just like the rest of your body, your feet are prone to drying out too. That's why it's important to moisturize them regularly to replenish lost moisture and keep them feeling babysoft.
One of our fave formulas for moisturizing the feet is Rainbow's Hydrate Body Butter. It's made with a nourishing blend of coconut oil, shea butter, and vanilla to instantly soothe dry feet while leaving them feeling drastically smoother — and smelling fresh and coconut-y. For best results, use it daily after showering.
OTHER FOOT CARE TIPS TO TRY THIS SUMMER
There are many more ways to keep your feet looking their best this summer. Here are some of the best foot care tips for your finest feet.
Give them a Soak
Whenever you have a spare 10 minutes, soak your feet in a tub of warm water. Let them soak for 10 to 15 minutes before patting them dry with a clean towel and following up with a lightweight foot cream. Soaks are great for softening the skin, and are a must before performing an at-home pedicure. You can also customize your soak by adding in your fave shower gel, essential oils, or rose petals. Think of it as a bath for your feet.
Wear Comfortable Shoes
We love stilettos and high boots as much as the next person, but they're not the healthiest shoes for your feet. Stick to wearing comfortable, well-fitted shoes to keep your feet healthy. Avoid tight shoes and high heels, which can contribute to issues like skin infections, sores, and damage to the ligaments of your feet. Ouch!
Keep them Clean
Just like any other area of your body, you should be washing your feet every day to keep them clean and free of infections. For best results, wash using your lukewarm water. Avoid washing your feet in hot or cold water, which can irritate the skin. Once you've thoroughly washed your feet with a gentle soap or cleanser, rinse thoroughly, dry your feet completely, and slip in a comfortable pair of clean socks.
You may have seen those viral foot facial videos racking up 2m views. Some have even accumulated 5m views+. Beauty explorers interested in trying the hottest new beauty trends should definitely give it a go. In just a few simple steps, you can achieve your smoothest, softest, glowiest feet.
Of course, you can still book your monthly pedicure if that's an indulgence you don't want to give up just yet. However, this speedy foot facial routine can keep your tootsies looking their best between appointments.
If you're experiencing severe dryness, cracking, or calluses on your feet, visit a dermatologist for professional advice and guidance on the best treatments.