5 Skincare Products the Cast of Euphoria Would Use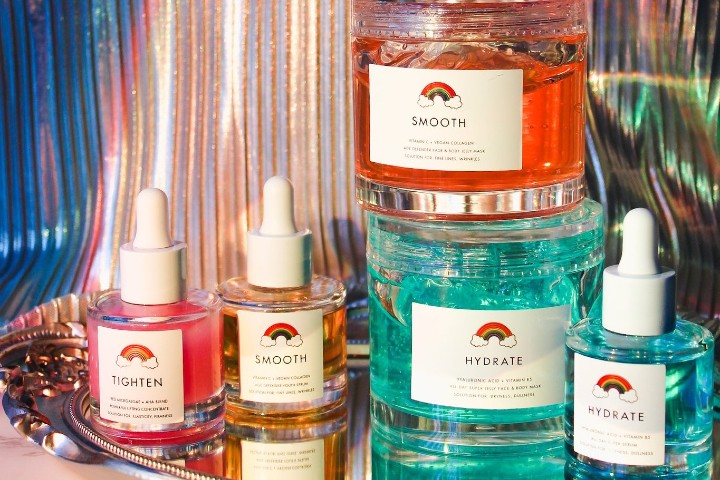 Since we're super serious fans of the HBO series, we decided to make some fun predictions on the Euphoria characters' fave Rainbow beauty products.
As much as we're obsessed with their cool and colorful makeup looks, we're secretly dying to know their skincare secrets, too.
Just from our first-hand knowledge of the high school queens and our pure obsession with the show, here's what we think the Euphoria ladies would use if they shopped Rainbow.
‍Rue: Hydrate Mask
If we had to guess which Rainbow product Zendaya's Rue Bennett would choose, it would HAVE to be our Hydrate Mask.
Designed for both the face and body, Hydrate Mask is a skin-quenching blend of hyaluronic acid and vitamin B5 to deeply hydrate, condition, and plump the skin. It deserves a lasting place in your daily skincare routine for keeping skin young, hydrated, and radiant. Plus, it makes existing lines appear less visible, while improving overall skin tone and reducing mild puffiness. Anyone with dry skin will find some serious relief with this jelly-textured gem.
If Rue were our best friend in real life, we'd definitely recommend this hydra-hero jelly mask to her. It's a go-to staple for sparkly skin.
Apply it all over your face and body. Leave it on for 10-20 minutes, then rinse. If you've got chronically dry skin, you can use it as part of your daily routine. Otherwise, aim to use it at least twice a week for optimum hydration. Pair it with our Hydrate Serum for added head to toe dewiness.

Kat: Tighten Butt Mask
Kat Hernandez, aka, Barbie Ferreira would LOVE this Tighten Butt Mask. It's as bold and brilliant as her eyeshadow with major firming powers to lift and tighten that tush.
Tighten Butt Mask contains a high-performing blend of collagen-boosting retinol and free radical fighting papaya to deliver your smoothest, springiest booty. Besides tightening your tush, this power-packed formula helps diminish dryness while fading breakouts and discoloration. It feels as good for your butt as Euphoria season 2 does for your soul!
If you haven't seen it on our TikTok or Instagram yet, check it out. We've got tons of videos showing the Rainbow babes using in real life. And don't forget to leave a comment to show us your love!
Rub the booty mask into your butt cheeks, let it sit for 15-20 minutes, and rinse off in the shower or tub. For best results, use 1-2 times a week. Pair it with our Tighten Serum for added tightening effects.

Cassie: Smooth Butter
Girly and glam, we're pretty confident Cassie Howard (IRL: Sydney Sweeney) would be a Smooth kinda gal.
Our Smooth Shave Butter is the perfect addition to your beauty routine. Soothing, hydrating, and colorful, it's the best formula for achieving a silky smooth shave. Coconut and vanilla work in tandem to soften skin and hair follicles, while providing fluffy slip for your razor — resulting in an easy and irritation-free razor glide. It makes shaving almost as interesting as the second season of our fave HBO Max TV show.
Simply lather up with this fluffy, multicolored butter, glide your razor over the fuzzy spots, and look forward to a smooth and sweet shave. Finish with a generous layer of our Hydrate Body Lotion. Same formula, different purpose.

Maddy: Glow Mask
We're loving Maddy's gleaming skin as much as her rhinestone eyeliner. Alexa Demie clearly has a great Euphoria makeup artist because her makeup looks in the first season and second season are as fierce as her! But that complexion? It sparkles! We really think her go-to Rainbow product would be Glow Jelly Mask. And it might be yours too!
Designed for the both the face and body, Glow Jelly Mask is powered by skin-buffing glycolic acid and brightening bakuchiol to give you a head to toe glow on the go. Glycolic acid is a chemical exfoliant that gently dissolves oil and dead skin on the skin's surface, revealing fresh, glowing skin underneath. Bakuchiol is a gentle retinol alternative with all the same benefits — and none of the irritation. Together, these ingredients help bring you your brightest skin.
Slather it all over your face and body, slap on some eye patches, and watch some re-runs of your fave Euphoria episodes while letting the formulas work their beautifying magic. For best results, use this glow-enhancing mask once or twice a week, and pair it with our illuminating Glow Serum for extra Maddy-like sparkle!

Jules: Firm Mask
If we had to guess which Rainbow product Hunter Schafer's Jules Vaughn would pick, we'd have to go with Firm Boob Mask. It's fruity, fresh, and full of surprises — just like Jules.
Mixed berries and retinol make up this boob-sculpting mask. Rich in antioxidants, mixed berries protect skin from free radical damage while restoring elasticity in the skin for smooth and bouncy boobs. Retinol is a powerhouse anti-aging ingredient proven to increase collagen production, spur cell turnover, and enhance the skin's elasticity for firmer, brighter, clearer cleavage.
Massage it into your boobs, and let it sit for 10-15 minutes before rinsing with warm water. Use 2x a week for best results. You can also apply it to other body parts needing some TLC, like your belly, thighs, and hips. Pair it with our Smooth Serum for extra booty bounce and freshness.
Now they're just our predictions. What do you think the cast of Euphoria would use if they shopped Rainbow? And what about the likes of Lexi Howard, Leslie Bennett, and Euphoria dudes like Nate, Chris, and Fezco? We'd love to hear your predictions! Drop us a comment on our newly released Insta vid.
You'll find all our latest product drops and the hottest new beauty trends over on our social media platforms. We'll see you over there, fellow Euphoria fanatics!