3 Reasons to Dry Brush Your Face (and 3 Reasons Not)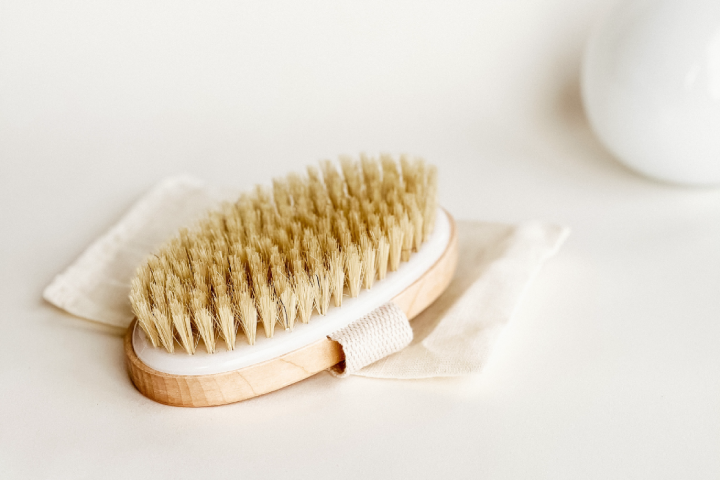 Everyone's talking about facial dry brushing right now, and naturally, we're curious to find out whether it's worth the hype or not.
Dry brushing your face involves using an instrument with fine bristles to help stimulate blood circulation, buff away dead skin cells, and boost your lymphatic system. By encouraging blood flow, you support lymphatic drainage, which can help with firming, de-puffing, and brightening your skin.
While everyone's ranting and raving about the trend on TikTok, just how good is it for your skin? Here are the benefits of dry brushing your face — as well as the reasons you might want to give it a miss.
Reasons to Dry Brush Your Face
1: Brighter Skin
Dry skin brushing is a form of exfoliation. It helps to physically slough away the buildup of dead skin cells, so that you're left with fresher, smoother, and brighter skin. By removing that layer of dead skin, your complexion will instantly glow. Alongside this, dry brushing your face will increase circulation and lymph flow, giving your skin a glowy appearance.
2: A Firmer Jawline
The massaging act of dry brushing your face stimulates blood flow and circulation, improving skin's elasticity for a firmer, more sculpted look. Skin looks and feels tighter after dry brushing, and only improves with continued use.
3: De-Puffing
There's scientific evidence that proves dry brushing can help boost your immune system and skin health by spurring circulation and encouraging the drainage of lymph nodes. By doing this, anyone dealing with a bloated, puffy face will see a noticeable improvement. That's because this invigorating practice helps with overall detoxification.
Reasons Not to Dry Brush Your Face
1: Redness and Irritation
The problem with dry brushing is that it tends to be too harsh on the skin, especially if you have dry skin or sensitive skin. While dry brushing your entire body comes with obvious benefits like the improved appearance of cellulite, brighter skin, and so forth, the skin on your face is simply too delicate to enjoy the benefits of dry brushing.
This is mostly because of the coarse bristles involved. These tend to be too aggressive, especially on sensitive skin types, which can lead to redness and irritation.
2: Less Hygienic
Unlike your regular face scrub, face brushes accumulate a lot of dirt, bacteria, and germs, which can transfer to your skin. While you can clean your dry brush, most people forget about it, and this can lead to all sorts of nasty consequences like breakouts and even skin infections.
3: Skin Conditions
Since dry brushing your face is quite an aggressive form of exfoliation, it isn't recommended if you have very sensitive skin or a skin condition like eczema, psoriasis, or rosacea. Using a dry brush with one of these conditions can aggravate your condition.
What the Derms Say
Many derms agree that while dry brushing your face comes with a handful of benefits, like improved brightness, de-puffing, and firming effects, there are a lot of downsides that probably outweigh those benefits. Especially if you have sensitive skin or a skin condition, dry brushing your face will only make things worse and even more uncomfortable.
According to the derms, there are plenty more ways you can enjoy the benefits of dry brushing your face. In fact, they agree that there's little you can get from dry brushing that you can't get from skincare products.
If you are going to dry brush your face, opt for a brush with soft natural bristles that are less likely to irritate your skin. Use the brush using upward strokes and circular motions to get your circulation moving. Follow up with cleanser and moisturizer.
Get the Same Benefits from these Skincare Products
Below, we've selected our favorite skincare products that offer just as many benefits as dry brushing without hurting your skin.
Glow Mask
This exfoliating mask blends glycolic acid and bakuchiol to deliver a gentle resurfacing effect for fresher, smoother, and brighter skin. In an instant! Unlike dry brushes and scrubs, this chemical exfoliant gently removes the buildup of dead skin and impurities, resulting in smaller pores, smoother skin, and less visible hyperpigmentation over time. It's a quick fix for glowing skin!
Tighten Serum
A plant-based, anti-aging potion powered by red microalgae and alpha hydroxy acids which work in tandem to visibly lift, smooth, and restore elasticity in the skin while protecting against oxidative stress. You can apply this formula to your whole body if you're looking for head to toe firming effects.
Smooth Serum
Another great way to firm your skin and soften fine lines is with Rainbow's Smooth Serum, a formula of vitamin C and vegan collagen. This powerful anti-aging potion is your go-to for promoting and maintaining youthful, radiant skin. Like most of our serums, this one can also be used on the rest of your body.
Hydrate Serum
A super lightweight, dew-inducing elixir of hyaluronic acid and vitamin B5 to plump up and drench dry skin in lasting moisture while quelling puffiness and calming irritation. Unlike your regular creams and lotions, this serum hydrates without leaving you greasy. It deserves a permanent place in your skincare routine for helping you maintain youthful, healthy skin.
According to dermatologists, body brushing boasts a number of benefits. It can help improve the appearance of cellulite, brighten and firm, and even boost your immune system, all without irritating your skin. When it comes to dry brushing your face, however, most derms agree that the cons outweigh the benefits. While the ritual can certainly improve skin's firmness and brightness while reducing puffiness, it can also be extremely irritating to skin, especially if you have sensitive skin or a skin condition.
You can get all the same benefits from dry brushing your face with the skincare products featured above, without upsetting your skin.