What's the Deal with Crystal Hair Removers?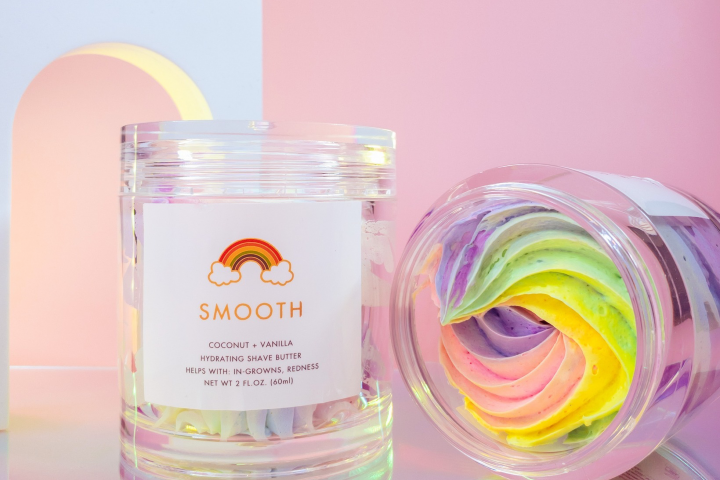 Imagine never having to deal with the pain of a waxing session or the ingrown hairs and razor bumps that often accompany shaving ever again. TikTok claims it's found the best alternative in crystal hair erasers. But just how effective are these hair removal tools?
As much as we adore TikTok's variety of beauty hacks, some of them can indeed be questionable, which is why it's worth doing a little digging before jumping on the next new trend.
We've saved yourself the work by doing a deep dive ourselves. Here's everything you need to know about crystal hair removers.
WHAT ARE CRYSTAL HAIR REMOVERS?
Crystal hair removers, also known as crystal hair erasers or hair removal stones, are handheld devices that feature a flat side covered in etched glass. According to TikTokers, after wetting the glass, you can rub the device on the skin using circular motions to easily and painfully remove body hair. It also helps to remove the buildup of dead skin cells and minimizes the risk of ingrown hairs.
While it might be a painless hair removal technique, dermatologists aren't as convinced by it as TikTokers.
"This surface cuts the hair down at the follicle opening," explains Shari Marchbein, MD, a board-certified dermatologist in New York City. "It is touted to use 'crystal nano technology,' whatever the heck that means, to physically clump hair and literally tear it at the skin's surface."
DO THEY REALLY WORK?
While crystal hair removers have been shown to exfoliate skin and provide a painless method of hair removal, there are a lot of downsides to using one of these hyped-up tools.
For starters, they can irritate your skin. Especially if you already have sensitive skin, these crystal hair erasers are way too abrasive and can lead to significant redness and irritation. The derms say they may even contribute to ingrowns.
It doesn't matter whether you're using one on your underarms, bikini line, or legs, they can still leave your skin dry, red, and irritated.
As far as what dermatologists think, they believe that the crystal hair remover is no more than a gimmick — and something to pass on.
CRYSTAL HAIR ERASERS VS SHAVING
Unfortunately, those magic crystal hair removers aren't as magical as they look or sound. For the sake of healthy skin, stick to shaving, waxing, epilation, or trimming.
Shaving might come with its own caveats: nicks, razor burn, ingrown hairs. However, it's easy to prevent these side effects by using the right shaving products and techniques. Provided that you always use shaving cream, glide your razor in the direction of hair growth, and treat your skin to some post-shave pampering, there's no reason why you can't enjoy silky smooth skin every single time.
You can shave away facial hair, armpit hair, leg hair, and bikini area hair. Basically, you can remove any unwanted hair with a clean, sharp razor. And you can still reap the exfoliating benefits that come from a crystal hair remover by buffing skin with a body scrub before putting razor to skin.
TRY THESE SHAVING PRODUCTS INSTEAD
With a few nourishing shaving and skincare products, you can look forward to an easy, quick, and pain-free shave that'll leave your skin feeling petal-soft. Here are some of our faves!
EXFOLIATE Body Scrub
The first step in any shaving routine should be exfoliation. Buffing away dirt, oil, and dead skin cells prevents your razor from getting clogged — and ultimately becoming dull.
Our Exfoliate Body Scrub is a salt-based exfoliator formulated with a blend of mango and AHAs to remove dead skin, improve uneven texture, and rejuvenate your bod. By lifting away dead cell buildup, this scrub also enables other skincare products to penetrate deeper, promoting better effects. Instant smoothness and brightness can be expected from this healing scrub.
SMOOTH Shave Butter
Never skip the shaving cream! Unless you want a bod full of razor burn and bumps, always lubricate the skin with a nourishing shaving cream or butter. This'll provide slip for the razor, preventing irritation.
Our Smooth Shave Butter is a fluffy whipped formula of coconut oil, vanilla, and vitamin E, which work hand in hand to soften coarse hair and moisturize every follicle for a dreamy smooth shave. Rich and delicious, your skin will feel amazing after the very first use.
ILLUMINATE Body Serum
Poor shaving habits can lead to hyperpigmentation. Treat dark spots and discoloration by slathering on our Illuminate Body Serum. Powered by exfoliating pineapple and cell rejuvenating retinol, this brightening serum gives skin a smoother, glowier, and more even appearance. Plus, it boasts some anti-aging benefits, too thanks to retinol's collagen-boosting abilities.
A lot of people forget aftercare when it comes to shaving, but it's incredibly important for both treating and preventing ingrowns, razor burn, and hyperpigmentation.
HYDRATE Body Butter
Finish things off with a nice seal of thick, rich hydration using our freshly whipped Hydrate Body Moisturizer. Enriched with shea butter, coconut oil, and vitamin E, Hydrate Butter intensely moisturizes dry skin while calming down redness and inflammation. It's basically a body lotion — only richer, more luxurious, and extra buttery.
Once you're hair-free, it's always important to moisturize to help protect the skin barrier and ward off dryness. Try to use it after every shave (and in between shave days) to keep skin feeling irresistibly smooth.
We're all looking for the easiest, fastest, and most painless hair removal method. Unfortunately, we don't think we've found it in crystal hair removers. While they may offer some benefits, the derms agree that they can be harsh, irritating, and not particularly effective at removing regrowth. In other words, stick to your trimmer, reusable razor, or waxing appointments for now. And don't believe everything you see on social media. Make sure those beauty trends and tools are verified by dermatologists before giving them a try at home.
If you're looking for a more permanent hair removal method, speak to your dermatologist about IPL and laser hair removal.