How to Keep Hair Happy in Winter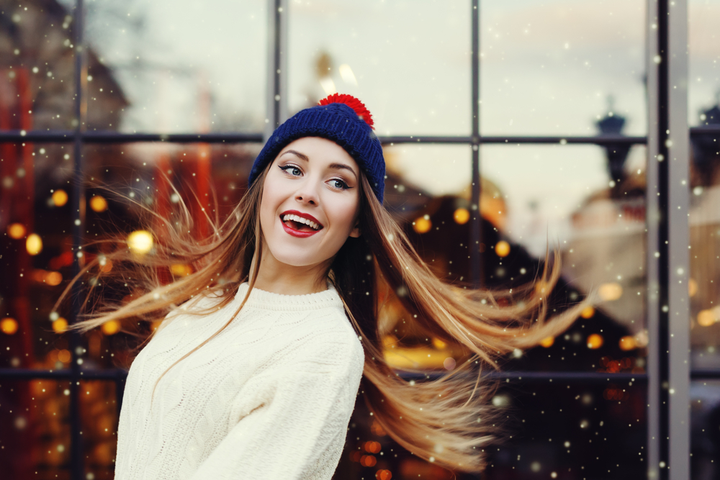 Winter can wreak havoc on your precious strands. Between the cold air and low humidity, your hair is especially prone to dryness during the winter months. And that's why it needs a little extra TLC.
Everyone's hair types differ, and while it's important for everyone to take good care of their hair through the colder months, it's even more crucial for fragile or damaged hair.
Here are some winter hair care tips to keep your locks looking luscious this season! 
#1: Shampoo Less
Since your scalp is going to become drier during the winter months, you don't need to wash your hair as often as before. Overwashing hair strips the scalp of natural oils, causing dryness, flaking, and itchiness. It can even trigger conditions like dandruff. 
Limit your hair washing sessions to 2-3 times per week instead of daily or even every other day to keep your scalp and strands nourished.
And when you do wash your hair, use a hydrating shampoo formulated with nourishing oils to restore moisture in your scalp and strands. Avoid using harsh products to prevent the scalp from drying out. You can stretch out hair washing days by misting your scalp with dry shampoo.
#2: Hydrate
Dry air from indoor heating can lead to dryness and frizz in almost all hair types. That's when a conditioner or hair mask comes in hands. 
Once a week, slather conditioner or a hair mask onto wet hair, and wait 30 minutes for the moisture to penetrate into the hair shaft. If you've got really dry, damaged hair, aim to do this 2-3 times a week -- or basically whenever you wash your hair.
Look for a formula enriched with coconut oil, olive oil, argan oil, or avocado. These contain fatty acids that restore moisture in hair and prevent it from drying it out. They're also helpful for treating breakage and split ends. 
For best results, make deep conditioning and masking part of your regular hair care routine for soft, shiny, healthy hair. Aim to choose a formula designed for your hair type. 
#3: Apply an Overnight Serum
Winter air steals moisture from your hair, meaning you'll need to restore it with the help of hair oils and serums. 
We recommend slathering your strands with Rainbow's Hydrate Serum to nourish hair strands and restore hair health. It's made with hyaluronic acid and vitamin B5 to drench dull, dry hair in lasting moisture.
You can also simply run pure coconut oil, argan oil, or olive oil through your strands for an intensive overnight hair treatment. Just be warned: it can make a mess on your pillowcase! 
On the plus side, you will wake up the next morning with softer, shinier strands!
#4: Stop Taking Hot Showers
Hot water strips the natural hair of oils, causing a lack of moisture which can make the hair appear dry and dehydrated. We know hot showers are one of life's small pleasures -- especially during the months of cold weather -- but they're terrible for drying out your skin and hair.
Aim to wash your hair in lukewarm water to preserve hair health and keep strands shiny. If you've got colored hair, washing in lukewarm water can preserve the pigment and prevent it from fading out too quickly.
#5: Drop the Hair Tools
Blow-drying, curling, or any type of heat styling can lead to dryness, damage, and breakage. Between heat styling and winter weather, it can put a lot of stress on your strands. Boost hair health by finding heatless hair styling methods. As much we love our styling tools, they are known for causing damage. So if you can, put your hair dryer and straighteners to the side for the time being -- just until your hair regains its strength.
Talk to your stylist and ask them for advice when it comes to styling your hair every day without heat. Also avoid hairstyles that pull and trigger frizz, such as braids and tight ponytails.
#6: Dry Hair Before Leaving the House
According to the experts, it's critical to dry hair thoroughly before going out in the cold. 
"Anything that's cold expands, and that's what can happen with your wet hair shaft in the cold weather, which puts you at risk for breakage and makes your color fade faster," says James Corbett, owner of James Corbett Studio and global color consultant for Clairol.
Take the time to dry your hair properly or leave it to air dry to save yourself a LOT of damage. Your hair will thank you later.
#7: Get a Haircut
Even if you are trying to grow out your lob, stick to getting a haircut every 6-8 weeks to keep your strands healthy and split ends at bay. It will also prevent tangles and breakage.
According to hair pros, going for regular haircuts can also promote hair growth simply by keeping it healthy and preventing breakage. 
If you want to grow your hair, ask your hairdresser to simply dust the ends. This way, they'll catch any dead ends without removing too much length. 
#8: Treat Haircare Like Skincare
Especially in the winter time, your hair experiences the same struggles as your skin. If you're the kind of person who follows a designated skincare routine morning and night, aim to treat your haircare routine in the same way. Your hair needs just as much hydration, nourishment, and care as your skin.
That means you should also use high-quality formulas free of sulphates and loaded with plant oils and proteins for scalp and strand strengthening.
Keeping hair happy in the winter isn't hard to do. You just need to pay attention your hair and give it what it needs. The most important of all is hydration. Make deep conditioning and masking sessions a regular part of your haircare routine to retain moisture, reduce dryness, and prevent breakage. 
By following these winter hair care tips, you can achieve glossy, luscious locks all year round -- even throughout the chilly winter months!