A Hair Care Routine for Any Hair Type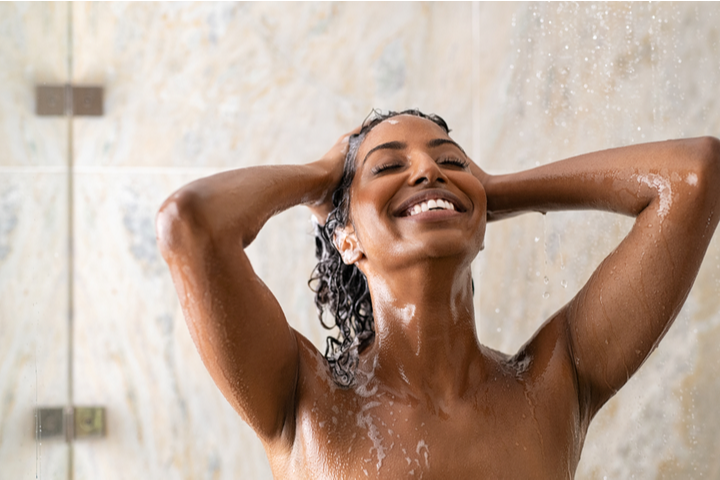 To achieve a head full of shiny, bouncy, non-broken strands, you'll need to start showing your locks more love.
Just like your daily skincare routine, try following a hair care routine comprised of a few simple steps and hardworking products. It needn't be complicated or expensive. It's more about making hair care a habit -- for long-lasting luscious locks.
Here's a hair care routine any hair type can follow for smoother, shinier, healthier strands. 
Cleanse
Cleansing is important for all hair types. 
"Hair health starts at the scalp," says celebrity stylist Mia Santiago. "So it's important to get it completely clean and clear of build-up."
Those with fine hair will need to shampoo more frequently than those with thick, curly hair. If you've got thick or wavy hair texture, try washing no more than twice a week to keep dryness and frizz at bay. You can prolong washes by spritzing your hair with a little dry shampoo to soak up any natural oils.
Swap classic shampoos for nourishing, sulfate-free shampoos, which are healthier for your hair and a lot less drying. And choose a cleanser designed for your type of hair. This way, you won't end up drying out or weighing down your hair with the wrong formula.
When washing your hair, always use lukewarm water instead of hot water. In addition to maintaining a vibrant hair color, washing hair in lukewarm water will prevent your tresses from damage and dryness.
Condition
Always follow shampooing your hair with conditioner to restore the moisture that shampoo steals during the washing process.
Experts agree that conditioning is a critical step for every hair type. However, the type of conditioner you use will depend on your hair concerns. If you have dry hair, for instance, focus on conditioners that contain humectants such as glycerin and honey. Someone who's dealing with damaged hair would be better off using a deep conditioner formulated with repairing ingredients like keratin, coconut oil, and argan oil. 
As for curly, wavy, and frizzy hair, leave-in conditioners are helpful at restoring moisture in the hair shaft and boosting shine. 
For fine, thin hair types, only apply conditioner from the ends to the tips of your hair. Avoid massaging it into your roots to prevent greasiness. Also, stick to non-oily, lightweight formulas to avoid weighing down your strands.
Conditioning should always be integrated into the hair cleansing process. Apply it directly after shampooing to hydrate your strands, prevent breakage, and enhance glossiness. Leave it on for at least 2-3 minutes so that it has time to penetrate your strands.
Detangle
After you've washed and conditioned your mane, it's time to detangle your strands. This is an imperative step in any good hair care routine to curb breakage and keep strands looking smooth and styled.
Whether you're coily, oily, or straight, detangling should be performed starting at the ends and moving your way up to the root. Starting at the root can create stubborn tangles which can lead to breakage. You can use either a wide toothed comb, a brush with wide-set bristles, or even your fingers. Just avoid tugging at your hair, as this will only lead to snagging and split ends. Show your strands some TLC when you run a comb or brush through it.
You'll find a range of detangling sprays and serums at your local drugstore. Choose one that simultaneously hydrates and nourishes hair.
Treat
To promote and maintain healthy hair, it's important to identify your hair needs. For example, if you have dry, dehydrated hair, incorporate a moisturizing hair mask into your hair care routine. Apply it after shampooing and conditioning to quench its thirst and restore moisture. And look for formulas that feature hydrating ingredients like shea butter, coconut, and hyaluronic acid. 
If you have overly processed hair and you're trying to repair the damage, invest in a few strengthening hair care products to improve your hair's integrity and appearance. Serums, oils, and special shampoos are a few good suggestions.
Those fighting frizz might benefit from using a smoothing hair oil to tame unruly strands. And if you're dealing with a more serious issue like hair loss or severe dandruff, book an appointment with your doctor for hair growth medication. If you suspect something's a little off, it's always good to get it checked out by a professional. 
Style
Whether you're a hair minimalism or a serial styler, hairstyling is part of every hair care routine and there is a right and wrong way to do it. From brushing to blow drying, curling to creating braids, how you style your hair can be the difference between stressed out, frazzled strands and bouncy, healthy strands.
If your hair is thicker, you're better off using a heavier styling product to lock in moisture and achieve your desired hairstyle you're trying to achieve. Fine, straight hair needs a lighter product, like mousse to lift the roots, boost volume, and add texture. 
Those with colored hair should embrace air-drying instead of using a blow dryer daily to preserve their strands and prevent them from drying out. By letting your hair dry naturally, you remove the risk of a lot of potential damage.
 If you're the type who relies on heat styling, ease up on the hot tools and use a few spritzes of heat protectant spray when you use your flat iron or diffuser to avoid damage and breakage. 
Everyone's hair is different and everyone styles and takes care of their hair differently. However, there are a few key factors that everyone should prioritize. Cleansing, conditioning, detangling, treating, and styling are the five fundamental steps in every good hair care routine. And they're essential for keeping hair strong, healthy, and presentable. 
When in doubt, book a consultation with a hair care specialist or your hairstylist to discuss any issues you're experiencing. They'll be able to help you identify your hair type, concerns, and causes, and create a tailored hair care routine for shiny, bouncy, beautiful tresses.