6 Skincare Ingredients to Use On Your Hair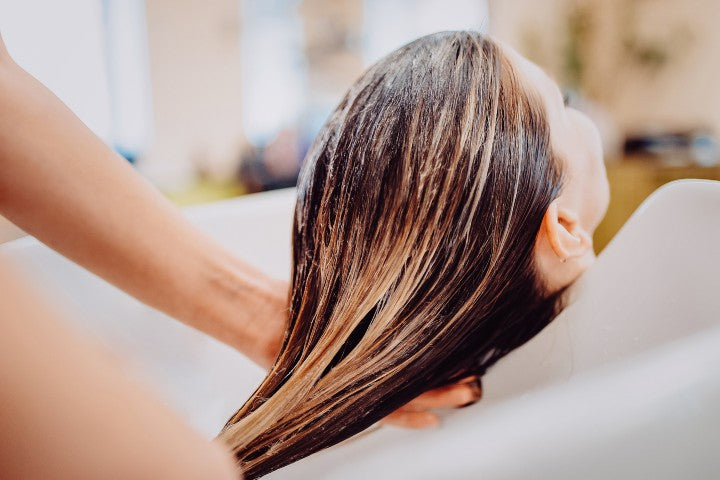 Nowadays, more and more beauty brands are using skincare ingredients in their hair care products. They're discovering the benefits of long-loved skincare actives on both scalp and strand health. That doesn't necessarily mean that you should start slathering your hair in your facial serums and lotions. Most of the time, it is not advised to use skincare products on the hair. However, it does mean that you can start reaping the hair benefits of your favorite skincare ingredients.
Here are six skincare ingredients you can start using on your hair for the most luscious locks EVER.
#1: Coconut Oil
Coconut oil is commonly found in lotions and creams, but these days, we're also seeing it in shampoos, conditioners, and hair masks. The two main benefits of coconut for hair include improved hair growth and hydration. That's because it's loaded with antioxidants and acids that help to nourish hair and skin.
"Coconut oil will definitely help your hair grow healthier, thicker, and longer," says hair colorist Stephanie Brown. "The vitamins and fatty acids in coconut oil help nourish your scalp and penetrates the cuticle of the hair."
For best results, apply a treatment mask containing coconut oil once every week for around 10 minutes to strengthen strands, prevent breakage, and spur growth. You can also just smooth organic coconut oil through your strands to diminish dryness and promote strong, healthy hair.
#2: Hyaluronic Acid
Hair is prone to drying out due to water, heat and chemicals. The best way to reverse that moisture loss is to bring in a humectant like hyaluronic acid. You'll usually find this active ingredient in cleansers, serums, and masks, but now it's making its way into hair products.
The humectant molecules attract and seal moisture in the skin, enabling collagen to thrive in the scalp and providing intense hydration to dry skin and hair. It's definitely worth including this popular skincare ingredient into your hair care routine — as well as your skincare routine — to hydrate all over.
When using a HA hair product, opt for a leave-in treatment like Rainbow's Hydrate Mask. It's made with a nourishing blend of hyaluronic acid and vitamin B5 to promote your softest, smoothest, shiniest strands.
#3: Tea Tree Oil
Got dandruff? Turn to tea tree oil. Tea tree oil is known for its antifungal properties, and can help reduce itching and scaling of the scalp caused by fungal dandruff. In skincare, tea tree oil is typically used in spot treatments to fend off impurities and acne-causing bacteria. But it can also be as effective for treating hair concerns, like dandruff.
For best results, use a shampoo enriched with tea tree oil, as this will be safer for all hair types. If you're using tea tree oil, make sure you dilute it to avoid irritation. You can even add a small amount of tea tree oil to your shampoo as a gentle yet effective dandruff treatment.
If you haven't got tea tree oil on hand, you can also try lavender essential oil. It works as a great alternative for treating dandruff and the scent is a little more pleasant.
#4: Hydroxy Acids
Exfoliation is just as important for your scalp as it is for your skin. While chemical exfoliants like glycolic acid, lactic acid, and salicylic acid offer brightening and smoothing effects for the skin, they can also promote healthy scalp and improved hair growth. These exfoliants work by shedding dead skin cells and removing product buildup on the scalp. By removing this accumulation, these hydroxy acids can also enable other hair products to work better.
Even if you have sensitive skin, hydroxy acids are typically gentler than scrubs, which tend to be too harsh for the skin and scalp. All hair and skin types can benefit from regular scalp exfoliation, especially if have oily hair or skin. The gentlest acid is lactic acid, an alpha hydroxy acid (AHA).
Be aware that it's best to use products designed especially for the scalp rather than using acid-based skincare products. These may be too irritating for the scalp. Look for shampoos, conditioners and treatments that contain hydroxy acids.
#5: Jojoba Oil
Jojoba oil is a nourishing plant-based oil that hydrates, heals, and soothes. Dermatologists say it can even be helpful for acne-prone skin as it stops the skin from producing excess oil by mimicking the skin's natural oil - - sebum. The experts also point out the oils anti aging benefits, claiming it can help to smooth out fine lines and wrinkles.
Alongside its skin benefits, jojoba oil is an awesome ingredient for the hair. Owing to its moisturizing properties, jojoba oil can diminish dry hair while strengthening your overall mane and preventing breakage.
You'll find it in all kinds of formulations, from shampoos to masks and oils. For best results, include it in your daily haircare routine to keep strands strong, shiny, and healthy.
#6: Micellar Water
You may already use micellar water in your skincare routine. You might wanna try putting it in your hair, too. Micellar water is a natural and gentle cleanser that purifies the skin and scalp. It can remove oils and impurities without drying or irritating the scalp, making it ideal for sensitive skin types.
Because it is made from purified water, it's especially healthy for your hair and scalp.
"It helps to counteract minerals and heavy metals found in traditional tap water," explains Dereq Clark, an award-winning hairstylist and Wella Professionals Brand Ambassador. "In addition, micellar water is typically infused with mild surfactants for breaking down oils."
WHAT INGREDIENTS SHOULD YOU NOT PUT ON YOUR HAIR?
While there are many skincare ingredients that can be beneficial for your hair, some should be left for the skin alone. Some of those ingredients include retinol and vitamin C.
Beauty products are becoming more versatile and frankly, we couldn't be happier. When choosing hair products, always look out for nourishing ingredients like those above along with vitamin E, niacinamide, peptides, and keratin amino acids. Avoid products that contain sulfates.
If you're dealing with a hair concern like hair loss, consult a health care provider.