Your Shaving Issues, Solved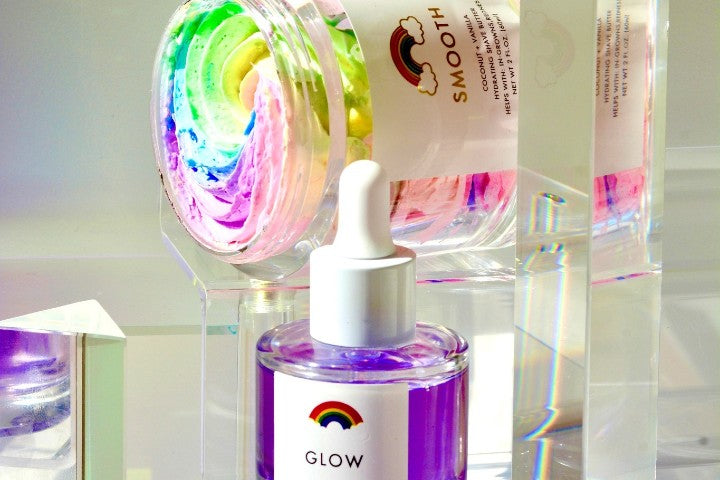 Nicks, razor bumps, ingrown hairs, dry skin...these are just a few of the common shaving problems that occur when you don't use the right skincare products or technique.
In order to achieve a super close shave sans irritation, it's vital to use nourishing products infused with soothing and hydrating ingredients while adopting the right technique. 
If you're hoping for a smoother, closer shave, scroll down to hear our solutions to your shaving issues and the best products to use the next time you plan on putting razor to skin. 
An Exfoliating Mask that Swerves Skin Irritation
Exfoliation should always be the first step of shaving. If you don't shave, dead skin cells sitting on the surface of the skin will end up clogging your razor blades and weakening your overall shave.
Whether you're shaving your legs, bikini line, underarms, or facial hair, always begin by buffing your skin with either a body scrub or chemical exfoliant. 
Try Rainbow's Glow Mask, which contains exfoliating glycolic acid and protective bakuchiol to gently dissolve dirt and dead skin while boosting your skin's radiance. 
Apply a thin layer to the desired area, let it sit for 10 minutes, then rinse with warm water. 
A Shaving Cream that Prevents Razor Burn + Ingrown Hairs
Whatever you do, don't dry shave. Dry shaving is pretty much a recipe for razor burn and ingrowns. Whenever you shave, always wet shave using some form of lubrication like shaving gel or cream. This'll create slip for your razor, allowing for an easy and irritation-free razor glide.
We love Rainbow's Smooth Shaving Butter. It's made with a soothing blend of coconut and vanilla to soften your hair follicles and prep skin for an ultra-smooth shave. 
Create a lather using a scoop of shave butter, massage it into the skin, and proceed with shaving. For best results, let it soak into the skin for 2-3 minutes before going in with your razor. 
A Body Butter that Diminishes Post-Shave Dryness
Now that you've exfoliated and shaved, you're probably left with skin that feels a little dry and tight. Restore the skin's moisture by slathering on a nourishing moisturizer like Rainbow's Hydrate Body Butter.
Coconut and vanilla are its key ingredients. They work in tandem to hydrate the skin, soothe redness and irritation, diminish dry patches, and improve the overall texture of your skin. Deeply moisturising and soothing, all skin types can benefit from using this aftershave lotion -- particularly sensitive skin types.
Apply a thin layer to freshly shaved skin, and re-apply every day until your next shave.
A Smoothing Serum that Treats Textured Skin
Does shaving leave your skin bumpy? That's common. Luckily, there is a way to alleviate the roughness and bumpiness - by smothering your skin in Rainbow's Smooth Serum.
Formulated with brightening vitamin C and plumping vegan collagen, these ingredients work together to stimulate cell turnover and collagen production while fighting free radicals for a smooth and glowing complexion.
After shaving, apply a small amount of oil to the affected areas. Let it absorb before getting dressed. 
A Serum that Deletes Shave-Related Discoloration
It's not uncommon for shaving to leave you with dark spots and redness. In fact, anything that causes trauma to the skin can lead to discoloration. The good news is that we have a formula that can help fade away those blemishes.
Rainbow's Brighten Serum is a blend of resurfacing pineapple and plumping plant collagen to boost collagen, regenerate fresh new skin cells, and alleviate discoloration caused by shaving, pimples, hormonal changes, or skin trauma.
Besides leaving you smoother and clearer, this serum promises to leave you instantly brighter. 
TIPS FOR ACHIEVING A SMOOTH + STRESS-FREE SHAVE
Ace Your Shaving Technique
How you shave can determine the outcome. That's why it's worth honing your shaving technique in order to get the best results. Generally speaking, the derms advise shaving in the direction of hair growth to prevent bumps and burns. However, in certain areas of the body -- like your legs -- it's not always easy to shave in that direction. The worst areas to shave against the grain is your bikini line and underarm areas, as these have coarser hair and more delicate skin.
Don't like wet razors? Try using an electric razor instead if you find it easier. It's all about finding the tools and techniques that work best for you.
Always Use a Fresh, Sharp Blade
Shaving with dull blades is a sure way to end up with razor bumps and ingrowns. That's because you end up placing more pressure on the skin, increasing your chances of irritation. 
Whenever you plan on shaving, always make sure you use a fresh, sharp blade razor. This way, you won't have to keep going over and over the same areas, reducing your risk of irritation. If you can, opt for a double blade rather than a single blade. And look for blades infused with soothing ingredients like aloe.
Invest Time into the Pre-Shave Part
And by that, we mean using a gentle cleanser to wash away dirt and oil, followed by an exfoliator to buff away dead skin cells, and then prepping skin with a shave cream, gel, or butter.
Simply going in with the razor minus prep will only irritate your skin and increase your risk of ingrown hairs, razor bumps, nicks, and burns.
Everyone experiences shaving difficulties at some time or another. Once you know what you're doing and the best products to do it with, the whole process gets much easier -- and the results, so much better.
If you have thick, curly hair, you may be more prone to ingrown hairs than others. In this case, you may want to consider another form of hair removal in which the risk for ingrowns is much lower. For instance, waxing or laser hair removal may be preferable options with longer lasting results.
Speak to your dermatologist for professional advice.