Your Guide to Growing Your Brows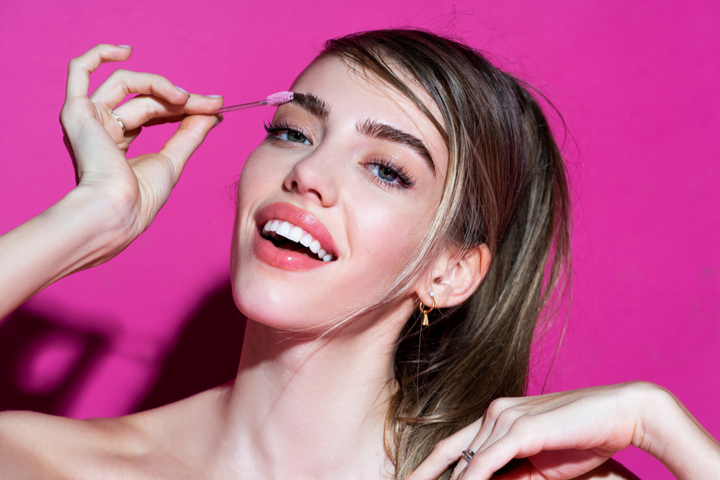 Growing out your brows can be a long and frustrating process. 
On the plus side, there are ways to speed up the hair growth process while supporting overall eyebrow health.
Here are some tips and tricks on how to grow out and maintain fuller brows.
#1: Don't Touch Your Tweezers
The best way to ensure healthy brow growth is to leave your brows alone. Refrain from picking up the magnifying mirror and tweezing away brow hairs for at least two months. It will be difficult at first, but it's a crucial step to allow your eyebrows to grow as much as possible. After all, overplucking is probably what got you here in the first place. 
Experts also advise against waxing, saying it damages the hair follicle the most. In other words, those who wax their brows can expect to wait the longest for regrowth. Those who tweeze or thread, conversely, can expect to see a decent amount of growth within 6-8 weeks. Sorry, waxers.
To keep the brow area tidy, consider using a trimmer to maintain the desired shape of your brow. Using a clear brow gel, brush the hairs upward and outward. Let the gel dry completely, then trim the ends that stick out beyond your brow shape.
If you have very thin eyebrows, you may need to wait as long as six months to achieve the fluffy, full brows of your dreams.
#2: Look to Almond Oil
Bursting with vitamins E, D, and E, almond oil is great for nourishing the brow hairs. 
When it comes to brow growth remedies, most people think of castor oil. Did you know almond oil has the same properties as castor oil, making it just as effective for moisturizing and nourishing brow hair?
Apply a thin layer of pure almond oil to your eyebrows every evening before going to bed to stimulate healthy hair growth.
Coconut oil, vitamin E oil, and argan oil are also effective at nourishing your brows and supporting hair growth.
#3: Consider an Eyebrow Growth Serum
While hair growth is typically a long process, you can accelerate the growth of your eyebrows by adding growth serums into your skincare routine. 
Brow serums are extremely effective at speeding up brow growth. When looking for an eyebrow serum, look for ingredients like peptides, keratin, biotin, soy protein, and rosemary oil, all of which are known for promoting growth. 
You may also want to consider using an eyebrow conditioner to hydrate your brows while minimizing damage and breakage. The only caveat? You'll need to apply it every single day, no excuses.
Condition your brows with Rainbow's Hydrate Serum or Smooth Serum. 
#4: Fake it 'till You Make it 
While you wait for your real hair to grow back in, try using an eyebrow pencil to fake ultra-natural brows. Brow pencils and brow powders are great for giving the appearance of fuller, fluffier eyebrows. 
You can also use concealer to mask stray hairs growing in. To do this, use a full-coverage concealer and gently pat it over those unruly brow hairs to conceal them for the time being, followed by a swipe of brow pencil for brow definition.  
Choose a shade that matches your natural hair color, and draw tiny flicks in the areas that need more support during this growing out phase. Finally, use a spoolie and some brow gel to set your brows in place and leave them looking glossy.
#5: Groom with Care
Once you've hit the 8-week mark, congratulate yourself for coming so far! Not everyone can. By now, you should notice hair growing closer to the brow bone. By leaving those hairs to grow, the hairs closer to the brow line will also begin to grow. 
If you're serious about growing your brows, give it another 8 weeks before strategically tweezing the hairs closest to the eyelid. Doing this will actually create gentle stimulation which can stimulate growth along the brow line.
If you want to continue maintaining your full, balanced brows, consider getting them groomed at a good local salon. Brow experts can keep your eyebrows looking full, shaped, and defined. 
Whether you opt for waxing or threading, remember to always communicate the exact shape you want before letting anyone touch your brows. Emphasize that you don't want them too thin. 
#6: Be Patient
The most important step of all: be patient. Growing out your eyebrows is a process. Like growing out a bob or bangs, it can take time, which is why patience is key. 
Depending on how healthy your brow hair follicles are, it can take approximately 12 to 16 weeks to see the fullest potential in your brow hair growth.
"Eyebrow hair grows actively for three to four months, followed by a resting phase, after which the hairs are released from the skin," says New York City-based dermatologist Joshua Zeichner. "Your body is constantly making new hair, so most people do not notice the shedding and renewal."
#7: Try an Eyebrow Tint
Eyebrow tinting is a process that involves dying brow hair with a semi-permanent color. It gives the appearance of natural looking fuller brows, with results lasting up to one month.
While tinting is a relatively expensive treatment, it can help you get through the grow out stages. Besides making brows look fuller, the tinting technique helps define brow shape, darkens light brows, and it's smudge-free.
#8: Pull the Focus Elsewhere
Stop placing all your attention on your 'growing' brows. Instead, pull the focus elsewhere with a volumizing mascara, bright lip color, or eye-catching necklace. Just because your brows aren't looking their very best just yet, doesn't mean you need to neglect the rest of you. Highlight the other parts to place less focus on your dishevelled brows. 
You may never get brows like Cara Delevingne or Lily Collins, but you don't have to put up with sparse, over-plucked brows either. Follow these 8 steps to achieve fuller, more defined eyebrows. In only a matter of weeks, you should start noticing a visible difference in their appearance.