You Might Be Applying Your Body Lotion Wrong. Try this Way Instead.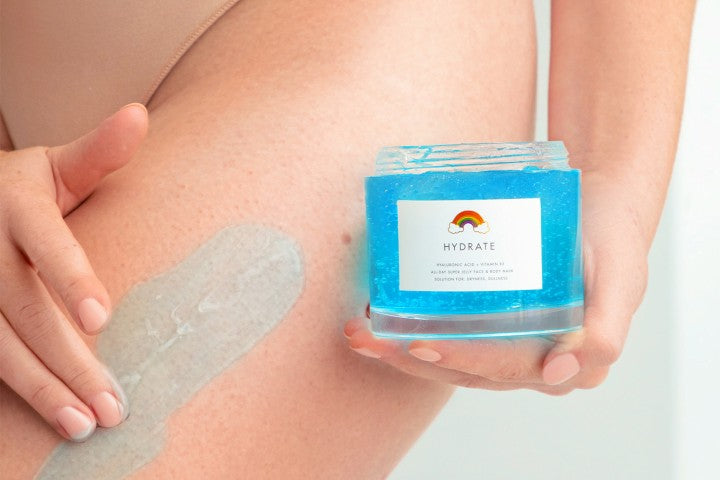 Moisturizing is an essential skincare step that most of think we know how to do. Surprisingly, it's definitely possible that you can be applying your body lotion all wrong. And by the doing so — preventing it from yielding its best benefits.
From the technique you use to when you apply it, it all matters when it comes to moisturizing. If you're currently only moisturizing your face, it's time to start showing the rest of your body some TLC, too.
Here's why body moisturizing matters, and how to do it to keep your skin smooth and healthy.
WHY YOU SHOULD BE USING BODY LOTION
The purpose of body lotion or body cream is to provide moisture to the top of the skin, creating a layer that seals in water, preventing dryness and irritation. A lot of people think body moisturizer is only beneficial for those with dry skin, but that's absolutely untrue. Every skin type can benefit from daily skin hydration — both on the face and body. It should be included in your daily skincare routine for maximum skin health.
Nowadays, body butters and lotions do a lot more than hydrate the skin. Over the years, the body care category has become more sophisticated, using active ingredients like retinol and vitamin C to target specific skin concerns such as fine lines, acne, discoloration, and even skin conditions such as eczema.
WHAT TO LOOK FOR IN A BODY LOTION
Like with any skincare product, it's important to choose your formula wisely in order to reap the most benefits for your skin. You should consider your skin type and any skin concerns, and choose a product based around that.
If you have very dry skin, select a thicker, richer body cream with higher concentrations of both emollients and occlusives — to attract and lock in moisture. If you have sensitive skin, oily skin, or acne-prone skin, seek out something lighter that won't end up irritating your skin or clogging your pores. Like Rainbow's Hydrate Body Serum, which is made with hyaluronic acid and vitamin B5 to replenish lost moisture and diminish dry areas to leave skin feeling and looking smooth and glowing.
Other nourishing ingredients to look out for in a moisturizing cream include glycerin, shea butter, vitamin E, aloe, cocoa butter, and jojoba oil. These can all help to support skin barrier function, retain skin's natural moisture, and drive out dryness.
HOW TO USE BODY LOTION
Here are some of the best ways and times to use body lotion in your beauty routine.
#1: After Showering
According to the derms, you should be moisturizing your body at least once a day — straight after your shower, ideally.
"It's especially important to apply body lotion after a shower," says board-certified dermatologist Shereene Idriss, MD. "The hot water and steam can really dry out your skin, especially during the winter, and moisturizing right after the shower also helps to lock in the moisture already on your skin, keeping it soft and hydrated."
What's more, damp skin absorbs moisture better than dry skin, so applying your fave lotion while skin's still a little damp is the best way to secure ultra smooth and dewy skin.
After showering, lightly towel dry your skin so that it's still damp, but no longer soaking wet. Then apply a dollop of body lotion or butter all over, using circular motions to massage it in. Wait until it's fully absorbed before getting dressed. Follow up with sunscreen if you shower in the morning.
You can also prevent post-shower dryness by swapping out your harsh soap for a hydrating body cleanser.
#2: After Shaving
Shaving is actually a form of exfoliation that removes hair — and the surface layer of skin cells. Just like when you exfoliate your face and body to buff away dead skin cells, shaving removes the surface layer of skin cells, allowing skin to absorb skincare products better. Applying body lotion after shaving enables it to work harder, relieve post-shave dryness and itchiness, and leave skin instantly smoother.
To maintain healthy skin, it's important to moisturize straight after shaving to protect the newly exposed skin from getting dry.
#3: At Night
Just before you go to bed, slather your body in a nourishing body lotion or serum so that it can work its magic overnight.
"During sleep, the skin's trans­epidermal water loss is increased, meaning moisture is pulled out of the skin while we snooze," says Annie Chiu, MD, a celebrity dermatologist in Manhattan Beach. "By using a slightly heavier night cream, you are protecting your face from dehydration." And this can also be applied to the body too. By using a heavier body cream, you are protecting your body from drying out.
#4: Using a Generous Amount
To hydrate your entire body, you'll need a good dollop of lotion. You don't need to stingy with the lotion. It's important to ensure every inch of your body is thoroughly moisturized. Remember to focus on the driest areas like your knees, elbows, and ankles. You can apply a little less to less dry areas.
#5: Applying in Circular Motions
Apply the cream to your hands, rub your palms together to warm up the product, and massage the lotion into your body using circular motions. Continue until you have covered your entire body.
If you have some areas that are drier and others that are oiler, use a thicker creamier formula for the dry areas and a lightweight hydrator like Rainbow's Hydrate Mask for the oilier or acne-prone areas. This will ensure every part of you is moisturized without triggering breakouts.
There's actually nothing complicated at all about body lotion. Provided that you choose a good formula for your skin type, apply it at the right time, and massage it in well, you can maximize the effects of your daily body lotion. Always remember to follow up with SPF if you moisturize in the morning or during the daytime!