Why You Need AHAs in Your Body Care Routine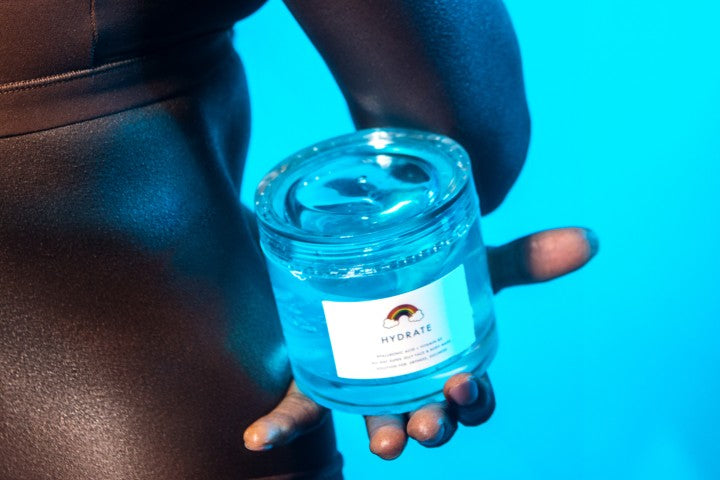 Alpha hydroxy acids, or AHAs, are chemical exfoliants with a proven ability to resurface the skin, without the damage that often accompanies physical exfoliants — otherwise known as scrubs. The most common AHAs found in skincare products include glycolic acid, lactic acid, citric acid, and mandelic acid. Malic acid and tartaric acid are also AHAs, but they're rarely seen in over-the-counter formulas.
According to dermatologists, chemical exfoliants work in two ways. They lift off the buildup of dead skin cells on the skin's surface and they penetrate the pores to remove the accumulation of dead skin and sebum. Thanks to these abilities, AHAs can help clear and prevent breakouts while refining skin texture.
Without a doubt, AHAs can be a gamechanger in your skincare routine. But they don't only benefit your face. They can also improve the appearance of the rest of your body, too. Here's why you need alpha hydroxy acids in your body care routine.
AHAs are Great Exfoliants
Alpha hydroxy acids are water-soluble acids derived from sugary fruits.
They can be found in a range of skincare products such as cleansers, toners, exfoliators and serums. Their primary role is sloughing off dead cells on the skin's surface, keeping skin smooth and bright.
Using AHAs in your body care routine can be a gentler alternative to body scrubs, which tend to be too harsh for most skin types. While scrubs are great when used sparingly, those with large particles like walnut shells can cause microtears in the skin.
You'll also find AHAs such as glycolic acid in chemical peels, a treatment often carried out in dermatology offices with the purpose of refining skin texture.
AHAs Make Your Other Skincare Products Work Harder
Even your best topical treatments will struggle to penetrate skin covered in a layer of dead skin cells. That's why it's important to exfoliate regularly in order to shed those cells and enable your skincare products to absorb fully into the skin.
Especially when you're using serums — formulas with a high concentration of active ingredients like retinol and vitamin C — it's always best to apply them to a clean, fresh canvas. This way, they can penetrate deeper into the skin and work their magic.
AHAs Improve the Appearance of Dark Spots and Discoloration
AHAs are an excellent addition to your skincare routine if you're looking to even out your skin tone.
"AHAs help even out skin pigmentation irregularities from melasma and post-inflammatory hyperpigmentation," says Morgan Rabach, M.D., a board-certified dermatologist in New York City.
Whether you're dealing with dark spots or discoloration, AHAs shed away the skin, revealing your smoothest, clearest skin. Since hyperpigmentation occurs on the body too, you don't want to neglect exfoliating below the neck. Pay most attention to areas most frequently exposed to the sun, such as your cleavage, arms, and hands.
AHAs Treat and Prevent Body Breakouts
While beta hydroxy acids, aka BHAs (or salicylic acid), are best for acne-prone skin since they're oil-soluble and penetrate deeper into pores, AHAs can be helpful at removing the buildup in your pores.
If you're prone to body blemishes, try incorporating an AHA-based body wash into your daily skincare routine to unclog pores and keep skin clear. Whether you're dealing with blackheads, whiteheads, or regular pimples, these exfoliating acids can keep breakouts under control.
Body acne usually occurs on the oiliest parts of your body like your chest, back, shoulders, and butt. These are the areas to focus on when using AHA-based products.
AHAs Naturally Brighten Skin
Any form of exfoliation offers instant skin brightening effects. However, AHAs are a gentler way to buff away old, dull cells to reveal fresh, bright, and glowing skin. If you're looking for a quick way to boost your glow, alpha hydroxy acids are your best option.
That's why you'll often find them in formulas designed to brighten skin. From cleansers to eye creams and serums, AHAs pop up in almost every skin brightening formula.
AHAs Help to Fade Fine Lines
According to the derms, these exfoliating skincare ingredients may even be helpful in treating and preventing signs of aging, such as fine lines and wrinkles. That's because AHAs have been said to stimulate collagen production, helping to fade out creases and improve skin's firmness.
Generally speaking, AHAs aren't famous for their anti-aging properties — especially compared to powerhouse anti-agers like retinol and antioxidants. That said, they're definitely worth looking out for in skincare formulas and using in conjunction to your other anti-aging treatments.
AHAs are Suitable for All Skin Types
Everyone can benefit from using alpha hydroxy acids in their beauty routine. Whether you've got dry skin, oily skin, or even sensitive skin — AHAs are a gentle form of exfoliation that help keeps skin clear, smooth, and glowing.
Even so, you should still slowly introduce AHAs into your routine to prevent any unwanted side effects like skin irritation and dryness. Avoid using them daily if you have dry or sensitive skin, as they may leave your skin sore and irritated. Or use a formula blended with anti-inflammatories like green tea to prevent irritation. Those with oily and acne-prone skin types can afford to use AHA products daily to keep pores clear and excess oil at bay.
"Start off with acids that tend to have a slightly bigger molecule to them, as they will penetrate slower, and be less irritating," explains facialist Katharine Mackenzie Paterson. "Lactic acid is a great starting point (unless you are vegan). Glycolic acid has quite a small molecule size, so it will penetrate into the skin quickly, which is why it can often feel quite tingly and active on the skin."
SHOP AHA BODY CARE PRODUCTS
Here are some of our fave AHA-laced body care products you can shop now.
Glow Serum
Bakuchiol and glycolic acid work in tandem in this silky serum to speed up cell turnover while sweeping away dead skin, improving uneven skin tone and giving skin an instant brightening effect. Unless you're using it as a night serum, always remember to follow up with sun lotion.
Tighten Bundle
An AHA body serum + mask duo to treat skin concerns like fine lines, discoloration, and dullness. It also boasts potent antioxidant properties thanks to red microalgae which helps fend off free radicals and ultimately sun damage. You'll still need to wear sunscreen with an SPF of at least 30 every day, though.
Hydrate Mask
While hyaluronic acid is its claim to fame, this deeply hydrating formula also contains glycolic acid to exfoliate away dryness and dullness.