What's the Purpose of Serums?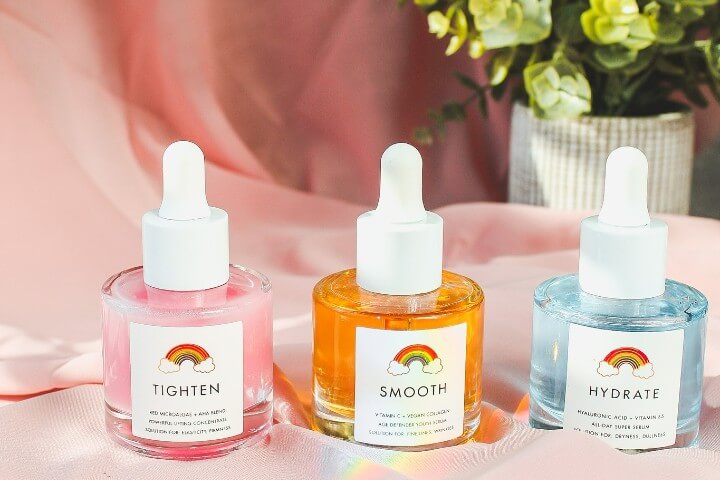 You may be the proud owner of several serums, but perhaps you don't fully understand the workings of these popular skincare products. 
Skincare can definitely seem complicated at times. You are not alone in feeling confused over what serums do, how they work, and when exactly to apply them.
In this article, we're going to shed some light on serums to give you a better idea of what they're here for and whether or not you should use them.
WHAT IS A SERUM?
Serums are lightweight formulations that deliver a high concentration of active ingredients to your skin. This makes them a great tool for addressing specific skincare concerns like dryness, dullness, wrinkles, and hyperpigmentation.
Unlike lotions and creams, serums are typically thin and absorbent, leaving little to no residue behind. Since they're full of potent ingredients, a little goes a long way when applying serums.
Overall, they are definitely worth using in your daily skincare routine.
Ingredients Commonly Found in Serums
There are several ingredients you'll often find in face serums. Some formulations combine two or more of these ingredients, while others only use one. These ingredients include:
Retinol — A derivative of Vitamin A, retinol is an antioxidant that reduces inflammation and adds nourishment to skin. It also plumps up the complexion, minimizing the appearance of fine lines and wrinkles. 
AHAs — Known as alpha hydroxy acids, AHAs are exfoliating acids that dissolve dead skin cells to improve skin tone, fade discoloration, and deliver skin brightening effects. Common AHAs include glycolic acid and lactic acid.
BHA — Otherwise known as salicylic acid, this beta hydroxy acid unclogs pores and eliminates excess oil to treat and prevent active breakouts. 
Vitamin C — Vitamin C increases collagen production, boosts the skin's repair process, and brings down inflammation. It's especially useful for acne-prone skin types as well as those dealing with dull skin. Vitamin C serums are one of the most popular products available for enhancing rejuvenation and improving skin tone and radiance. It is also said to improve skin texture.
Vitamin E — This powerful antioxidant protects, nourishes, and moisturizes skin. You will typically find it in hydrating serums. 
Hyaluronic acid — Deemed a skin hydration powerhouse, hyaluronic acid is excellent for dry skin types. It moisturizes, plumps, and helps skin seal in long-lasting moisture.
Peptides — Peptides are antioxidants that improve the texture of skin. As the building blocks of collagen, they are also extremely effective at reducing and preventing signs of aging.
Niacinamide — A facial serum ingredient known for boosting skin elasticity and increasing ceramide levels in the skin for enhanced hydration and youthfulness. 
FACE SERUM BENEFITS
Serums can do a range of things, including:
Hydrate:Hydration is essential when it comes to maintaining beautiful, healthy skin. Vitamin C, vitamin E, and Hyaluronic acid serums all provide significant moisture, helping your complexion stay smooth, healthy, and radiant. 
Minimize fine lines and wrinkles:As we age, skin starts showing signs of aging in the form of creases. The best anti-aging ingredients in serums include vitamin C, retinol, and hyaluronic acid.
Refine skin texture:Everything from your skin type to sun damage to a damaged skin barrier can cause uneven skin texture. Ingredients like hyaluronic acid, vitamin C and peptides can all help to smooth and refine your skin. 
Fade dark spots:Dark spots appear when melanin is produced in high concentrations. Go for vitamin E, vitamin C, and retinol to minimize their appearance.
Provide antioxidant protection:Free radicals can cause a plethora of skin issues ranging from wrinkles to hyperpigmentation. Antioxidants found in vitamin E, vitamin C, retinol, and hyaluronic acid fight environmental stressors and provide long-term protection for your beautiful face.
WHAT'S THE DIFFERENCE BETWEEN SERUMS AND MOISTURIZERS?
Many people get confused over this. It's actually quite straightforward.
Moisturizers are generally thicker formulas with larger molecules than serums. They create a physical barrier on the skin that locks in hydration and prevents it from drying out. 
Serums are thinner and lighter. They penetrate deeply into the skin to deliver active ingredients that treat issues ranging from wrinkles to discoloration to blemishes.
Ultimately, they're both worth having in your daily skincare regimen. Whereas serums address specific skin concerns, face creams help lock in moisture to keep skin hydrated and healthy. 
If you have oily skin or acne-prone skin, you can leave out the lotion in favor of a hydrating serum if you want to prevent a flareup.
WHEN TO APPLY FACIAL SERUM?
When it comes to layering your skincare products, it's best to go from thinnest to thickest. Start with your cleanser followed by your toner, serum, eye cream, and face cream. Sunscreen should be the last step in your skincare routine.
To effectively layer your serum, rub the serum onto your face and neck. For best results, apply it to slightly damp skin so it can better absorb and maximize results. Then, wait around 60 seconds before applying your moisturizer or face oil on top. Complete your routine with a generous layer of broad-spectrum sunscreen.
BEST SERUMS 2021
Here are our top picks.
Rainbow's Glow Serum
A flash fix for instant radiance. This brightening treatment serum blends exfoliating glycolic acid with illuminating bakuchiol to give the skin its glow and bounce back.
Rainbow's Tighten Serum
This lifting face and body serum relies on the anti-aging powers of red microalgae and alpha hydroxy acids to visibly sculpt, smooth, and restore elasticity in skin. 
Rainbow's Smooth Serum
Your best defence for fine lines and wrinkles can be found in this plumping, anti-aging serum. Vitamin C and vegan collagen join forces in this formula to deliver bouncier, fresher, fine line-free skin.
Rainbow's Hydrate Serum
Serve up a chilled glass of water to your parched complexion with this dew-inducing elixir of hyaluronic acid and vitamin B5, which promises to drench dry skin in lasting moisture.
Serums are small but spectacular and certainly worth using in your daily skincare routine. Whether you're dealing with dryness, dullness, or frustrating fine lines, serums really do conquer all.