This 3-Step Anti-Aging Kit Delivers Full Body Youth Restoral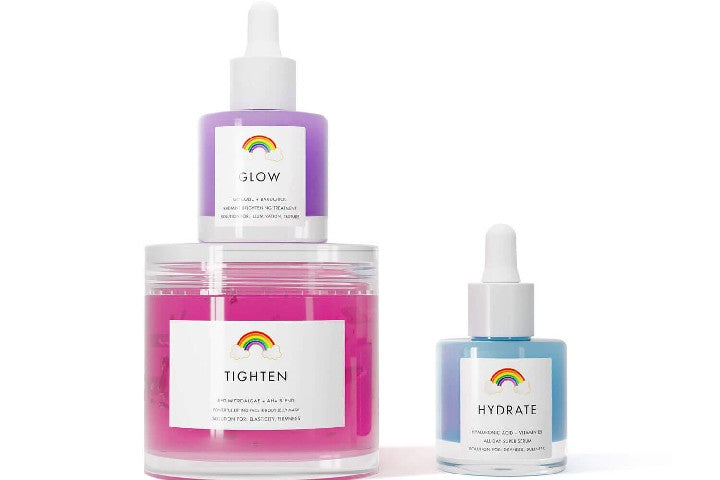 An anti-aging skincare routine doesn't need to be an elaborate assortment of highly priced serums, lotions, night creams, and oils. In fact, if you want to stick to a skincare regimen, you're better off sticking to something you can actually commit too — even if that means using only a handful of skincare products.
You may actually only need three steps to keep your skin looking young, fresh, and radiant. And those three steps can be found in Rainbow's Restored Bundle.
Scroll down to hear more about the aging process and how your skin can benefit from using Rainbow's youth-restoring skincare set.
WHEN TO START AN ANTI-AGING SKINCARE ROUTINE
According to experts, skin aging typically starts in your mid 20s, when your body produces less collagen, causing skin to loose elasticity. However, how quickly or soon your skin ages depends a lot on your lifestyle choices.
Excessive unprotected sun exposure, for one, can be detrimental to skin health. In fact, sun damage is one of the most common causes of premature signs of aging, which is why dermatologists are always telling you to wear sunscreen. Other causes of aging skin include smoking, drinking, stress, and repeated facial expressions.
It's never too early to start a preventative routine. However, if you're already seeing visible signs of aging such as the formation of fine lines and dark spots, there's no better time to start an anti-aging routine than now — before it progresses.
As a general rule, we recommend incorporating anti-aging formulas into your routine once you hit 21. Acting now can prevent signs of aging and make it easier to deal with lines, wrinkles, and hyperpigmentation.
WHAT TO LOOK FOR IN ANTI-AGING PRODUCTS
For starters, you'll need a broad-spectrum sunscreen with SPF 30 or higher to keep skin protected from harmful UV rays which are known for speeding up the aging process.
Next, look for cleansers, toners, serums, and moisturizers with active ingredients that specifically target fine lines, dullness, and discoloration. Some of the best anti-aging ingredients include retinol, vitamin C, glycolic acid, lactic acid, hyaluronic acid, peptides, vitamin E, ceramides, and antioxidants.
Retinol is, without a doubt, one of the most famous anti-wrinkle formulas that also offers firming and brightening effects. It works by boosting collagen production, speeding cell turnover, and elevating skin's elastin, smoothing out creases and lightening discoloration.
Hydroxy acids like glycolic also work wonders at improving skin tone and skin texture thanks to their ability to exfoliate away dead skin cells and impurities.
Always aim to look for these active ingredients on product labels to ensure you're getting the biggest bang for your buck.
WHY YOU SHOULDN'T NEGLECT THE BODY
Don't reserve your favorite anti-aging serums for your face and neck only. Your body is just as vulnerable to issues like fine lines, wrinkles, sagging, and discoloration. Especially areas most often exposed to the sun, such as your chest, arms, and hands.
If you want to keep the skin on your body looking smooth, taut, and youthful, give it a routine of its own. Unfortunately, many people neglect the body when it comes to skincare. You can actually prevent so many skin concerns just by showing it a little more love.
Lucky for you, we've got the best anti-aging body routine to keep your skin smooth and springy.
TRY THIS 3-STEP FULL BODY ANTI-AGING KIT
A streamlined skincare routine to make your skin look visibly smoother, firmer, and brighter. Restored Bundle is a 3-step anti-aging system designed to treat signs of aging present on both the face and body. Although it also works as a preventative routine, helping to swerve fine lines, wrinkles, dark spots, and dullness.
WHAT'S INSIDE?
Tighten Mask
A body firming formula powered by alpha hydroxy acids and antioxidant-rich red microalgae to leave skin significantly more supple. It also helps fight off the damaging effects of free radicals, protecting skin against fine line formation, dark spots, and sagging.
Glow Serum
A brightening serum made with exfoliating glycolic acid and plumping bakuchiol to fade discoloration and dark circles, smooth out wrinkles, and leave skin instantly glowing after the very first use. It can also help buff away breakouts and dryness for a body that glows all over. And the icing on the cake? You can use it to smooth out crow's feet around the eye area.
Hydrate Serum
A moisturizing formulation of hyaluronic acid and vitamin B5 to drench skin in long-lasting moisture, regenerate damaged skin cells, and plump out creases. It'll also leave skin with a radiant glow from head to toe.
How Does it Work?
Tighten, Glow, and Hydrate join forces in this anti-aging set to boost collagen production, increase elasticity, and buff away dullness and discoloration. Each formula is carefully crafted to rejuvenate skin and make it appear visibly smoother. When used on a daily basis, you can expect to see results within as little as three weeks.
WHICH SKIN TYPES IS IT BEST FOR?
All skin types can benefit from using the Restored Bundle. Even if you have dry skin or sensitive skin, as long as you only use a small amount of each product daily, you can enjoy all of the benefits — and none of the irritation.
HOW TO USE
Step #1: Apply Tighten Mask
After showering, apply a thin layer of this body mask to your entire body — or desired areas. Leave it for 10-15 minutes, then rinse off thoroughly.
Step #2: Pat on Glow Serum
Apply a dozen or so drops to the entire body — or several drops to desired areas.
Step #3: Pat on Hydrate Serum
Apply a dozen or so drops to the entire body — or several drops to desired areas. Finish with a generous layer of sun protection.
When it comes to anti-aging skincare routines, most people tend to focus on the face instead of on the body. While we recommend containing with the attention you're showing your face, we also advise levelling up your routine by focusing on the body too.