The Secrets to Flawless Foundation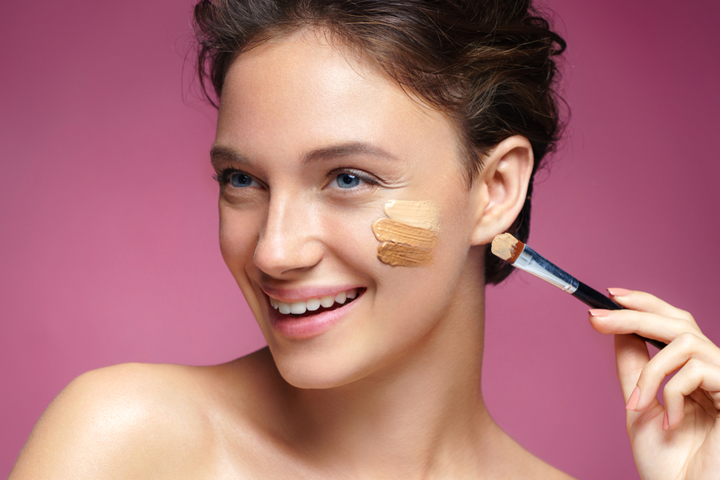 Flawless foundation application requires more than tracking down the best foundation and applying it to the skin. Products, tools, and preparation -- they all make a difference in the outcome of your "second skin."
In this article, we're going to share our expert-backed makeup tips for helping you achieve flawless foundation. 
#1: Exfoliate and Moisturize
Flawless foundation starts with healthy skin. It doesn't matter whether you're using cream, powder, or liquid foundation, no spec of product should come in contact with your skin until it's properly prepped.
Exfoliating your skin is the first step in prepping your skin for foundation and concealer. Exfoliation removes dead skin cells and rough patches, creating a seamless base for your makeup. 
Next comes hydration. Using a lightweight moisturizer, take your time to work the product into your skin, massaging as you go to stimulate blood flow and make your skin look radiant. Incorporate these steps into your skincare routine to guarantee a flawless finish every time.
We recommend Rainbow's Hydrate Serum. It's formulated with hyaluronic acid and vitamin B5 to replace dull, dry skin with plump, glowing skin.
#2: Apply Primer
Primer is the beauty product known for making foundation last a long time. 
To achieve the best results from your primer, choose one tailored to your skin type. Oily skin? Make mattifying your go-to. Dry skin? Apply a dot of hydrating primer after your moisturizer to prevent foundation from becoming flaky.
If you are someone who often ends up with raccoon eyes, smudged eyeliner, or patch-y foundation, you would definitely benefit from using a makeup primer. It can also help your foundation look more natural and less cakey.
#3: Don't Forget Sunscreen
While most foundations now contain a sunscreen, make sure you check there's SPF in your formula before applying to your skin. Alternatively, apply a generous layer of SPF prior to your foundation to give your skin ultimate protection from skin-aging UV rays.
#4: Find Your Color Match
Wearing a foundation that doesn't blend in with your natural skin tone is the fastest way to destroy your "flawless foundation" quest. 
Set yourself up for success by finding your perfect color match. One tip makeup artists swear by is testing the color on your jawline. If it looks invisible in daylight, that's a sign it's your perfect match. 
According to makeup artist Lauren Luke, the easiest way to choose the best color for foundation is to, "Take three shades that are likely to go with your skin tone and apply side by side along the jawbone." Then, she adds, "Take the ring finger and smooth each one into the skin. The color that blends into your skin tone is the one to go with."
Alternatively, head to your local beauty counter and ask a makeup expert to lend a hand. They'll be able to apply the product all over, if you wish, so you can get the most accurate match.
#5: Choose the Right Tools
When it comes to makeup routines, some prefer using their hands while others favor makeup sponges and brushes. According to the pros, there is no right or wrong answer. It all comes down to your personal preference. 
With that said, there are some plus points to each. Sponges, for instance, are excellent for precision and blendability. You can expect a beautiful, dewy finish when using a slightly damp sponge to apply your foundation. Meanwhile, the fingers are best for dispersing product, and foundation brushes are ideal for full-coverage foundation.
"Use it in circular movements for a light-to-medium coverage, loading the brush according to how much coverage you prefer, or dab with the flat of the brush to build the coverage or cover troublesome areas," says makeup expert Fred Letailleur.
#6: Dab on Concealer
Concealer is there to cover dark circles, blemishes, and breakouts ready for makeup to be applied. You should not use it to cover the entire face.  
Dab a small amount of concealer over the areas you want to fade, re-applying until you achieve your desired level of coverage. 
#7: Apply Your Foundation Strategically
It turns out, you don't need to cover your entire face in foundation to improve the appearance of your complexion. In fact, foundation looks most natural when it's applied just where it's needed. Before diving in with your brush, beautyblender, or fingers, take a look at your face in the mirror and identify where you feel needs most coverage. 
For some, it may be the T-zone where there's redness and oiliness. For others, it may be the hyperpigmentation, fine lines, or breakouts on your forehead. Apply your foundation to those areas first, then blend out. 
This will ensure you get the coverage you crave without overloading your skin with makeup. In other words, it secures the most natural makeup look. Don't worry if you have overdone it. Simply mist the skin with a little water spritz and your over made-up skin will look subtle once more.
#8: Contour, Bronze, and Highlight
Now that you've finished covering, it's time to add definition and dimension to your face with a little contouring, bronzer, and highlighter. If you've got flaws you want to de-emphasize or lovely parts you want to emphasize, contouring and highlighting are your best weapons. Bronzer is best for those seeking a color boost. 
#9: Set with Powder
Setting powder should be the last step in your foundation routine. It's the step that guarantees long-lasting foundation that won't slip, melt, or smudge. Don't have a setting powder on hand? Translucent powder or another loose powder works just as well. 
While powder is best for prolonging the lifeline of matte foundation, those seeking a dewy finish should try setting spray instead. 
Setting your makeup is key to long-wearing foundation. Without it, your makeup may not make it through the next couple of hours or less.
Flawless foundation is within your reach. Once you have the right tools, products, and know-how, you're almost fail-proof when it comes to achieving a flawless finish. The more you practice, the better the result.