The Best At-Home Spa Treatments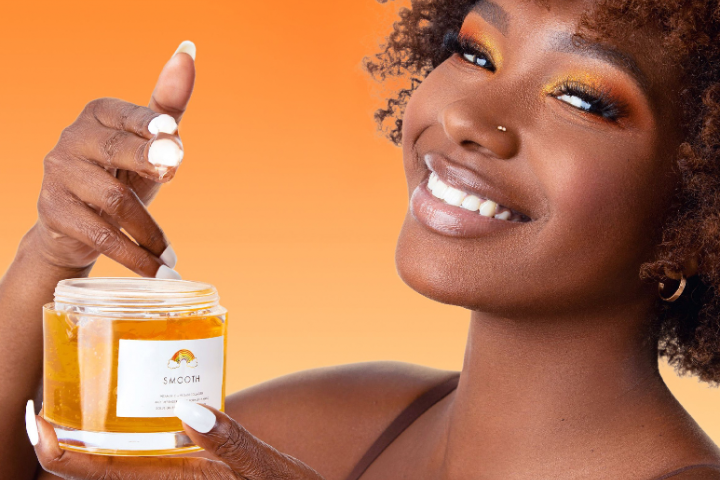 It's been a tough year. You've worked hard. And now you deserve some seriously deep pampering.
With your Xmas holiday coming up, you'll have plenty of free time to indulge in some self-care moments that you never had time for before. Best of all, even if purse strings are tightened, you don't need to splash out on expensive spa treatments. You can bring the spa to your own home — well, bathroom.
Here are some of the best at-home spa treatments you can try today for an authentic spa experience — without the hefty bill.
Smooth Body Scrub
To start your at-home spa day, hop in the shower and bring a tub of Smooth Body Scrub with you. Rich and deeply exfoliating, this formula is made with a blend of brightening strawberries and hydrating niacinamide. It intensely hydrates, firms, and buffs away uneven skin texture for an irresistibly smooth, glowing bod.
With a base of sea salt, this scrub gently buffs away the buildup of sebum and dead skin cells, revealing fresh, illuminated skin. Since it smells just like juicy strawberries, it's one of those beauty products that awakens all your senses. Plus, it's suitable for all skin types — especially dry skin and sensitive skin.
How to use: In the shower or bath, apply a scoop full anywhere on your body, working in gentle circular motions to buff. Rinse off, pat dry.
Anti-Cellulite Serum
Seeing cellulite and stretch marks? Anti-Cellulite Serum harnesses the firming powers of watermelon and vegan collagen to boost collagen, improve circulation, and manifest a smoother body. It also contains vitamin E and aloe, which work in tandem to protect against environmental stressors and condition dry, stressed out skin.
If you're looking to get a head start on tackling cellulite, this is the go-to treatment. It both prevents and treats dimpled skin, leaving you tighter, smoother, and brighter.
How to use: Apply 2-4 drops daily, morning and night onto affected areas. For best results, use daily and stay consistent!
Firm Boob Mask
Tighten those tatas with this retinol-rich chest & boob mask. Retinol lends its collagen and elastin boosting powers while antioxidant-heavy mixed berries offer their anti-aging abilities. Together, these actives team up to deliver your smoothest, firmest, and perkiest pair.
This boob mask works like your face or eye mask. You simply apply it, leave it on, and then rinse off. Because it sits on the skin for several minutes or more, it really provides some mega firming power to perk up sagging breasts.
How to use: In the shower or bath, take a handful of mask and mix with water to get a nice lather. Rub on your chest in circular motions and rinse with warm water.
Smooth Face Mask
A spa night wouldn't be complete without a nourishing face mask to wind down with. There are so many options to choose from, depending on what you want out of a mask. We're choosing Smooth Mask because of its ability to brighten, treat hyperpigmentation, and restore youth. It really is the best formula for a home facial.
Enriched with vitamin C and vegan collagen, this bouncy jelly mask was developed to target and prevent fine line formation while firming sagging skin. It also protects from free radicals and fades the appearance of discoloration for healthy, radiant skin — thanks to powerhouse antioxidant vitamin C. A little bonus: this mask can be used on both the face and body for all-over nourishment. It's one of our fave versatile skincare products — and well worth incorporating into your weekly skincare routine.
How to use: Apply a small amount to clean, dry skin. Leave it on for 15-20 minutes, then rinse and pat dry. For extra anti-aging power, leave on overnight and rinse off in the morning.
Plump Lip Balm
Give those kissers extra oomph with our hydrating Plump Lip Balm. Hydrating almond and naturally plumping peppermint work together to deliver smooth, bouncy, full lips. It's the perfect treatment for dry, chapped lips in need of a little tlc. Best of all, you can also use this hydrating balm for dry areas of skin as well as for a hair treatment (to mend split ends). If you haven't got anything else on hand, that is.
How to use: Swipe it on, feel the tingle, and watch your pout transform.
Hydrate Body Butter
The final step in any spa-like routine should be moisturizing. Hydrate Body Butter is a restorative, buttery and deeply hydrating body lotion that blends the healing properties of shea butter, coconut oil, and vitamin E for all-day, all-over silkiness.
Every DIY spa should consist of a luxe moisturizer to leave you silky smooth. This is the perfect treatment for manifesting your smoothest, strongest skin.
Since our rainbow swirl melts seamlessly into the skin, you won't get that sticky, icky feeling some body creams leave behind. Plus, it doubles up as a cuticle softener, hair mask, lip balm, and foot cream.
How to use: After showering or bathing in warm water, pat skin semi-dry and apply a generous amount of butter to slightly damp skin for optimum absorption.
Setting the Mood For an At-Home Spa Experience
Now you've got your arsenal of at-home spa treatments, it's time to set the mood!
Light some scented candles, diffuse some calming essential oils (think eucalyptus, lavender, chamomile), and dim the lights. You can even start things in the tub to really help you wind down for the evening. Fill up your bathtub, sprinkle in some bath salts, throw in a bath bomb, or drop in some essential oils, and enjoy an aromatherapy session right from your tub.
Baths are great for calming the mind, as well as soothing sore muscles. It's the first step to achieve that perfect spa-like experience at home.
When it comes to at-home spa treatments, you can choose from a huge selection of products, including the ones above along with body oils, sheet masks, toners, and body washes. You can also treat yourself to a manicure and pedicure for the full spa experience.