The Best Anti-Cellulite Skincare Routine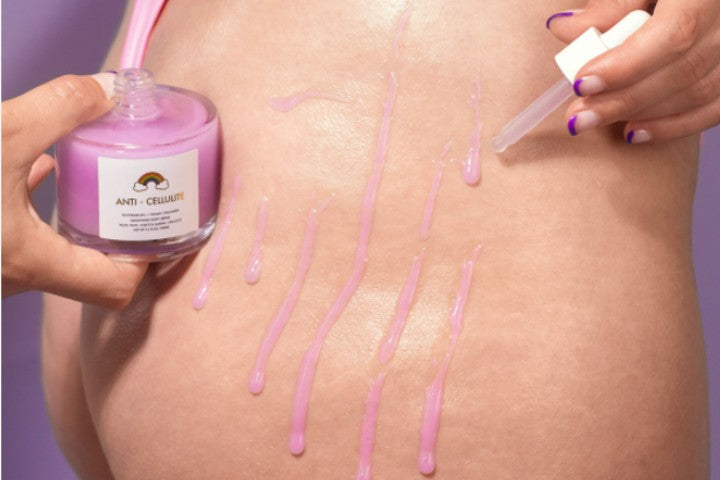 It might not be swimsuit season just yet, but that doesn't mean you can't start the process of diminishing your dimples -- or at least making them appear much less visible.
If you're looking to reduce the appearance of cellulite on your bum and thighs, here's the best skincare routine you can try for smoother, dimple-free skin. 
WHAT IS CELLULITE? 
According to dermatologist Marnie Nussbaum, wavy skin affects approximately 90 percent of women. It occurs when underlying fat cells, which typically occur in the butt, thighs, and hips, press against the fibrous bands. 
"When those bands are stretched to the max and fat gets pushed past, you get puckering or dimpling," says Nussbaum.
Cellulite is usually caused by genetics and lifestyle factors that contribute to inflammation like smoking, a sedentary lifestyle, or a high-sugar diet.
WHAT CAUSES CELLULITE?
While lifestyle factors certainly do play a role in making cellulite appear more visible, the experts say the majority of cellulite cases can be blamed on hormones.
Hormonal imbalances are a common cause of cellulite, especially during pregnancy, menopause, or while taking hormonal contraceptives.
"When oestrogen starts to decrease [as it does as you head towards the menopause] receptors in blood vessels and thighs are lost, which results in decreased circulation," explains Dr. Rekha Tailor, cosmetic doctor at Health and Aesthetic. 
She adds, "With decreased circulation, we see less oxygen and nutrition to that area, and with that, we see a decrease in collagen production. Fat cells also start becoming larger, which causes them to protrude through the collagen and become what we know to be cellulite."
Cellulite affects the butt and thighs most as blood flow and circulation are normally more restricted in these areas. Since most of sit down for the best part of the day, it's easy to see why booty dimples are becoming more widespread.
HOW TO GET RID OF CELLULITE IN 1, 2, 3...
The market isn't short of anti-cellulite creams promising dimple-free, ultra-smooth skin in several uses. In fact, you have a huge selection of body firming lotions, exfoliators, and serums each with varying price tags, but with few offering any real results. 
If you want to see the back of your cellulite, there are two key rules to follow when it comes to skincare: A. Shop smartly & B. Be consistent.
In order to find products that work, you'll need to scan the ingredients list and make sure you're using body lotions, serums, and masks loaded with cellulite smoothing ingredients like AHAs, collagen, caffeine, and vitamin C. And if you want those products to show a visible improvement, make sure you're using them daily.
Here are the best ways to get rid of cellulite in 3 simple steps. 


#1: Buff + Firm with Tighten Jelly Mask
Powered by red microalgae + AHAs, this formula will buff, firm, and tighten your butt in a matter of weeks -- if you use it regularly enough.
Red microalgae offers its powerful antioxidant and line-reducing abilities while protecting the dermal layer against oxidative stress, resulting in smoother, firmer skin. 
AHAs (A.K.A alpha hydroxy acids) are natural, exfoliating acids that spur on the shedding of old, dead skin cells and boost collagen production for improved skin tone and texture. 
It's seriously one of the best products for increasing your skin's elasticity, stimulating blood flow, and minimizing the appearance of cellulite. 


#2: Plump with Anti-Cellulite Serum
Plump out stretch marks and cellulite with this plumping watermelon + vegan collagen infused skin firming serum. 
Amino-rich watermelon is known for hydrating the skin and fading blemishes and discoloration, while vegan collagen boosts collagen production and elastin in the skin for a smoother, suppler appearance.
If you're looking for a body treatment that addresses cellulite, stretch marks, and dry skin simultaneously, this should be your first choice.
SHOP NOW

#3: Brighten and Fade with Smooth Jelly Mask
Finish your cellulite treatment routine with our illuminating + moisturizing Smooth Jelly Mask. Made with vitamin C and vegan collagen, this juicy firming mask will brighten your tush and leave it feeling silky smooth while fading out hollows and bumps. 
Try this routine for two weeks, and you should see a noticeable difference pretty soon. We also recommend trying beauty products made with ingredients like retinol, shea butter, hyaluronic acid, vitamin E, and peptides, which can be helpful in nourishing the skin and minimizing cellulite. 
DO ANTI-CELLULITE BODY CREAMS REALLY WORK?
Body care products designed to diminish cellulite may sound like a fad, but they can be effective provided that they're formulated with cellulite-busting ingredients and you use them daily. After all, no skincare product can be effective if you don't use it often enough. 
OTHER WAYS TO TREAT AND PREVENT CELLULITE
Want a firm body with no cellulite in sight? That might not be possible but you definitely can make it less visible. In addition to firming creams, serums, and masks, here are some other ways to do that.
Dry Brushing
It stimulates blow flood and circulation, which can minimize the appearance of cellulite on your butt and thighs over time.
Coconut Oil
Coconut oil is an excellent topical treatment for hydrating skin and smoothing out cellulite. Plus, it works for all skin types. Bliss! It works partly because it can boost collagen production in the skin, which has a firming, tightening effect on skin tissue, which may reduce the appearance of cellulite with daily application. 
SPF
It won't prevent or make cellulite look less noticeable, but sunscreen will keep your skin barrier strong and healthy, improving its overall aesthetic. Whether you buy it at Sephora, on Amazon, or at your local drugstore or on Ulta, choose a broad-spectrum formula with an SPF of 30 or higher. And remember: no sunscreen contouring! That beauty trend should be banned.
Bye-bye cellulite! We're certainly not going to miss you.