Soap Brows are Still Going Strong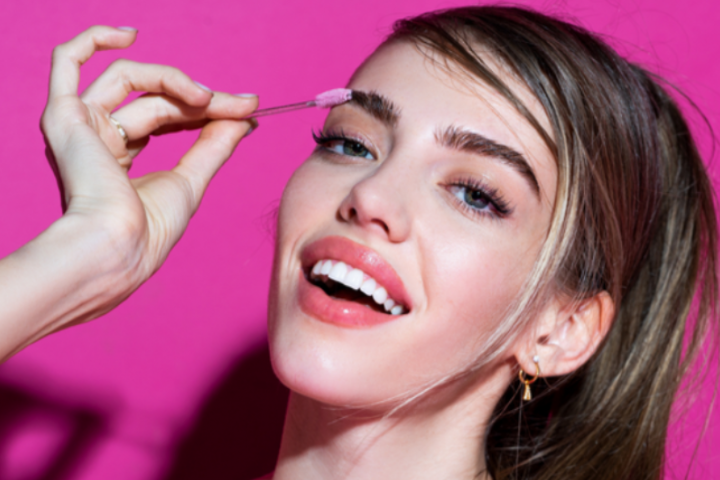 Soap brows earned viral status on TikTok in 2020. Recognized for their fluffy appearance, the beauty trend looks a lot like a laminated brow — only with much less maintenance (and expense).
It turns out, the soap brow trend is going nowhere! Makeup artists are still embracing the soap brow look on their A-list clients (like Selena Gomez and Madelaine Petsch). Quite frankly because it's so simple yet so effective. A spoolie and bar of soap is all that's needed to create this powerful look, and anyone can master it.
Want to achieve soap brows at home? Ahead, everything you need to know about soap brows, including step-by-step instructions and the best products for the job.
What are Soap Brows?
Soap brows refer to an eyebrow grooming method that involves using bar soap in place of brow gel. According to brow expert Joey Healy, coating your brow hairs in soap works almost like a glue stick, giving them staying power and keeping them in place.
The soap lets you mold the brows however you like. Whether you're looking for feathery, fluffy brows or quite simply trying to cover up sparse gaps, the brow soap trend is extremely versatile.
The experts describe it as a middle ground between a strong-hold brow gel and a lamination treatment.
Makeup artist Megs Cahill believes soap brows continue to trend because the style allows you to really work with the brows you've got. Thick brows? Thin brows? This trend works for all!
"You're manipulating the brow (hair) to look larger and softer," she says. "And soap brows even shorten your forehead with how the uplift can almost double the brows in size."
What's the Best Soap for the Job?
The soap you choose matters. For effective brow styling, avoid using an opaque bar soap that'll leave behind white residue. Opt for a transparent soap with nourishing ingredients like aloe and vitamin E, which hydrate and soothe.
According to the pros, a bar of glycerin soap is the best choice.
"Glycerin is typically derived from a fat—like vegetable oil—and contains sugar," says board-certified dermatologist Geeta Yadav, MD. "After it's activated with a liquid like water, the soap coats your individual hairs and dries. The glycerin seals in moisture to create that glossy and fluffy look, while the sugar locks it in place."
A Step-By-Step Soap Brow Tutorial
Follow the three easy steps below to perfect the soap brow look in just minutes. All you'll need is a spoolie brush and bar soap. To enhance your brows even further, you can also use a few special brow products.
Step 1. Prep
Lightly dampen a clean spoolie. You can also utilize a setting spray to give your arches a stronger hold. Then lightly wet the surface of the soap (add a bit of water or spray with a mist). The soap should become a paste-like texture, not a lather or suds. Once you achieve this consistency, run your spoolie brush along the soap bar, ensuring the bristles are fully coated.
Step 2. Shape
Comb your brows with the spoolie until you achieve your desired brow shape. For a fluffy brow, follow the direction of the brow shape. Brush them up at a 45-degree angle at the peak, then downward at the tail. Avoid brushing the brow completely up, as this can make your brows appear gappy. That said, you should definitely play around until you get the shape you want. Pstt... you'll need to work quickly before the soap dries and seals the hairs in place.
Step 3. Add the Finishing Touches
You can skip this step if you're happy with your eyebrow look. If you feel like you're not quite done, grab a brow pencil and fill in your brows to cover any sparse spots. This will make your brows appear fuller and more defined. You can pretty much use any makeup product you like to define your brows. From eyeliner to brow pencil or brow powder, use whatever you like best. You may even want to go over your brows with a colored mascara to achieve the look you're seeking. Your look, your way!
Brow Care Tips for In Between Days
The derms don't recommend soap brows daily. While it's a generally safe technique, daily application of soap can be a bit stripping, causing your brows to dry out and become flaky. For the sake of your brow health, stick to doing this technique 2-3 times a week. And on those in between days, show your eyebrows some extra love with these tips.
Exfoliate: Keep your brows in peak health by exfoliating them once a week. The buildup of soap and brow products needs to be buffed away to prevent hair follicles from becoming clogged. And the best product for the job? Rainbow's Exfoliate Scrub.
Hydrate: Even hydrating soaps can be drying to your brows when used frequently. Nourish your twins with a moisturizing serum like Rainbow's Hydrate Serum. This'll keep them smooth, healthy, and flake-free.
Avoid pomades and gels: These products can leave your skin dehydrated. And dry, flaky brows are never a good look.
Soap Eyebrows: The Takeaway
Nowadays there are so many brow treatments and trends. From tinting to the laminated look and now soap brows, you can pick and choose which treatments you like best. You can even create some fantastic makeup looks with just a spoolie, bar of soap, and eyebrow pencil.
The soap brow trend is a fantastic technique for achieving fluffy, full brows in minutes. Anyone can do it. Any brow type can benefit. It couldn't be more convenient!
Nevertheless, it's important not to overdo it for the sake of your brows. Keep your brows healthy by limiting soap brows to twice a week and slathering your brows with nourishing skincare products on in between days.