Rainbow Spotlight: Bakuchiol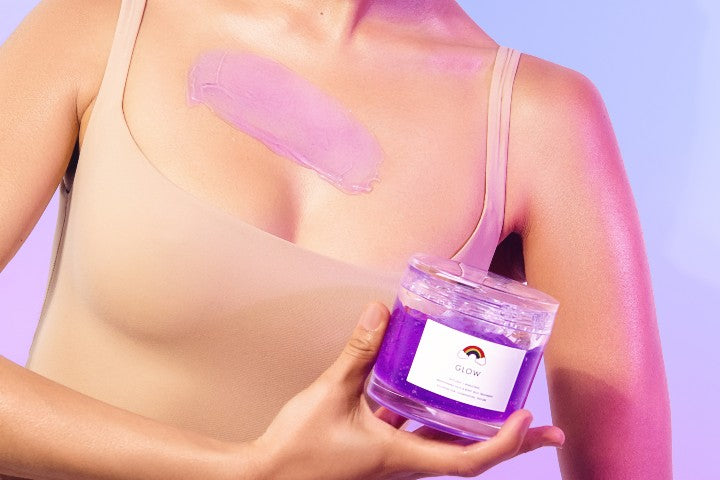 Bakuchiol is a plant-derived skincare ingredient proven to delay and address signs of aging, such as fine lines and wrinkles.
Often deemed a retinol alternative, bakuchiol is a gold-tier anti-aging ingredient with many other skincare benefits. Studies demonstrate its effectiveness as a skincare ingredient.
From bakuchiol's beauty benefits to how to incorporate it into your skincare routine, here's everything you should know about this natural ingredient. 
WHAT IS BAKUCHIOL?
Derived from the leaves and seeds of the psoralea corylifolia plant, bakuchiol is a potent antioxidant that's been used for centuries in traditional Ayurvedic and Chinese skin healing treatments.
While it doesn't share the same make-up as retinol, bakuchiol's effects on the skin are almost identical. Like retinol, bakuchiol improves skin tone, fades dark spots, and blurs fine lines.
"It works through the same receptors that retinol uses, which is why many refer to it as a natural retinol alternative," says Dr. Joshua Zeichner, director of cosmetic and clinical research in dermatology at Mount Sinai Hospital.
Research shows bakuchiol can benefit all skin types.
SKINCARE BENEFITS OF BAKUCHIOL
Bakuchiol is an outstanding skincare ingredient that's worth getting to know.
Research shows that this natural beauty ingredient can fade fine lines, improve skin tone, enhance brightness, and increase firmness. Ultimately, it offers all the plus points of retinol, minus the risk of irritation. Thus, it is an excellent choice for individuals with sensitive skin.
In one study, 44 participants were given either bakuchiol or retinol to apply topically. After 12 weeks of use, both ingredients displayed a reduction in wrinkles and hyperpigmentation. Retinol users reported more irritation. 
"Bakuchiol has been shown to activate a number of chemical pathways in skin cells that ultimately lead to improved collagen production, decreased collagen breakdown and reduction of melanin (pigment) synthesis," explains consultant dermatologist Dr. Anjali Mahto.
"The overall net effect seems to be an improvement in fine lines, wrinkles and pigmentation which are commonly associated with the natural ageing process of the skin," she adds.
Other studies noted improvement in elasticity and firmness with topical application of bakuchiol.
Bakuchiol beauty products are also gentle on the skin. If you've got sensitive or dry skin, using a bakuchiol-formulated face oil or moisturizer can help. It can soothe your skin issues without leaving skin dry and flaky.
"Bakuchiol works as an anti-inflammatory and an antioxidant, so it's ideal for those who suffer from dry, sensitive skin and can't tolerate a retinol," says dermatologist Dr. Dendy Engelman. She adds that bakuchiol's antibacterial properties also make it a good treatment for acne.
BAKUCHIOL VS RETINOL
While there's more extensive research backing retinol's benefits, bakuchiol is becoming more widely known and studied for its anti-aging effects.
Retinol and bakuchiol can both reduce fine lines, wrinkles, and other signs of aging. Yet, bakuchiol does have a few bonus points that might make it more appealing to the average consumer. 
For one, it is far less irritating than retinol, which can leave skin red, flaky, and dry. Bakuchiol is a natural alternative that's great for people with skin conditions such as eczema, dermatitis, and psoriasis. Sensitive skin types can use bakuchiol skincare products with peace of mind that they won't end up red and burned.
On top of that, bakuchiol is considered safe to use during pregnancy, unlike retinol. Still, we advise speaking to your doctor before using.
For youthful, healthy skin, dermatologists say you can combine retinol and bakuchiol to reap the benefits of both without experiencing irritation. This is due to bakuchiol's natural stabilizing and soothing effects on retinol, which allows you to enjoy what retinol offers without feeling sore. 
WHAT OTHER INGREDIENTS DOES BAKUCHIOL WORK WELL WITH?
As a highly versatile ingredient, you don't have to worry too much about what you use bakuchiol with.
Experts say bakuchiol pairs well with coconut oil, jojoba seed oil, aloe vera, adaptogens, peptides, probiotics, and vitamin C. 
Research also shows that bakuchiol works particularly well alongside spot-fighting benzoyl peroxide and salicylic acid if you're looking to banish breakouts.
HOW TO USE BAKUCHIOL IN YOUR SKINCARE ROUTINE
Adding a bakuchiol product to your skincare regimen is simple and very effective. Apply it once or twice daily after cleaning your face with a gentle cleanser and toner. If the product is a bakuchiol serum, apply it before moisturizing. 
Finish with a broad-spectrum sunscreen rated SPF 30 or over to protect your skin from environmental aggressors like UV rays and pollution which can contribute to premature aging. You can also occasionally exfoliate your skin to buff away dead skin cells and help other products absorb better.
Bakuchiol is stable in sunlight. However, as with any anti-aging ingredient, daily sun protection is vital to getting the best results from your bakuchiol products.
Try Rainbow's Glow Bundle. This cruelty-free kit features a face mask and serum formulated with bakuchiol and glycolic acid to refresh your complexion for a dewy, radiant finish. For some added hydration, follow up with Rainbow's Hydrate Serum. This hydrating formula blends hyaluronic acid with vitamin B5 to detox skin, diminish dark circles, and deliver a plump, glowing complexion.
You may also find bakuchiol in eye creams, exfoliation products, and self-care products, as it is becoming an increasingly popular skincare ingredient.
Without a doubt, bakuchiol is a skincare ingredient worthy of its positive reputation. Whether you're trying to fade fine lines or drive out acne, bakuchiol is well worth trying. Best of all, it is suitable for all skin types.
Is it better than retinol? Only time will tell. With more research, we'll be able to understand the full scope of bakuchiol's abilities. What's more, it'll tell us whether it outshines retinol as a skincare ingredient. For now, let's focus on what's already been proven.
If you have a chronic skin condition like eczema, consult with your dermatologist before using new ingredients like bakuchiol.