Rainbow Rookie? Start with these 6 Skincare Products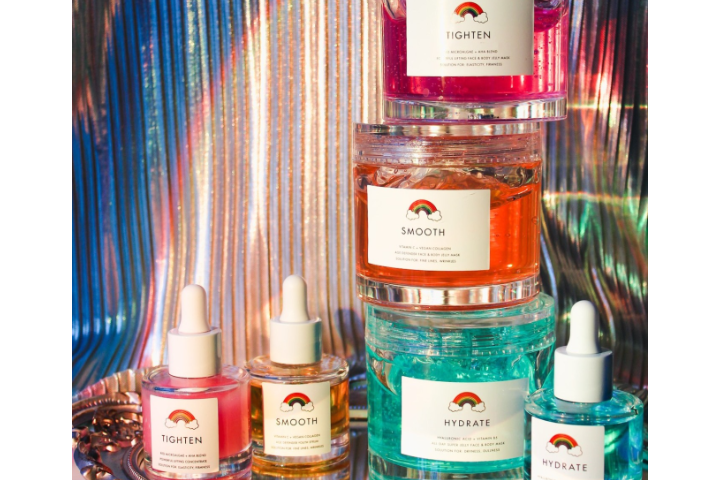 Whether you've came across our fun little tutorials on Instagram, or you've read a few good product reviews, you might be interested in entering the Rainbow realm. But where to get started?
Perhaps you've faithfully devoted yourself to one brand for the past few years, and now you're branching out to a new, unfamiliar brand and you have no idea what to choose or use.
Here at Rainbow, we offer a range of skincare products catered to all skin types and concerns. Whether you're dealing with dry skin, acne-prone skin, or the first few creases have recently surfaced, we've got a product (or several!) perfectly suited to you and your needs.
All our products are vegan, cruelty-free, and made with high-performing ingredients to treat each and every skin concern quickly, effectively, kindly, and conveniently.
Scroll down to hear a roundup of Rainbow specials — ideal for newcomers!
#1: Glow Mask
A Brightening Face + Body Jelly Treatment to improve skin tone and texture while battling breakouts.
This glossy gel mask contains a blend of exfoliating glycolic acid and collagen-boosting bakuchiol that work in tandem to buff away dead skin cells, refine texture, and give skin instant illumination. It's designed for both the face and body, so spread it over those dull, dry, or blemish-affected areas for head to toe freshness and glow.
Glycolic acid is an alpha hydroxy acid that gently dissolves dull, dead skin while evening out discoloration and uneven skin texture. Bakuchiol is a gentle retinol alternative with all of the same benefits and none of the unpleasant side effects. Together, these powerhouse actives work to brighten, retexturize, and clarify skin for a glass-like complexion.
For best results, use 2-3 times a week.
#2: Hydrate Serum
A daily serum to plump and moisturize skin. It's the ultimate elixir for all over dewiness!
This fast-absorbing, lightweight serum contains a blend of hyaluronic acid, glycerin, jojoba oil, and vitamin B5 to plump out fine lines and wrinkles, and drench skin in long-lasting moisture. In addition to tackling dryness and premature signs of aging, this sweet little formula offers brightening effects to drive dullness out for good.
Hydration is essential for dewy, smooth skin. And you'll get all the hydration you need from this juicy face and body serum. It's suitable for all skin types — and gentle enough for even the most sensitive skin.
Hyaluronic acid is one of the world's best humectants, able to hold 1,000 times its own weight in water. Aside from providing intense hydration to skin, it also spurs collagen production, in turn smoothing out creases.
For best results, include it in your daily skincare routine.
#3: Clear Acne Patches
Cloud-shaped blemish clearing stickers to flatten, drain, and heal active breakouts while preventing the formation of acne scars and hyperpigmentation. Ideal for oily skin and acne-prone skin.
Clear Clarifying Blemish Patches offer a quick fix for zits. Powered by pimple-draining hydrocolloid, pore-unclogging salicylic acid (BHA), and bacteria-busting benzoyl peroxide to tackle and treat active zits on your face and body.
The sticker to skin formula enables active ingredients to penetrate skin while keeping out dirt, oil, irritants, and your fingers! Plus, they actively soothe acne aftermath and reduce redness.
For best results, use daily until your zit disappears.
#4: Smooth Body Serum
A rejuvenative body serum loaded with anti-aging ingredients to fight UV damage, fine lines and wrinkles, and loose skin.
Smooth Body Serum is a silky, berry-scented treatment that harnesses the youth-restoring powers of antioxidant-rich strawberry and collagen-boosting niacinamide for fresh, taut skin with a glowy finish.
Niacinamide is a powerful active ingredient that increases collagen, restores elasticity, and builds keratin, enabling skin to stay smooth, supple, and youthful. Strawberry is rich in antioxidants to protect against free radical damage and keep skin strong.
For best results, use it in your daily skincare regimen. Always finish with sunscreen for extra anti-aging power!
#5: Hydrate Body Butter
A deeply moisturizing, residue-free body butter that helps with dryness, discoloration, and irritation.
Hydrate Body Butter is a buttery, multicolored swirl of shea butter, coconut oil, vanilla, and cocoa butter for all-day, all-over softness. Use it anywhere your skin needs extra moisture — paying close attention to dry areas like your elbows, knees, and ankles. You can also massage it into your cuticles, balls of your feet, or hands to strengthen skin barrier function and increase moisture retention.
Unlike a lot of lotions, this formula melts seamlessly into the skin without leaving any greasy residue. So you can stay hydrated all day long without feeling sticky!
For best results, use every day after showering to seal in moisture and keep skin smooth all day long.
#6: Smooth Jelly Mask
An age defending face and body mask designed to fight fine line formation.
Smooth Jelly Mask is a bouncy, juicy formula made with vitamin C and vegan collagen to target and prevent fine line formation on both the face and body. In addition to its anti-aging benefits, this glossy mask gives skin a youthful glow while shielding it from free radicals.
Vitamin C is a powerful antioxidant that promotes collagen production, protects skin from UV rays, and reduces oxidation damage to skin cells. It also gives a radiant glow to the skin while fading dark spots and discoloration. Vegan collagen helps skin cells repair and renew themselves, and plumps out fine lines and wrinkles for smooth, supple skin.
For best results, use 2-3 times a week.
We hope you've found this Rainbow rookie read helpful, and that you can now shop our store with plenty of confidence and excitement!
If you have any questions about us or our products, shoot us an email at INFO@RAINBOWBEAUTY.COM. We'll be more than happy to answer your questions!
And be sure to follow us on Instagram and TikTok for the latest on our Rainbow drops.