Nail Exfoliation: The Secret to Stronger Nails?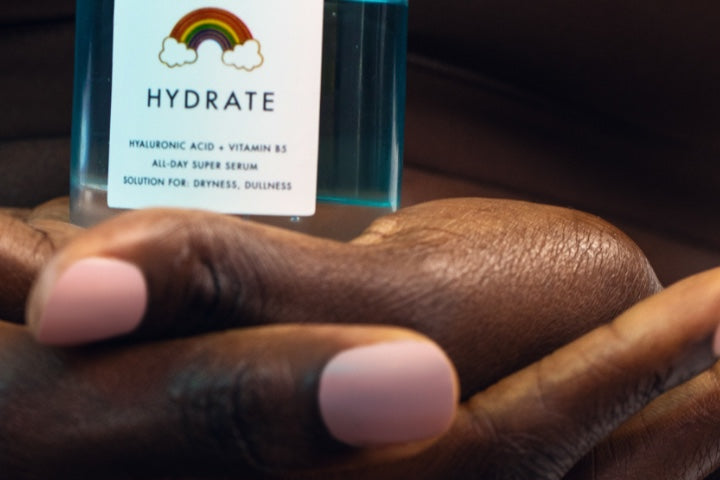 Exfoliation is one of the building blocks for great skin, and an imperative step in a skincare routine. But did you know it could also be the secret to stronger nails?
Interestingly, your nails face buildup — just like your skin. Sloughing away that buildup results in strong and healthy nails. And it's the step that's been missing in your nail care routine for far too long.
Here's why you need to start exfoliating your nails — and how to do it to support nail growth, fight brittleness, and promote strong nails.
Why Exfoliate Your Nails?
Just like your skin, your nails have layers of dead cells that become damaged from environmental exposures such as water and chemical products such as nail polish remover. Even those acrylic manicures ca contribute to buildup — and ultimately dry, brittle nails.
According to board-certified dermatologist Dana Stern, MD, these dead nail cells lift and separate as a result of environmental exposures, resulting in peeling nails and breakage. This buildup can also cause discoloration (think unpleasant yellow tones!), which is often caused by nail polish.
"White patches called keratin granulations can form when polish is left on too long, and then the onychoctes are removed along with the polish—which is especially common on toenails where people tend to keep polish on for very long periods," says Stern.
Benefits of Nail Exfoliation
Exfoliation can be quite revolutionary for nails. Some of the benefits of exfoliating your nails include improved nail color, texture, and strength. The experts say it can even encourage nail growth.
Everyone can benefit from nail exfoliation. However, those who regularly get gel manicures and acrylic nails will benefit the most, as these formulas can weaken the nail bed.
That said, even if you don't have regularly appointments with a manicurist, exfoliating your nails can definitely improve nail health.
How to Exfoliate Your Nails
There are two ways to exfoliate your nails: physical exfoliation and chemical exfoliation.
To physically exfoliate nails, you'll need a scrub for the job. You can use a face, body, or hand scrub — whatever you have. After washing your hands, create a lather with your chosen scrub, and massage it into your nails and cuticles using circular motions. Do this for around 2-3 minutes, then rinse with warm water. Finish with cuticle oil and a hydrating hand cream.
To chemically exfoliate your nails, you can use any product containing an AHA or BHA (glycolic acid, lactic acid, salicylic acid). Glycolic is said to be one of the best for nail rejuvenation. You'll find it in everything from cleansers to toners and serums. Apply to your nails, massaging it in using circular motions, and rinse. Or leave on if the directions say so! Finish with cuticle oil and hand lotion.
How Often Should You Exfoliate Nails?
There isn't set guidelines for this. However, as a rule of thumb, it's best to exfoliate your nails once a week to keep them strong, shiny, and healthy. If you wear gel nails for weeks at a time, exfoliate when they're off (on your natural nails) and before new ones go on.
Nail Care Tips You Need to Try
In addition to exfoliating on a regular basis, here are some other tips, home remedies, and hacks for keeping your nails in great shape.
Stick to Acetone-Free Nail Polish Removers
Acetone can be extremely drying and damaging to your nails. To keep your nails healthy, switch to acetone-free removers.
Take a Break From Acrylics and Gel Manicures
We love falsies and nail art as much as the next person. However, they can weaken the nail plate over time, which is why it's worth giving your nails a breather between your appointments. In fact, giving your nails chance to recover and strengthen will also help you achieve naturally long nails.
Enjoy DIY Nail Treatments
To restore your shiniest, strongest nails, treat yourself to DIY nail treatments. Some of our favorites include vitamin E oil, olive oil, and coconut oil, which aid in strengthening the nails, preventing peeling, and boosting shine.
Wear Gloves
When washing the dishes or doing house chores, always remember to slide on some gloves for protection. Water and chemicals can significantly impact nail health and weaken them. Wearing gloves when necessary will provide the protection needed to keep your nails healthy.
Take Your Supplements
Some of the best supplements to support strong nails are biotin supplements — those responsible for encouraging healthy skin and hair, too. B vitamins can also be beneficial for maintaining strong, shiny nails.
Invest in a Nail Hardener
If your nails are severely weak, invest in a nail hardener to restore their strength. Nail hardening polishes help with promoting stronger nails and preventing peeling.
Best Products For Your Nails
New year, new nails! Here are some products you can use to exfoliate and strengthen your nails.
EXFOLIATE Scrub
Powered by glycolic acid and mango, this healing body scrub supports cell regeneration to manifest your smoothest, shiniest, and strongest nails.
GLOW Mask
Melt away dead nail cells with our exfoliating face and body mask, featuring glycolic acid and bakuchiol. These actives work in tandem to gently buff away dead cells while offering smoothing and brightening effects.
HYDRATE Serum
Drench your nails and cuticles in this hyaluronic acid-based serum that's loaded with vitamin B5. A perfect duo for nail health, this serum will help restore your sleekest nails while adding a little glossiness.
HYDRATE Butter
Rich and buttery, this rainbow swirl of shea butter, coconut, and vitamin E injects your nails with long-lasting hydration and nourishment, leaving them visibly stronger and shinier. It's also great for softening rough patches on your hands for your silkiest paws.
So you see, nail exfoliation might just the be the secret to stronger, shinier nails — and it couldn't be easier to do. You don't even need a manicurist for this! Share the secret of nail exfoliation with your besties and loves ones by sharing this article!