How to Tighten Your Chest Skin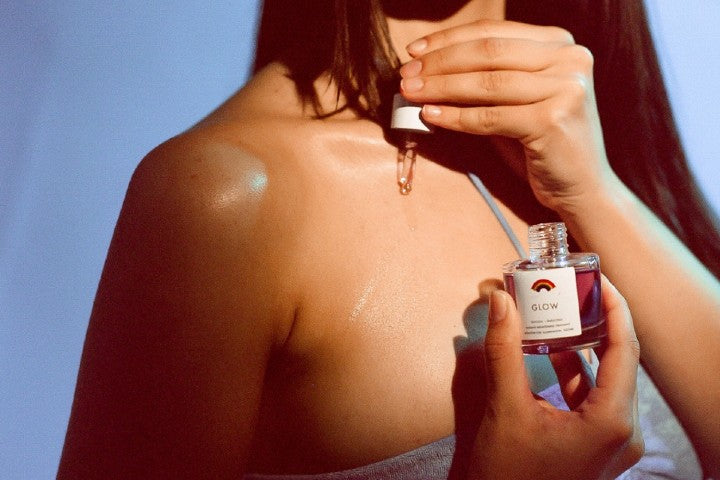 If you're experiencing loose skin on your chest, you might be wondering how you can change that.
When it comes to anti-aging, most people tend to focus on the face. It turns out, the décolletage and chest area sneakily develop signs of aging such as fine lines, wrinkles, hyperpigmentation, and sagging. It can happen for a number of reasons, including sleeping on your side, sun damage, and of course — the natural aging process.
On the plus side, there are things you can do to tighten loose skin on your chest and boobs. Here are some tips for boosting skin's elasticity and firming up sagging skin on your bust — so you can keep things extra perky.
#1: Try Chemical Exfoliation
Treat your chest to a little exfoliating magic. Exfoliation helps sweep away dead skin cells, helping to improve skin tone and texture, and spur the production of new, plump skin cells to keep skin fresh and firm.
Look for a cleanser, moisturizer, or mask made with alpha hydroxy acids, such as glycolic acid or lactic acid. These exfoliating acids gently dissolve dirt, oil, and dead skin to reveal bright and tight skin underneath.
You'll find AHAs in Truly's Tighten Bundle, a mask + serum duo made to firm up the face and body. Powered by glycolic acid, lactic acid, and antioxidant-rich red microalgae to retexturize skin, while boosting skin's elastin and visibly smoothing your face and body.
#2: Do a Chest Workout
Skin tightening benefits don't just come from skincare products. You can also tone and tighten the skin on your chest by performing exercises that target the chest muscles. Some good chest exercises include push ups and dumbbell bench presses, which can help build muscle and firm up sagging skin.
Pair your chest exercises with cardio workouts and other muscle building workouts. Besides the obvious health and weight loss benefits, it'll stimulate blood flow and circulation to instantly boost your glow.
Don't worry, you don't need to build serious bodybuilder-worthy muscle mass to see visible tightening results. Just try to incorporate some chest-focused exercises into your daily fitness routine to promote tighter tatas.
#3: Apply a Collagen Mask
As we age, collagen production depletes, leaving skin prone to sagging, fine lines, and wrinkles. You don't need to rely on fillers or cosmetic surgery to get your skin looking youthful again. Instead, try slathering your boobs in a collagen-based body mask to boost natural collagen production, restore elasticity, and give skin back its bounce.
Rainbow's Smooth Mask is a vegan collagen-driven face + body mask designed to brighten, firm, and fend off free radical damage. It also contains vitamin C to protect skin from UV damage while leaving it looking noticeably more luminous. This mask offers full body rejuvenation thanks to its powerhouse blend of anti-aging actives.
#4: Wear Sunscreen Daily
Your face isn't the only place UV rays hit. They can also strike other areas of your body, including your chest area which may be exposed when wearing V-necks and low-cut shirts. That's why you need to be wearing SPF on a daily basis. Doing so can prevent a slew of skin concerns.
"Sunscreen on the chest is a must for everyone, not only to prevent wrinkles but also to prevent brown spots and, most importantly, skin cancer," says dermatologist Marisa K. Garshick, MD. "The chest area sees a lot of sun exposure over the years and is often forgotten about when it comes to sunscreen, resulting in crepey skin with discoloration and fine lines and wrinkles."
Apply a generous layer of broad-spectrum sunscreen whenever you're going outside, and don't forget to re-apply every two hours.
#5: Try Sleeping on Your Back
Side sleepers are more prone to chest wrinkles. If you can, try sleeping on your back from now and if you can't do that, try wearing a comfortable bra to bed so that your cleavage gets support as you sleep and those creases don't crop up.
#6: Moisturize
Moisturizing won't actually tighten your cleavage area, but it will keep the skin smooth and supple. Hydration is crucial for maintaining strong, healthy skin and supporting the skin barrier. It'll also ward off those stubborn lines that commonly form on the chest area.
Look for a formula with humectants like hyaluronic acid to heal lock in moisture and maintain supple, springy skin.
Rainbow's Hydrate Bundle features a mask and serum, both formulated with hyaluronic acid, vitamin B5, and acai extract to restore youthful skin. You can use these products on the face, neck skin, chest, any anywhere else you're experiencing dryness or signs of aging.
#7: Opt for an In-Office Treatment
If you're experiencing sagging or deep-set lines on your chest, visit a dermatologist who offers powerful treatments to address these issues. Some of the best procedures for firming chest skin include microneedling, radiofrequency, and Ultherapy.
It's best to consult your derm before booking a treatment, as they'll be able to advise which procedure would be best for your skin.
#8: Reach for Retinoids
Retinol is a vitamin A derivative that's been proven to increase collagen production and elastin in the skin for enhanced firmness and less visible fine lines and wrinkles. You'll find retinol in a range of over-the-counter skincare products, including serums, creams, and even body lotions.
If your skin's too sensitive for retinol, you can also try bakuchiol — a natural retinol alternative that's gentler on the skin.
You'll find bakuchiol in Rainbow's Glow Bundle. This set features a serum and mask packed with bakuchiol, glycolic acid, and jojoba oil to brighten, buff, and hydrate skin on both the face and body.
Skin tightening doesn't need to resort to cosmetic surgery. You can definitely firm the skin on your chest by incorporating a few tightening treatments into your skincare routine. And remembering to wear SPF daily! Supplement this with regular chest tightening workouts, and you'll be seeing a visibly lifted chest in next to no time! No downtime needed!
Shop Rainbow products on Rainbowbeauty.com, Walmart, and CVS.