How to Shave Your Hairy Pits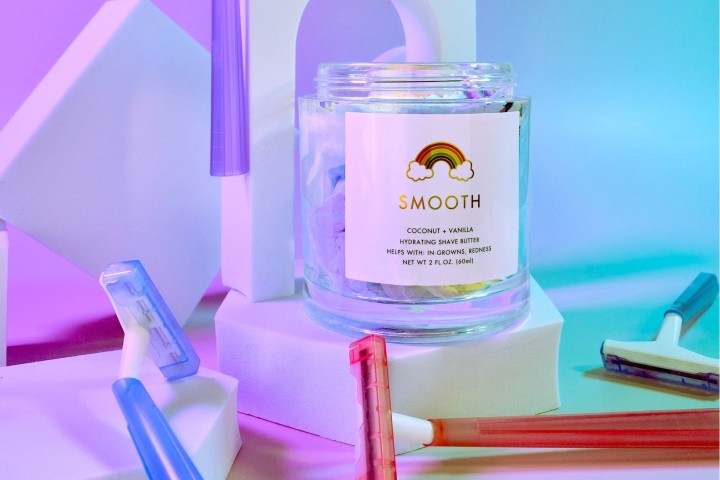 Since armpit hair grows back 50 percent quicker than leg hair, it's no wonder you're always shaving your pits. 
When it comes to shaving your underarms, don't let their small surface area fool you. Just like other areas where there's body hair, underarm hair presents its own set of challenges. First of all, the skin there is extremely delicate, making it very easy to wind up with razor bumps, redness, and ingrown hairs. Plus, the hair grows back so quickly in that region, it's common to end up shaving your armpits daily to keep them stubble-free.
If you're looking for the smoothest underarms that last as long as possible without side effects like razor burn, nicks, or skin irritation, here's the right way to shave those hairy armpits of yours. 
#1: Exfoliate them with Jelly Glow Mask
Exfoliation should be the first step in almost any hair removal routine as it can break up bacteria, dirt, and sweat on the skin, and ultimately prevent razor-related irritation. You can exfoliate using either a scrub or chemical exfoliator to get the smoothest, closest shave. 
Rainbow's Glow Mask not only dissolves dead skin cells but also hydrates and gives pits natural shine. What's more, this exfoliating body mask will also help eliminate the bacteria that contributes to odors, leaving your pits smelling daisy fresh. Think of it as your natural deodorant with added benefits!
Glycolic acid and bakuchiol work in tandem to gently buff away dead skin, refine texture and give the underarms an ultra fresh feel while protecting the skin from environmental aggressors.
Apply it, leave it on for 10 minutes, and then rinse with warm water.
#2: Slather them with Smooth Shave Butter
Next, slather your pits in a moisturizing shave cream like Rainbow's Smooth Shave Butter. It's always important to use some kind of sudsy wash, butter, or gel to create slip for the razor and ward off unpleasant issues like bumps and irritation. Personally, we like butter best!
Prep each pit with our hydrating Smooth Shave Butter to help your razor glide steadily without any snags. The formula blends coconut with vanilla for a super hydrating, super nourishing shave to help with ingrowns, redness, and all that other nastiness! 
This shave butter is perfect for prepping all parts of your body -- from your facial hair to your bikini line and legs. Plus, it's gentle enough for sensitive skin, so everyone can benefit.
#3: Glide Your Razor Across
Now it's time to get your razor ready for work. Make sure you choose a high-quality razor with fresh blades, as dull blades will force you to apply more pressure and ultimately result in irritation. 
Pulling the skin taut, glide the razor blade across your pits both in and against the direction of hair growth. Usually, dermatologists recommend one way and one way only when it comes to shaving. However, since armpit hair grows in all different directions, you'll need to shave up, down, sideways, against, and with the grain in order to get the smoothest, silkiest finish. 
Remember to rinse your razor under warm water after every pass so hair, debris, and dead skin don't get trapped in between the blades.
#4: Drip On Brighten Serum
After rinsing in the shower, gently pat your pits with a soft cotton towel. Then drip on Rainbow's Brighten Serum. Infused with pineapple and vegan collagen, this body serum fades dark spots and discoloration for ultra pretty, sparkly pits. Plus, it'll make your underarms smell extra tropical thanks to its fruity, pineapple scent.
If you're dealing with dark underarms, you'll be pleased to hear that this brightening serum may be your ticket to illuminated pits. 
For best results, apply every time you shave to keep those pits of yours looking bright, smooth, and shiny (in a good way, of course!). 
#5: Moisturize with Hydrate Body Butter
Every good skincare routine involves moisturizing -- and so does every good shaving routine. To finish your pit-shaving regimen, massage Rainbow's Hydrate Body Butter into your armpits to soothe irritation, diminish dryness, and leave your underarms smelling sweeter than a candy store.
Formulated with hydrating coconut and protective vanilla, this body lotion feels like heaven on your skin. Fluffy and fun to use, it's bound to be your best shave session ever. Plus, you'll get none of that uncomfortable stickiness you get with other butters, since it absorbs quickly into the skin. 
WHEN'S THE RIGHT TIME TO SHAVE?
"Choosing when to shave is just as important as how you shave," says dermatologist Dr. Ava Shamban. "Make sure to shave the night before an event to allow your skin to repair, recover, and heal any razor burn overnight."
If you run your razor under your arms right before hitting the beach, going out with friends, or showing up on a first date, you're setting yourself up for some major burning and discomfort. 
Planning your shave session might sound like a lot of unnecessary work, but it will help to prevent a lot of unpleasant side effects on the days you really don't want them happening. 
HOW LONG AFTER SHAVING CAN YOU USE DEODORANT?
If you use our sweet-scented products, you may not even need to use deodorant since your pits should smell fresh already. However, if you would like to apply deodorant after shaving your underarms, it's important to know when is okay to do so.
According to the experts, you should wait a while before putting on antiperspirant after a shave. Apply it to freshly shaven skin can cause irritation and discomfort. It's best to give your skin at least 1-2 hours to rest before rolling on your deo. This way, you'll reduce your chances of irritation. If you're in a rush, skip the shave or skip the deo! 
Whether you like to wax, trim, or shave your pits, this routine is an easy yet excellent way to get ultra-smooth underarms. You won't have to worry about razor burn, bumps, or ingrowns. Our products have you covered!