How to Glaze Your Entire Body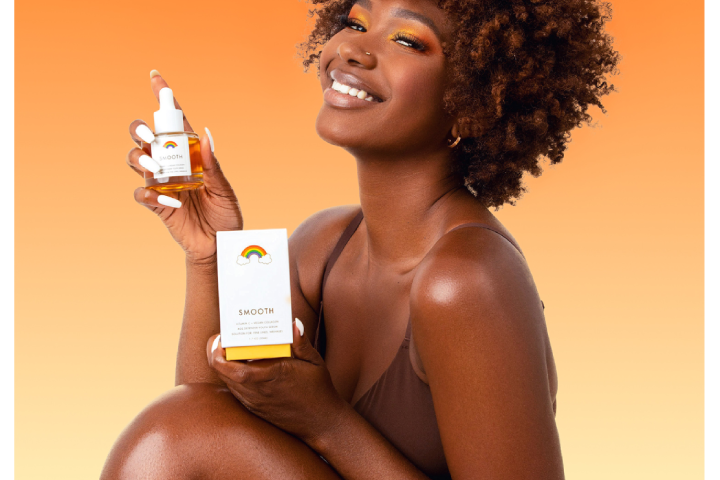 Who isn't obsessed with the glazed donut skin trend made famous by model Hailey Bieber? Glossy and gleaming — like a krispy kreme donut — glazed donut skin is all about getting fresh and glowing skin without the greasiness.
But what if we extend the trend to our bodies? You can definitely get a glazed donut body with the help of a few hydrating skincare products.
Here's how to get a glazed donut body for all-over, all-day glow.
Step 1. Exfoliate
In order to get that glazed glow, you'll need to slough away the buildup of dead skin cells to reveal fresh, beaming skin underneath. Besides brightening your bod, freshly exfoliated skin allows your body lotions and serums to penetrate the skin more effectively for enhanced effects.
All skin types can benefit from regular exfoliation. However, if you have dry skin or sensitive skin, it's best to limit exfoliation to once a week to avoid irritating your skin. Alternatively, choose an exfoliating body wash that's gentler on the skin that scrubs.
To get your body clean and fresh for glazing, we like Rainbow's Illuminate Polish. This lightweight exfoliator blends brightening pineapple and retinol to buff away buildup, even out skin tone, and leave skin deliciously smooth.
Step 2. Apply a Brightening Serum
Next up, you'll need a serum that'll leave your body luminous, like a vitamin C serum. Vitamin C is a potent antioxidant that protects against free radicals, fades dark spots and discoloration, and brightens skin. While you'll also find it in body oils and body creams, serums are the best way to get your daily dose of vitamin C as they contain the highest concentration of the antioxidant.
We like Rainbow's Smooth Serum, a fast-absorbing treatment of vitamin C and vegan collagen which assist in plumping out lines, lightening scars and dark spots, and leaving skin gleaming. Pstt...you can also use this formula on your face for head to toe glow!
Step 3. Hydrate
To get Hailey Bieber's iconic glazed doughnut look, you'll need to inject your skin with as much hydration as possible. That's when things get really dewy. Some of the best ingredients to look out for include hyaluronic acid, coconut oil, and jojoba oil, and you'll find them in everything from body butters to serums.
Start off with a serum as this will contain a high concentration of the key active ingredient. Plus it's more lightweight than a cream or butter. Ideally you want to start off with a humectant (that which attracts water) followed by an occlusive (that which seals in moisture).
Hyaluronic acid is one of the best humectants out there, and you'll find it in Rainbow's Hydrate Serum. This silky, lightweight formula also contains vitamin B5 for further hydrating, plumping, and nourishing effects. Some customer reviews even recommend it as an after shave oil alternative for cooling down inflamed skin.
Step 4. Seal Everything in
Now, for the final step, it's time to lock in all that moisture and all those active ingredients. You'll need an emollient or occlusive (or both) for this. Shea butter is an excellent emollient with occlusive properties that can trap water and prevent it from escaping to keep your skin hydrated for hours.
You'll find it in Rainbow's Hydrate Body Butter, along with vitamin E, coconut oil, and cocoa butter. Make it part of your daily skincare routine to keep skin feeling and looking its best. It can also be used to soothe ingrown hairs and razor bumps.
Optional Steps
You can also add in these steps if you're looking to enhance your glow even further, while tackling skin concerns like stretch marks and cellulite.
Firm Boob Mask
Rainbow's FIRM Chest and Boob Mask is a luxurious, whipped body mask made with a blend of retinol and potent antioxidants to tighten, soften fine lines, and tackle stretch marks. Gentle jojoba beads paired with retinol gently exfoliate the skin both chemically and physically to help with stretch marks, sagging, and discoloration! Vegan & Cruelty Free!
Anti-Cellulite Polish
Rainbow's Anti-Cellulite Body Polish is a swirled, exfoliating blend of watermelon and vegan collagen developed to treat hyperpigmentation, repair UV damage, and plump out dimpled skin for a smooth, glowing finish. While vitamin E treats uneven texture by strengthening skin barrier function, vegan collagen mends connective tissue, visibly reducing the appearance of hyperpigmentation, cellulite, and scarring. Vegan & cruelty-free!
Anti-Cellulite Body Cream
Rainbow's Anti-Cellulite Body Butter is a velvety-smooth body moisturizer formulated with key ingredients like watermelon and vegan collagen to instantly restores moisture, smooth out dimpling, and alleviate stretch marks.
While shea butter deeply hydrates and minimizes the appearance of age spots, acne scars, and other discoloration, watermelon contains lycopene which breaks down collagen-fighting enzymes, helping to smooth cellulite over time. 
How to Maintain a Glazed Donut Body
To keep your body glowing, start by making exfoliation a regular habit. For best results, the derms recommend exfoliating twice a week. You can either use a scrub or chemical exfoliant for the job — either way, get buffing to get glowing!
Next, always moisturize after showering — while skin's still damp — to lock in moisture and keep skin silky soft all day long. You can also use a nourishing body oil to up your glow.
Finally, wear sunscreen daily to protect skin against UV rays and ultimately prevent premature signs of aging, such as fine lines and hyperpigmentation.
"Ultraviolet radiation is unequivocally carcinogenic," says board-certified dermatologist Heidi Waldorf, M.D. "If you don't care about that, think vanity—UV rays are the primary cause of the texture and color changes of skin aging."
To protect your skin, apply a mineral-based sunscreen that is SPF 30 or higher, and apply half an hour before leaving the house.
The glazed donut trend just keeps getting hotter and hotter. Between the release of Truly's Glazed Donut Shave Oil and Hailey Bieber making the trend mega famous, the glazed donut look has become a major trend. TikTok has increased its popularity even more!
Now you can get gleaming all over with this glazed donut body routine. And you only need 4 products for the job!