How to Dry Shave Your Legs (Safely)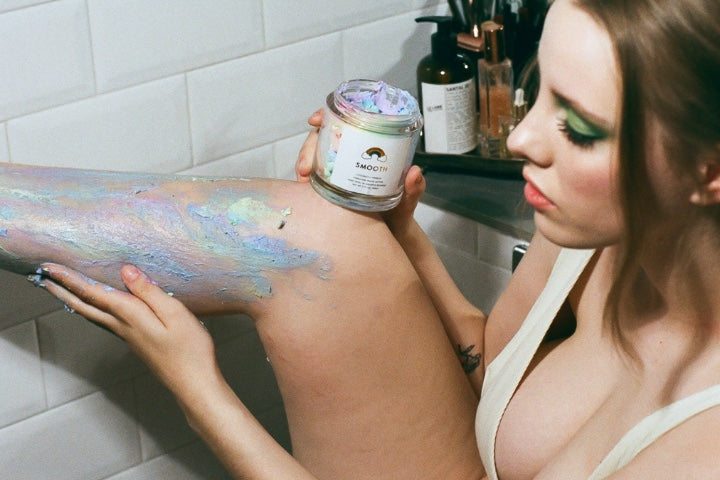 Usually, dry shaving is something that's advised against when it comes to the hair removal process. That said, if you're in a pinch, it is possible to dry shave your legs without painful nicks, razor burn, and ingrown hairs popping up.
Ideally, you do want to properly prep your skin before shaving: exfoliate, smother your legs in shaving cream, and glide! But sometimes, a situation arises in which you end up with no other choice but to dry shave.
Whenever you find yourself in that situation, here's how to safely dry shave your legs.
Take a Hot Bath
Warm water softens the hair and skin, making for an easier razor glide. It's important to give yourself time for a soak. In other words, a quick hot rinse won't be enough. Draw yourself a warm bubble bath and enjoy a longish soak to prep your skin for an effortless razor glide. Doing this will prevent cuts, razor bumps, and skin irritation. Plus, it's the perfect excuse to treat yourself to a long, indulgent bath.
Lubricate the Skin
If you don't have shaving cream on hand, you'll still need some form of lubrication to create slip for your razor and ensure a smooth, irritation-free shave. Creating a barrier between your skin and the razor blades is your best bet. Luckily, you have plenty of options besides shaving gel, butter, or cream. Body oil, conditioner, body wash, and even body lotion all make great shaving cream alternatives if you're desperate.
The smoothest shave starts with shaving cream. But if you don't have any, you'll need to compensate with one of the above options. These will help to soften the skin and hair follicles for a smoother, closer shave without ingrown hairs.
Use a Fresh Razor
The biggest mistake people make when dry shaving is using an old, dull razor. Dull blades are synonymous with razor burn and bumps. Since you're forced to apply more pressure to get the same result, using a dull razor can lead to nicks, cuts, and bumps.
Instead, opt for a new razor to shave your leg hair. The pros recommend choosing one with only one to two blades. Multiple blades, they say, tend to pull and cut the hair below the skin, contributing to ingrowns.
If you're using a disposable razor, throw it away once you're done. Preferably, choose a reusable razor that'll last at least several shaves. A good razor is well worth the investment if you're seeking smooth legs minus painful bumps.
Shave in the Direction of Hair Growth
Once your legs are all lubed up, hold your skin taught with one hand and shave in the direction of hair growth. Usually, we're told to go against the grain of hair growth to achieve a smooth, close shave. In this case, however, doing it this way will result in stubbly, bumpy legs.
You'll need to shave in a downward motion using a light tough and long, sweeping strokes to ensure you grab every hair. This technique should also be used for other areas of your body that you wish to dry shave, such as your underarms and bikini line.
Don't Repeat
When shaving legs, or any other body part for that matter, most of us go over what we've already shaved for a closer, smoother result. Since dry shaving can leave skin irritated as it is, this is the last thing you want to do. To achieve a silky shave sans ingrowns and nicks, don't repeat the shaving process. Simply go over each area once — and one time only. Re-shaving areas will only cause redness and irritation — and increase your risk of ingrowns.
Moisturize
The final step in your dry shaving routine? Hydration! Moisturizing is essential post-shave to ward off dryness, redness, and bumps. Lather up with a rich and nourishing body lotion to replenish lost moisture and leave skin feeling soft to the touch.
Especially if you have sensitive skin, shaving can irritation the heck out of your skin. The best way to combat post-shave inflammation is to finish with a generous helping of moisturizer.
Other Ways to Dry Shave Your Legs
If you don't like the way your skin feels after dry shaving with a razor, consider using another tool for the job like an electric shaver or trimmer. These are particularly useful if you're prone to painful ingrowns or have naturally thick, coarse hair.
Unlike with a regular razor, you don't need to lubricate your legs prior to shaving. You can simply shave them, any time any place.
Our Favorite Shaving Products
For the best shave of your life, consider incorporating one or more of these products into your routine.
EXFOLIATE Body Scrub
Prep your skin for a slippery smooth shave with our EXFOLIATE Body Scrub. This formula blends mango and AHAs to buff away dead skin cells and unclog hair follicles for the smoothest shave you'll ever experience. It'll also make your skincare products work harder! Double trouble!
SMOOTH Shave Butter
This rich yet lightweight shaving butter will leave your skin feeling silky soft. Enriched with coconut, vanilla, and vitamin E, this buttery lubricant softens skin and hair for an effortless razor glide and zero ingrowns. Plus, it'll leave your legs smelling sugary! You can use this anywhere — underarms, bikini line, legs or wherever!
HYDRATE Body Butter
Top this off with this deeply indulgent body butter. Whipped and buttery, HYDRATE Body Butter blends the soothing benefits of shea butter and coconut oil for your dreamiest skin. It's a must-have post-shave companion for alleviating the itch. And it's perfect for combatting dry skin!
Dry shaving your legs, or any part of your body, isn't always the best idea. But if you're in a pinch, it is possible to dry shave safely without winding up with a body full of razor bumps, burns, and ingrowns. In order to dry shave your legs the safe way, make sure you follow the steps above.
Ideally, stick to shaving the traditional way by stocking up on all your shaving essentials.