Eyebrow Tinting: What You Should Know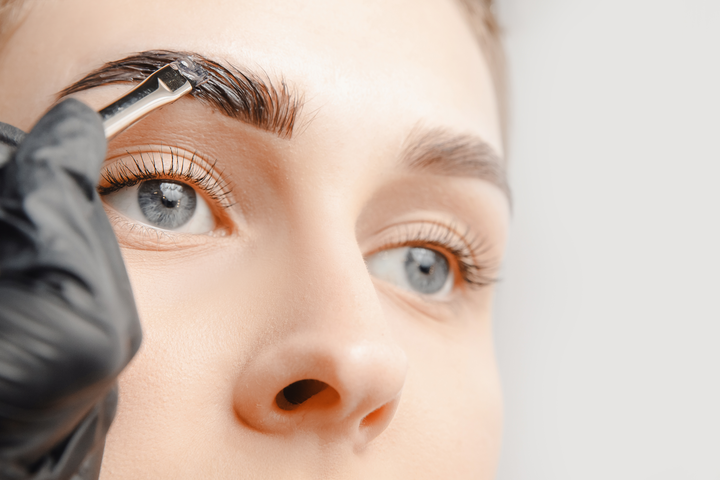 Define your arches, attain thicker brows, or intensify lighter brow hairs ... eyebrow tinting really can transform your eyebrows.
Brow bars and salons all over are offering this beauty treatment to grant you those impeccably perfected Instagram brows without ever lifting a brow pencil. 
Eager to learn more? Here's everything you should know about brow tinting.
WHAT IS EYEBROW TINTING?
Eyebrow tinting is the process of smoothing semi-permanent dye or henna over your eyebrow hairs to enhance, shape, and define your natural brows. It's particularly useful for intensifying lighter hairs on blondes and redheads. 
According to the pros, the stain lasts around one week while the hair color itself will grow out in 2-4 weeks. 
"Tinting allows a professional to manipulate the brow area by darkening the fine hairs that surround the perimeter of the brow to increase the width," says brow expert Azi Sacks. "It also allows the specialist to darken the fine hairs in the inner core of the brow that are in less dense areas. This creates a longer brow line (brow tail) or fuller front and a more ideal shape."
The treatment can be done at salons or with at-home tint kits. We recommend visiting a brow technician for your first treatment and deciding from there whether or not you want to attempt a DIY tint.
Benefits of Brow Tinting
To sum up:
Fuller-looking brows
Defined arches
Fills in sparse brows
Enhanced brow shape
Darkens light brow hairs
Long lasting results
Pain-free 
Smudge-proof
Symmetrical brows
In addition to the above, you will save so much time in your morning routine. Since your brows are already prepped and good to go, you won't have to spend any time coloring and fluffing them up as you usually do. 
Another major benefit: you'll receive a lot of compliments from your friends and family. 
WHAT TO EXPECT FROM AN EYEBROW TINTING APPOINTMENT
First, you'll be asked a series of questions to verify you're a good candidate for the service. This is just to ensure your safety so you don't experience any allergic reactions or unwanted side effects from the procedure.
The tinting process takes approximately 15 minutes in total. Your brow technician will prep and clean the eye area. Then, he or she will create the right shade for you, mixing colors to develop your signature hue. It's important to get the brow dye color just right so that it looks as natural as possible.
The dye is smoothed over your brows and left on for several minutes, before being removed. The exact time will depend on the result desired. Those looking for a darker, more intense effect will need to wait longer than those seeking a lighter hair colour.
Brow Tinting Aftercare
Following your brow tint, you must keep the brows completely dry for the next 12-24 hours. Avoid rubbing or scrubbing the area to extend the life of the color. In the meantime, steer clear of oil-based facial products, which will fade the tint. Experts also advise against harsh cleanser, exfoliators, and retinoids that may irritate the area.  
You can keep your freshly tinted brows looking their best by applying brow gels and serums, Vaseline (petroleum jelly), or coconut oil using a spoolie. Getting regular touch-ups will maintain their prepped appearance.
How Much Does Brow Tinting Cost?
Depending on the salon, you can expect to pay anywhere from about $8 to $60 per treatment. Remember to look beyond the price point, though. The most important thing to look for is a salon that's safe and reputable with a licensed professional.
Is Eyebrow Tinting Safe?
Applying permanent or semi-permanent dye near the eye area doesn't come without its risks. Brow and eyelash tints also aren't FDA-approved.
Nevertheless, this beauty treatment is generally considered safe. To prevent experiencing any unpleasant side effects, experts advise carrying out a patch test before applying pigment to ensure you're not allergic to the dye. 
If you have an allergy to hair dye or have extremely sensitive skin and undergo this treatment, you may experience itching, redness, and possibly even hair loss. Make your provider aware of any known allergies before starting. 
EYEBROW TINTING VS. MICROBLADING
Brow tinting works by coloring the brow hairs to give the appearance of thicker, darker, defined eyebrows. Microblading, however, involves hair-like strokes being tattooed into the skin to cover sparse patches or gaps. 
Microblading is best for those with sparse brows as it creates the effect of natural hairs. If you've gone a bit wax- or tweeze-happy, microblading can help you achieve filled in brows without relying on hair growth. Brow tinting, on the other hand, is better for enhancing natural brow hairs rather than adding to them. 
In other words, if you've overplucked and need more hairs, pick microblading. If you're seeking defined brows or fuller-looking brows, take the tinting route.
TIPS FOR BROW TINTING AT HOME
Want to try your hand at brow tinting?
According to Jeseé McSpadden, a licensed esthetician and the owner of The Brow Lounge by Jeseé, you must choose your color wisely. 
"If your hair is a medium brown, try the light brown first," he says. "It's always better to end up with something you want to darken rather than something you have to bleach out." Great point!
Another important point if you're planning to DIY your own brow tint: look for products that are designed specifically for the face and eye area. You don't want to end up with irritation simply because you didn't read the label right.
Before applying the tint, apply a thin layer of Vaseline, coconut oil, or night cream to protect the skin from staining. Always remember to wipe away some of the tint to ensure the color doesn't become too intense. Continually check until you're content with the shade. Your brows are a significant feature on your face. They need to look good! 
If you're allergy-free and looking for a longer-term solution to define your brows or intensify light hairs, you're going to want to give eyebrow tinting a try. It's effective, pretty safe, and such a time saver!