Everything You Should Know About Airbrush Makeup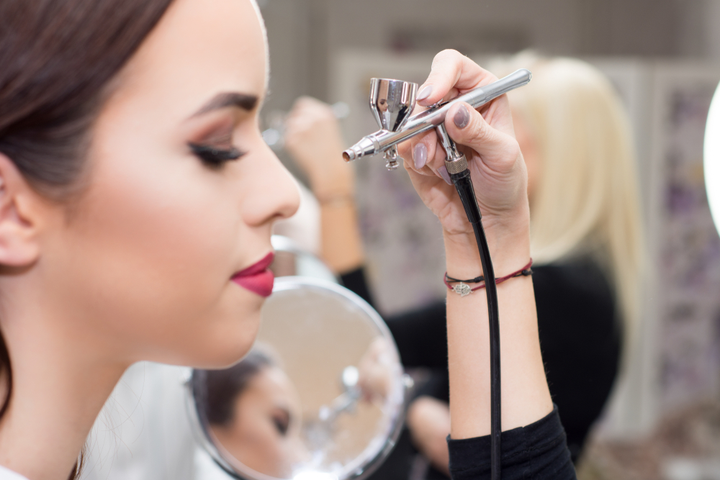 Whether you're a bride-to-be or simply a curious beauty lover, airbrush makeup is a technique deserving of your interest. 
It's usually used for bridal makeup to help one achieve a natural, glowing complexion on their wedding day. However, in recent years, it's become a popular makeup technique for various events and occasions. Professional makeup artists swear by it for long-lasting, full-coverage foundation with a flawless finish.
Here's everything you need to know about airbrush makeup. 
WHAT IS AIRBRUSH MAKEUP?
Airbrush makeup is a professional makeup technique that involves spraying foundation onto skin with an airbrush gun. It works with the help of controlled air that pushes out color in a fine mist onto the skin through a small gun attached to an air compressor.
Airbrush foundation is a popular choice for brides thanks to its natural finish and long-lasting formula. This type of makeup gives a smoother appearance to the skin, fading out blemishes and delivering a dewy finish. 
The different airbrush products can be used for foundation, blush, bronzer, and highlighter. According to experts, this makeup application technique is effective for all skin types.
PROS AND CONS OF AIRBRUSH MAKEUP
If you're undecided over whether to try the airbrush technique for your wedding day or another special event, take a look at the pros and cons below.
The Pros
A major benefit of airbrush makeup is that it's lightweight and buildable, giving skin a natural radiance. Some brides say it doesn't feel like you're wearing makeup at all. In addition, airbrush makeup is long-lasting. You can literally dance the night away and you'll still look just as fresh and glowing as you did when you first got misted. According to the pros, airbrush makeup can last anywhere from six to eight hours -- in some cases, even longer.
It's a great choice for brides looking for a more natural bridal makeup look. It's also perfect for mature skin, as it generally looks less cakey than regular makeup. And it looks great on camera!
What's more, airbrush makeup helps blur out blemishes and discoloration for a smooth, flawless finish.
The Cons
As great as this technique is for achieving beautiful wedding makeup, there are a few downsides you should note. For one, it's hard to touch up airbrush makeup once it's done since this long-lasting formula sets instantly. Also, those with dry skin may experience slight patchiness with the technique as the fine mist can attach itself to dry patches on the face.
It's also worth noting that airbrush application is better left to a professional makeup artist who specializes in it. While you can get airbrush makeup kits for home, the last thing you want on your big day is patchy, uneven foundation. Expect to pay anywhere from $100-$300 for professional airbrush makeup.
AIRBRUSH MAKEUP VS. TRADITIONAL MAKEUP
The key difference between airbrush makeup and traditional makeup is the way product is applied. Regular makeup is applied by hand or tools such as a brush, sponge, or beauty blender. Airbrush makeup, conversely, is sprayed on with an airbrush gun. 
Another distinction is the level of coverage each one provides. Traditional foundation, for instance, can range from dewy to matte finish to full coverage, but it's nowhere near as effective as airbrush makeup with regards to the level of coverage.
Although the formula is thin and runny, airbrush makeup is much more concentrated in terms of color and coverage. It can also make makeup look more natural looking as it doesn't tend to appear cakey.
Aside from the application process, the final distinction between traditional makeup and airbrush makeup is longevity. Airbrush definitely wins on this one. Since it's not applied with hands, brushes, or sponges which absorb much of the product, airbrush makeup delivers even, long-lasting coverage. 
The main benefit regular makeup has over airbrush is versatility. You can retouch traditional makeup throughout the day if you want to switch from dewy to matte or vice versa. With airbrush, once it's on and the pigment has set, you can't really change much. 
WHICH FORMULA TO CHOOSE?
Like regular makeup, airbrush makeup has an assortment of formulas based on the finish you want to achieve. Here are the three main types:
Silicone-based: a perfect choice for brides as it offers a light to full coverage that is durable, smudge-proof, and great for evening out skin tone and hiding imperfections like breakouts and dark circles.
Water-based: the best choice for people wanting a dewy finish with extended wear. Perhaps not such an ideal choice for oily skin types as it might make skin appear even shinier.
Alcohol-based: perfect for Halloween makeup or tattoo coverage.
If your big day's still a few weeks or months away yet, you could give all three formulas a try to see which works best for you -- if you have the budget, of course. Then again, this is your special day. You want to make sure you are happy with those wedding pictures for the next few decades that follow.
HOW TO PREP SKIN FOR AIRBRUSH MAKEUP
To get the best possible results from airbrush makeup, it's essential to prepare your skin properly beforehand. 
Make sure your skin is cleaned and moisturized before applying airbrush makeup. We recommend Rainbow's Hydrate Serum and Glow Serum for added dewiness and radiance.
In the days leading up to your airbrush session, buff away dead skin cells and congestion with a gentle exfoliator. Indulge in the occasional face mask too to keep your skin extra nourished.
Base is everything when it comes to any kind of makeup. That's why good skincare matters in order to get the most from your makeup products. 
Airbrush makeup is an excellent option for women wanting full-coverage makeup that looks flawless and stays put. Then again, it's all down to preference. Some women prefer using traditional makeup for a natural glowing finish. Others love airbrush makeup because it delivers a natural, non-cakey finish on their special day.
It's all down to what you prefer.