Bakuchiol for Body Acne?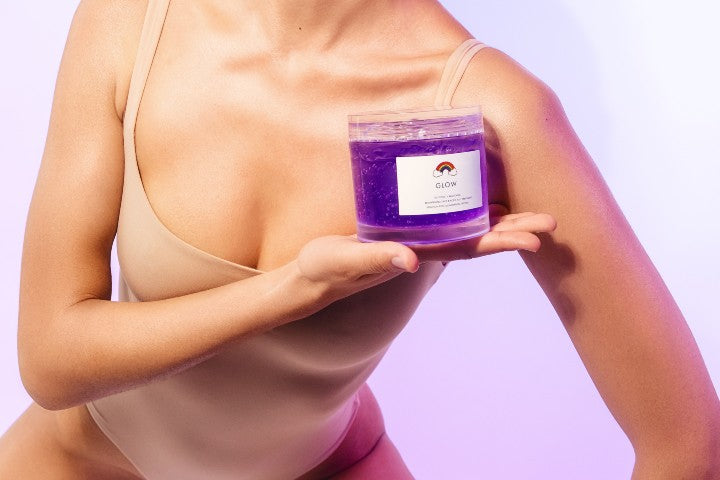 As great as retinol is for reversing signs of aging, improving skin tone, and warding off acne, not every skin type can tolerate it. Sensitive skin types in particular may experience irritation, redness, and dryness with continued use of retinol. 
That's where bakuchiol comes in. Known as a gentle alternative to retinol, bakuchiol is safe for all skin types and just as effective for fading fine lines, minimizing pores, and preventing breakouts. According to the derms, it may even be helpful in treating body acne.
Here's what you should know about bakuchiol.
WHAT IS BAKUCHIOL?
Bakuchiol is a plant extract that offers similar effects to retinol without any unpleasant side effects, like skin irritation, redness, and dryness. This skincare ingredient is derived from the psoralea corylifolia plant, and has a long and impressive skin-care resume. It originally began its use in traditional Ayurvedic medicine until the beauty industry figured out its slew of skincare benefits. 
"Bakuchiol has been shown to have antioxidant and anti-inflammatory properties, as well as antibacterial properties," says Sejal Shah, M.D., a board-certified dermatologist in New York City. "Bakuchiol functions similar to a retinol, increasing cell turnover thereby stimulating collagen production and diminishing signs of aging such as fine lines, wrinkles, skin laxity, and overall photodamage."
In a 2019 study, no difference was found between retinol and bakuchiol in minimizing the appearance of fine lines, wrinkles, and hyperpigmentation. The retinol users did, however, experience more skin dryness and irritation. Further studies have shown bakuchiol's ability to improve elasticity and firmness in the skin.
HOW BAKUCHIOL CAN TREAT BODY ACNE
Thanks to its anti-inflammatory and antibacterial properties, bakuchiol may be effective at treating acne -- both on the face and body. As it's a plant-derived compound, it is well tolerated by all skin types. 
Bakuchiol can be helpful in treating active blemishes, whilst its retinoid-like action means it helps decongest pores. It's also able to control oil production, preventing pores from becoming clogged and causing breakouts.
Since body acne is caused by increased sebum production and inflammation, dermatology experts are convinced bakuchiol's anti-inflammatory, antibacterial, and oil balancing properties may be helpful at clearing up acne. Bakuchiol also exfoliates the top layer of skin, buffing away dead skin cells, unclogging pores, and brightening the skin. 
If you've got oily or acne-prone skin, you will greatly benefit from incorporating bakuchiol products into your skincare routine. Look for cleansers, moisturizers, serums, and exfoliators that contain this natural ingredient. 
IS BAKUCHIOL REALLY BETTER THAN RETINOL?
Bakuchiol is often deemed a retinol alternative, but is it really better? According to studies, there's little difference when it comes to their effects on wrinkles and hyperpigmentation. This natural alternative does seem to be the real deal but you need to remember that it's still relatively new and requires more extensive research with regards to its effects on acne. That said, bakuchiol formulations may be the better option for most people.
"For women of colour in particular, who are wary of powerful ingredients such as vitamin A which can cause inflammation and even PIH [post-inflammatory hyperpigmentation] when overused, bakuchiol is an alternative option backed up by science," says London-based aesthetician Dija Ayodele. 
More and more is being learned about bakuchiol and its benefits to the skin. It's already hailed a hero so it's likely that its reputation as a fabulous retinol alternative won't be going anywhere anytime soon.
The best thing about bakuchiol is that it's suitable for all skin types: dry, oily, sensitive, and combination. Whereas retinol can often be too harsh -- especially for sensitive skin types. It's a gentle solution for anyone wanting to clear up their body acne while benefiting from its anti-aging effects. Even better, bakuchiol paired well with other skincare ingredients, too. It can be used with vitamin C, hyaluronic acid, niacinamide, and AHAs.
Unlike retinol, bakuchiol will not make your skin photo sensitive, so it's safe to use in the daytime too. Just remember to pair it with sunscreen for protection against UV rays.
"I still recommend applying a sun protection product every morning as exposure to UV rays without adequate protection significantly accelerates skin ageing as well as increasing the chances of skin cancer," advises consultant dermatologist Dr. Justine Kluk. 
And finally, bakuchiol is said to be safe for pregnant and breastfeeding women -- which is something retinol isn't. Still, it's best to speak to a doctor before introducing this topical treatment into your skincare regimen.
BEST BAKUCHIOL SKINCARE PRODUCTS
Looking for the best bakuchiol serum or face mask? We've got the best products for you below.
Glow Serum
If your skin doesn't react too well to retinol serums, try our bakuchiol serum instead. This daily serum is a grease-free quick fix for instant radiance. Formulated with glycolic acid and bakuchiol, these ingredients work together to exfoliate, illuminate, hydrate, and clarify your complexion. This dynamic duo can also help to fade dark spots, delete dry skin, and improve skin texture. Apply this serum once or twice a day to affected areas. 
Glow Mask
Pamper your whole bod with our bakuchiol-infused glow mask. It's formulated with exfoliating glycolic acid and bakuchiol to clarify and decongest pores for all over smoothness. If you don't fancy using drying ingredients like salicylic acid, retin, or benzoyl peroxide, bakuchiol is a great option for treating body breakouts. For best results, use this body mask two to three times a week to keep your body clear and blemish-free!
Body acne is a frustrating skin issue, but one that can be treated with over-the-counter products, like our bakuchiol skincare products. If you're still unsure over the bakuchiol retinol debate, speak to your dermatologist for professional guidance. 
Bakuchiol is an excellent alternative to the vitamin A derivative which can leave skin dry and irritated. Besides being suitable for all skin types, it's gentle enough for daily use. Plus, you get the added benefits it brings, such as fading fine lines and wrinkles, treating hyperpigmentation, and enhancing skin tone and texture.