A Skincare Routine for Strawberry Legs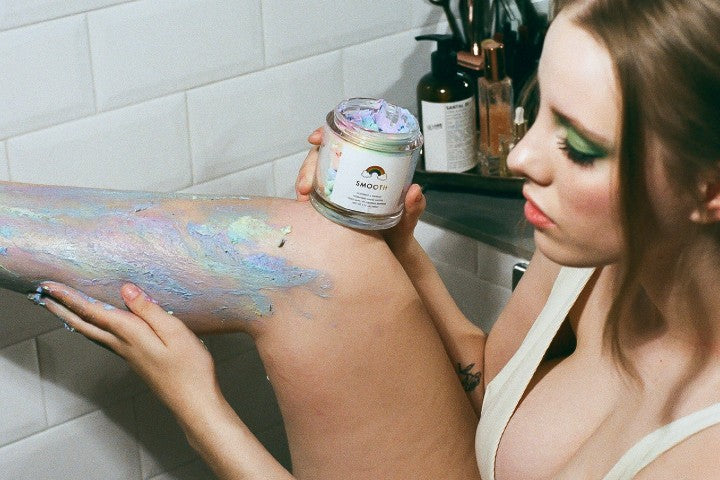 If you notice small, dark spots after you shave your legs, you may be dealing with what is known in the beauty world as "strawberry legs."
Turns out, those spots are actually clogged pores, not blackheads. These dark dots look a lot like the seeds on the skin of strawberries, hence the reasoning behind the name. 
Causes vary but include enlarged hair follicles, clogged pores, and keratosis pilaris. 
Wondering what you can do about them? Lucky for you, we have a skincare routine that'll help you diminish those little black dots in next to no time so you can enjoy smooth, clarified gams once more. 
Here's how to get rid of strawberry legs in just four steps. 
Step #1: Break Down Bumps with Anti-Blemish Cleanser
If you've got bumpy skin on your legs, and the likely culprit is either keratosis pilaris or folliculitis, try breaking down the bumps and smoothing skin with a chemical exfoliant such as a salicylic acid cleanser, lotion, or body wash. 
Unlike a regular body scrub, chemical exfoliants dissolve dead skin cells, keratin, and oil buildup, gently decongesting the pores. Regular exfoliation is essential for speeding up the shedding of dead skin cells and making you less prone to strawberry legs. 
Rainbow's Anti-Blemish Cleanser is made with salicylic acid and hemp to clear out your pores, soothe irritation, and prevent pimples and dark spots. You can also use it on your chest, back, or upper arms if you're getting bumps there. It works for all skin types. 
If you have chronically sensitive skin, you can also try exfoliating with a washcloth to buff away dead cells and reduce the appearance of strawberry legs. 
Step #2: Shave With Smooth Shave Butter
If your favorite hair removal method is shaving, always slather your legs in shave butter to protect your skin from your razor, and ultimately prevent those annoying red bumps.
You can use any moisturizing shaving cream you like, but our personal favorite is Rainbow's Smooth Shave Butter. Made with moisturizing coconut and protective vanilla, these two ingredients work in tandem to soothe, smooth, and hydrate. Plus, they'll protect you from razor burn, bumps, and ingrown hairs. 
Since shaving is a form of exfoliation that can leave you with dry skin, it's important to use a skincare product that retains moisture in the skin to prevent it from drying out, flaking, and itching. 
Besides keeping your stems silky smooth, this shave butter smells like a tropical dream! 
Step #3: Fade Dark Spots + Discoloration with Firm Mask
To make dark spots and discoloration on your legs disappear, apply a large scoop of Rainbow's Firm Mask. It's formulated with retinol to boost collagen production and speed cell turnover, and antioxidant-rich mixed berries to protect skin and reduce inflammation. Plus, they both help skin stay tight and bouncy.
So, if you've got any kind of discoloration on your legs, include this step in your shaving routine to help gradually lighten that discoloration. It works like a charm!
Another great product for lightening dark spots is our Glow Serum, a formula made with glycolic acid and bakuchiol to brighten, exfoliate, and lighten discoloration. If glycolic acid is too harsh for your skin, a gentler AHA is lactic acid. 
Step #4: Moisturize with Hydrate Serum
Following shaving and exfoliation, you should always moisturize. 
"Keeping your skin well-hydrated will help dead skin cells to shed off naturally and appropriately," explains board certified New York City dermatologist Blair Murphy-Rose MD.
Pick a body lotion infused with shea butter and ceramides, or try a skin-quenching serum like Rainbow's Hydrate Serum for a skin refresh. Formulated with hyaluronic acid and vitamin B5, this formula injects moisture into skin while plumping the complexion and leaving skin glowing. 
Apply this after every shave to keep your skin nourished and hydrated, and ultimately, steer clear of strawberry legs. 
WHAT ARE YOUR OTHER OPTIONS?
As effective as this skincare routine is for preventing strawberry legs, it may not be the solution for everyone -- especially if you have a skin condition like eczema or psoriasis. Fortunately, you do have other options if you want to see the back of SL's for good. Here are a few of them.
Waxing
Waxing is a common and effective hair removal technique that can also help nip strawberry legs in the bud. According to the derms, waxing removes hair by its root so the hair follicle is completely removed as opposed to shaving where it just cuts hair at the edge. As a result, waxed hairs grow back softer and thinner, which can minimize the strawberry legs effect.
Of course, this may not be the same for everyone, but it's worth considering if you have a chronic case of strawberry legs, and nothing else seems to help.
Laser Hair Removal
If you're continuously suffering from strawberry legs, it might be time to consider a more permanent form of hair removal, such as laser treatments. This is especially useful for people with thick, coarse hair growth.
"With laser, it usually takes at least 6-8 treatments for long term hair reduction, so with subsequent treatments as the hairs become finer and lessened, folliculitis tends to occur less frequently," says Naissan O. Wesley, M.D., FACMS, a dermatologist in Beverly Hills.
Speak to your dermatologist about your skin concerns before booking a direct appointment. 
This skincare routine for strawberry legs does work. We know because we've tried and tested it multiple times. If you always seem to be left with textured legs after shaving, we urge you to give this regimen a try for yourself, and see how it works for you.
Refrain from trying home remedies, which can irritate your skin and make strawberry skin worse. While you've probably found many online and on social media platforms like TikTok, resist the urge to do them at home. It's always safer to use products that have already been tested and proven to be safe to use. 
Always consult your dermatologist if you have any concerns.