7 Surprisingly Easy Ways to Relieve Dry Elbows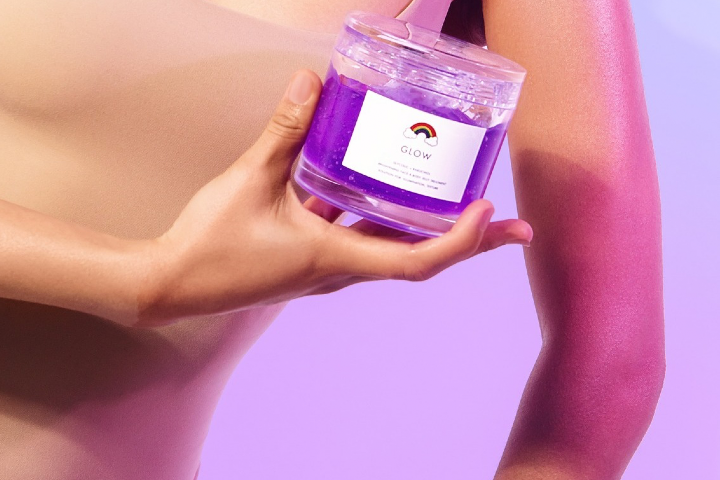 Slathering on lotion might seem like the best way to get rid of rough, dry elbows. But it's not the only way. Sometimes, your elbows require just a little bit more TLC to get them silky smooth.
There are two reasons why you're probably experiencing elbow dryness. For starters, the skin on the elbows has the thickest layer of dead skin cells and there's a buildup that occurs with all the rubbing (on jumpers, desks, etc.). After that, the elbows have less oil glands than other areas of the body, so it ends up thick and rough.
Luckily, you can smooth out your elbows without putting in too much time and effort. Here are seven easy ways to treat dry elbows today.
#1: Buff Your Elbows
Since your elbows have a lot of dead cell buildup, one of the best ways to combat dry elbows is with exfoliation. Exfoliants like glycolic acid, lactic acid, fruit enzymes, salt, or sugar are very helpful to slough away dead skin cells, revealing smoother, fresher skin. Not only this. Exfoliated skin enables other skincare products to absorb deeper, meaning your serums and creams will work harder once your elbows are freshly buffed.
In the shower, use Rainbow's Smooth Body Scrub to help get rid of dead skin cells. It's made with brightening strawberries and hydrating niacinamide to leave skin looking and feeling smoother, brighter, and softer. Massage it in for several minutes using gentle circular motions before rinsing off.
#2: Bandage Up with Coconut Oil
A quick home remedy for relieving dry elbows: slather coconut oil on your elbows and cover with a large bandage to enhance the penetration of the oil into skin. It's a quick and easy fix for dry, flaky elbows — and it works! You'll wake up with visibly smoother elbows. Pstt...you can use this hack for other areas of your body where you're experiencing dry skin, like your knees and ankles.
You can actually use pretty much any natural oil for this hack. In addition to coconut, olive oil, argan oil, and avocado oil all work well for intensely nourishing and hydrating skin. Even aloe vera boasts hydrating and soothing effects to ease dryness and irritation. Just don't forget to cover with a bandage!
#3: Apply a Resurfacing Mask
Like the idea of sleeping away dry elbows? Try falling asleep in a resurfacing mask powered by chemical exfoliants such as glycolic, lactic, or salicylic acid. These acids melt away dry, flaky skin, leaving your elbow skin baby soft in the morning.
After taking a shower, apply a thin layer of Rainbow's Glow Mask all over your elbows. Leave it to absorb for several minutes before going to bed. Rinse off the next morning. Glycolic acid and bakuchiol work together in this formula to dissolve dead cells and speed cellular turnover for irresistibly smooth skin.
#4: Slug Your Elbows
You've probably heard the term "slugging" before. Usually, it's for your face. However, in this case, it might be worth extending it to your elbows. Slugging, in case you didn't know, involves applying an occlusive like petroleum jelly (Vaseline) or a healing ointment at the end of your pm skincare routine — and sleeping in it.
Even board-certified dermatologists recommend this technique, and say it can even be beneficial for those dealing with skin conditions such as eczema.
#5: Oil Up with Olive Oil
Rich in fatty acids, olive oil is an excellent natural moisturizer that works wonders for dry, cracked skin. You'll find it in a number of skin and hair care products ranging from serums to body lotions and hair masks.
After showering, apply a thin layer of olive oil to your elbows and let it sink in before getting dressed. Ideally, you'll want to wear a short-sleeved shirt to let that oil penetrate as much as possible before it gets rubbed away. Soon enough, your elbows will be silkier.
#6: Pat on a Hydrating Serum
Moisturizing is super important when you're dealing with any kind of dryness. When it comes to using serums, look for one enriched with hydrating powerhouses like hyaluronic acid, glycerin, and plant oils. Hyaluronic acid is by far one of the best humectants available that's excellent for nourishing all skin types, including the most sensitive skin.
Pat in a few drops of Rainbow's Hydrate Serum to your elbows and let it absorb before getting dressed. For best results, use 2x per day, every day until the dryness disappears.
#7: Seal in Moisture with a Rich Body Butter
The final step: body lotion. Or in this case, body butter. Body butters are richer than lotions and great for deeply hydrating the skin and sealing in moisture. They're best used after applying a humectant-based product (like the serum above). Look for occlusive ingredients such as shea or cocoa butter.
Massage in a generous amount of Rainbow's Hydrate Body Butter, a rich and fluffy blend of coconut oil, shea butter, and vitamin E to intensely nourish and hydrate dry, rough elbows. Use it anywhere in need of a hydration boost!
How to Prevent Dry Elbows
Here are some quick tips for preventing rough elbows.
Exfoliate 2x a week

Avoid hot baths and hot showers (the hot water strips skin of natural oils)

Pair humectants with emollients and occlusives to hydrate and soothe skin

Always follow up with moisturizer after showering

Don't forget to wear sunscreen whenever your elbows are exposed (pair with a vitamin C-based product for enhanced protection).
Having dry elbows is usually nothing to be concerned about. By following the skincare tips above, you can easily relieve dry elbows. That said, if these tips don't help, you should book a visit to your healthcare provider or dermatologist for advice. You may have an underlying medical or skin condition that needs to be addressed.
Over to you: do you have any tips for treating dry elbows? We'd love to hear from you! Whether it's a home remedy or a Rainbow treatment, we'd LOVE to hear your magic healing formula for dry elbows!